Whatever comes to our mind, we just Google it and the search giant provides all the answers. Google has changed our lives in ways we can't even think of. It keeps serving us what we need by indexing millions of websites. But do Google search engine is only capable of helping you find pancake recipes or nearby ATMs? Today, I am going to share 14 cool new Google tricks that you should know in 2021.
You might already be using Google daily to translate a word or check train or flight status. But Google is much more than just a search engine. It can do numerous other things that you can imagine. So, without any further ado, let's jump right into the new Google tricks.
Also Read: How To Activate Hidden Reader Mode in Google Chrome
Cool Google Tricks You Should Know
1. Zerg Rush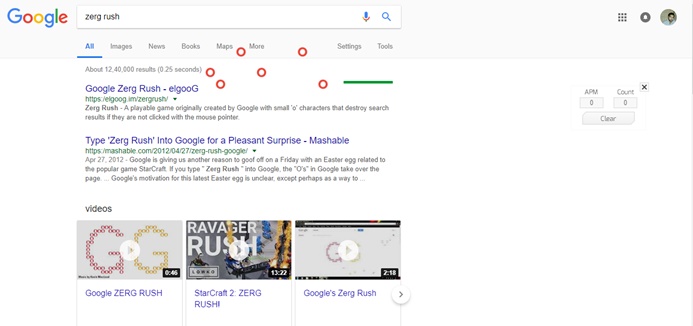 We love playing games at some stage of our lives. So, I thought why don't start this list with a very interesting hidden Google Game.
When you will search "Zerg Rush" on Google, you will find the results are being destroyed by big O's. These big O's are actually the Zerg Rush and an enemy of your search results. So, just start killing them before they kill all the results and make your page empty.
Though it's very hard to win against them, the final results will be GG (Good game) and you will lose the game against Zerg rush. The game is quite interesting. You should definitely try it once.
2. Google Translator Beatbox
Another trick is Google translator beatbox which lets you listen to music made from the letters and words you typed in Google Translate.
This is a very funny trick that you should try when you are feeling bored or unhappy. Just open Google Translate and paste the letters given below (or any other) and click on Listen. You will hear a very funny yet amazing tune coming out from the beatbox.
pv zk pv pv zk pv zk kz zk pv pv pv zk pv zk zk pzk pzk pvzkpkzvpvzk kkkkkk bsch
3. Google Mirror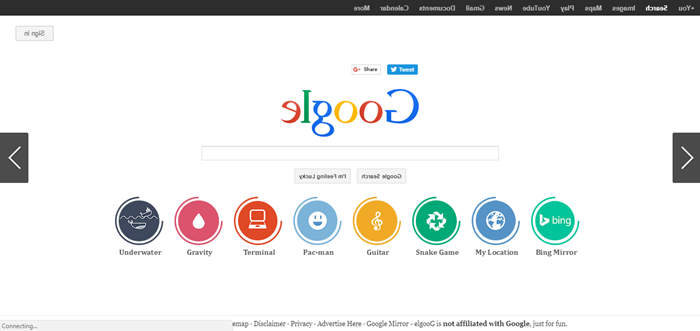 Google Mirror is another cool trick that converts your normal Google search to Google Mirror. It means whatever you will search on Google Mirror, you will see those written backward also called a mirror view. Just type "Google Mirror" without clicking enter and then click on "I am feeling lucky", it will take you to the Google Mirror.
4. Google Guitar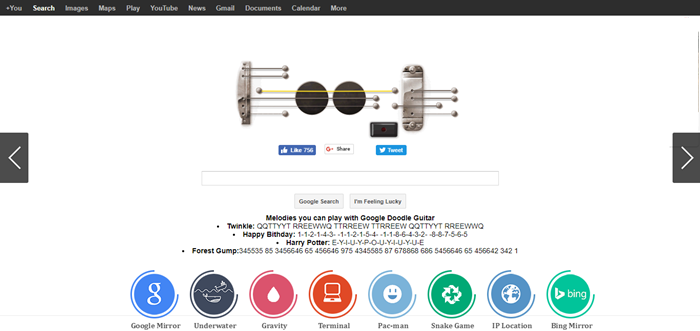 Playing the guitar was never that easy before Google. Just search for Google Guitar and click on "I m Feeling Lucky" and you will be redirected to the Google Guitar page. Here, you can play tunes, sing, rehearse, etc. Google has been working on many new AI-based features that will change the way we use Google.
Also Read: How to Enable YouTube Incognito Mode To Hide Search and Watch History?
5. Google as a Translator
We have already discussed Google Translate in our Top 10 Best Google Apps For Android. But if you don't want to install the app, you can even use it online.
just search for google translate, choose desired languages and start typing. you can even choose "detect language" as a source if you don't know about the language.  If you visit its website, you can translate a complete document by uploading the file to its servers.
6. Find Keywords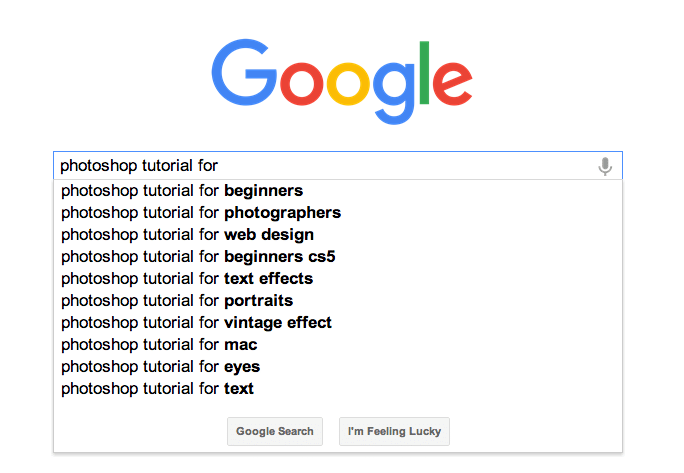 If you are a blogger, YouTuber or a Digital Marketer, you know how important it is to find the right keywords. As per my experience, the simplest method for finding the keywords is itself Google.
The auto-complete feature of Google works very well and shows what people are actually searching related to your query. Just select a keyword related to your business, look for its monthly search volume, do competition analysis and then start working on that keyword.
7. Filter Results by Date and Time
There are times when we only need the latest results. In this case, you can use date and time filter to skip unwanted and older results. Just fire your query on Google, click on tools, and you will get filter options like Country, Timing, and Results type.
Also Read: Here's How I Turned My Google Chrome Completely Dark in 2 Minutes
8. Get Direct Download Link of Any File
Are you tired of looking for websites to download mp3s and movies? If yes, you can easily search for direct download links to songs and movies. Just type the below query on Google, replace Your song name with the song you want to download, and select the desired extension – mp4, 3gp, or Avi format. You will get the direct link and so can download the file in very little time.
intitle:index.of?mp3 Your song name here
9. Use Google as Timer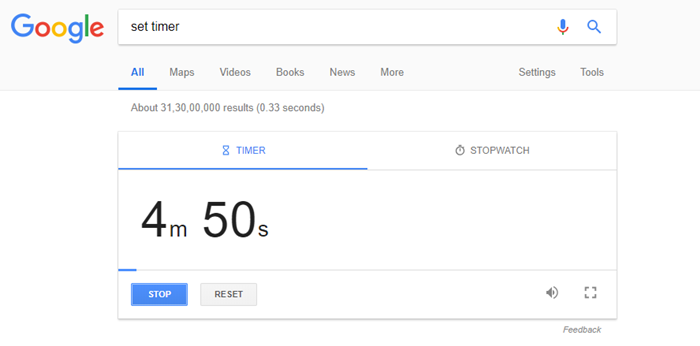 You don't need any extra software or app to use a Timer. The Internet is enough to make it possible for you. Just search "Set Timer" on Google and after setting the time manually, you will hear the constant beep sound which means the timer has completed. It works exactly like a stopwatch.
10. Atari Breakout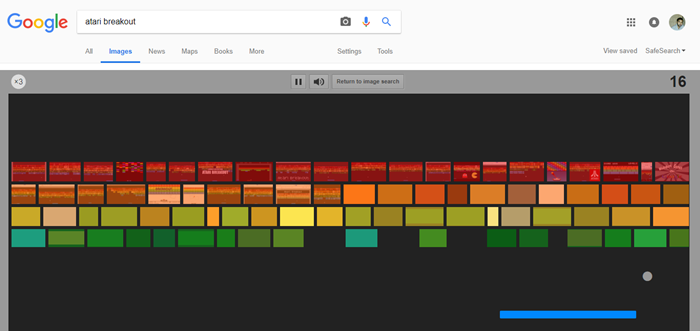 Another hidden game on Google. Type "Atari Breakout" and click on "Images", the images will automatically be converted into blocks.
Atari breakout is a very simple game which you can play in your free time. The game was very popular at its time and now you don't even need software or high-end system to play this game. A good internet connection is enough. Remember, you have to kill all the images to win the match.
11. Check Your Flight Status
As Google is improving with time, things have become very simple and easy. Now, you can use Google to keep yourself updated with your flight status. Just search for "Flight <Flight Number>" and you will get the status instantly. Ex-Flight number sq 502. This is one of the simplest Google tricks available out there.
12. Get Information about any website
Getting information about the different website has never been so easy. Just search info: tech4fresher.com and you will get all the information about the website.
13. Google can show you Movies timing with location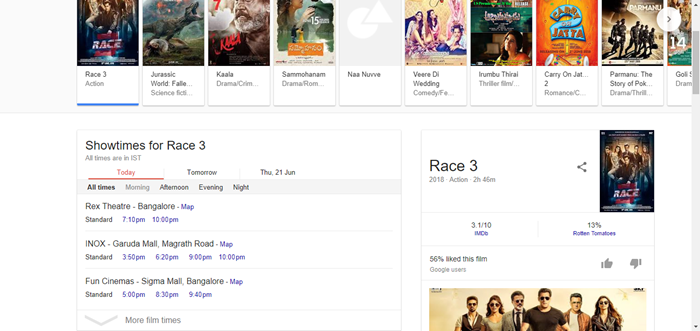 Recently, Google has started showing movies timing at a particular location just by a simple search. You just need to search "Movies Timing at Bangalore" and you will all the information about movies currently running in Bengaluru. Now, you can easily decide which movie to go, when to go and where to go.
14. Quotation Marks for Exact Matches
Google shows lakhs of results for a simple query and but sometimes none of those results are useful for you. In these cases, you can use quotation marks for making your search simpler. Just write your query under quotation (like "tech4fresher") and hit enter. It improves the chances of getting the desired results.
Also Read: 10 Simple Ways to Fix WiFi Connected But No Internet Access
Enjoy these Cool New Google Tricks
Google is home of secrets. Whenever you think that you understood Google Search completely, it will surprise you with a new secret. So, which trick among these cool new Google Tricks, you liked the most? Tell me in the comments section below. Also, if you know any other trick that isn't listed here, just share it with us below.