CyberGhost is one of the most reliable VPN services that you can use for any of your devices. Being user-friendly, and easier to navigate, it also comes with some of the most advanced features. As for their mobile counterpart, it may not be of the same level but still gets you through the day. They have also paid close attention to customer satisfaction with the addition of live chat support. 
Today, I will review CyberGhost VPN and walk you through its interface, features, and everything else you need to know to decide whether this is for you or not. Let's get started..!
With over a 15 million user base, CyberGhost is a Romanian-German-based privacy company. Spread across 90 countries with more than 6700 servers around 110+ locations, CyberGhost definitely gives its competitors a run for the money when it comes to servers. 
With one subscription plan, you can connect up to 7 devices at the same time. And that is certainly more than what any other VPN service provider offers. Even ExpressVPN has support for only 5 devices. Just bear in mind, every time you log in with a device, you are using up one slot. 
Apart from a huge database of how-to, you can always get in touch with CyberGhost VPN via email and chat support. With the addition of $5 per month, you can avail of dedicated IP as well which will be specific to your account. 
This, in turn, can come handy, especially if you want to access IP-restricted networks. It also significantly reduces your chances of getting blocked by any streaming service. With CyberGhost you can always switch between your dynamic and dedicated IP address. 
And did we forget to tell you? CyberGhost is already testing the beta for WireGuard, which will be soon available for all Windows, macOS, Android, and iOS clients. As of now, you can buy the plans for CyberGhost only using PayPal, Credit Card, and Bitcoin. 
| Pros | Cons |
| --- | --- |
| Fast and reliable speed | Only a 24-hours trial for Windows |
| Well-distributed large servers online | No notification for Windows client |
| Feature-rich Windows client | |
| Strong privacy policy  | |
| Easier unblock for Netflix, Disney+, and Amazon Prime. | |
| Live chat support  | |
CyberGhost VPN: Pricing and Plans
Like every other VPN service provider, CyberGhost puts more emphasis on upselling their plans with a longer duration of time. The monthly subscription costs you $12.99, while the price drops significantly to $3.99 per month availing of their annual subscription. 

Try CyberGhost VPN (83% OFF + 3 Months Free)
Further extending your subscription would certainly save you more money as well. For their two years plan, you have to pay $3.49/month while it's just $2.25/month for their three years subscription. 
Now, this pricing structure has become the industry standard. Private Internet Access has their pricing set for $2.69/month and HideMyAss at $2.99/month respectively for their three years plan. CyberGhost is also offering their Security Suite at an additional $5.99 billed monthly or just $1.39 more with the three-year plan. 
Overall, if you are looking forward to a long-time investment, CyberGhost is quite affordable. But, if you are not sure, you can still try out the VPN with the monthly package and decide accordingly. 
Setup and Installation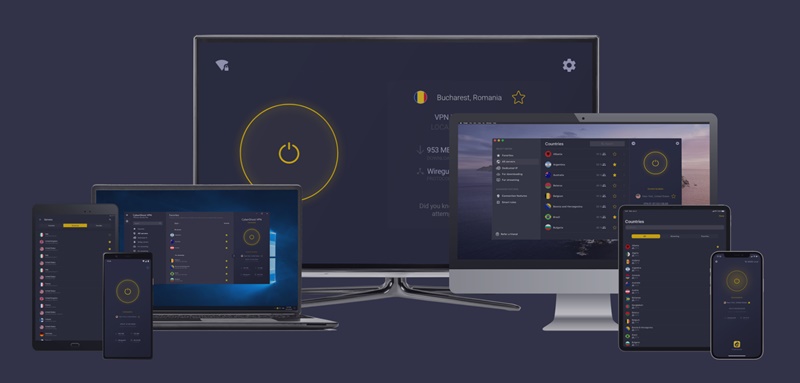 CyberGhost offers a very seamless setup process, with makes it the right recommendation for novice users. Heading over to the website, you get the trial link for CyberGhost. Double-click on the installer (as per your system), and you will find the application on your PC within minutes. 
There is no requirement for payment or any other detail while installing. All you need is a working email address. The same follows for its mobile app as well. We were able to simply download it from both Play Store and App Store. After that, you just have to log in with your account and that's it.
Also Read: Proxy vs VPN: The Real Difference
Netflix and Chill
One of the primary reasons why would opt for CyberGhost in the first place is to gain access to various streaming platforms. Even for most of the VPN services, unlocking Netflix can get tedious at times.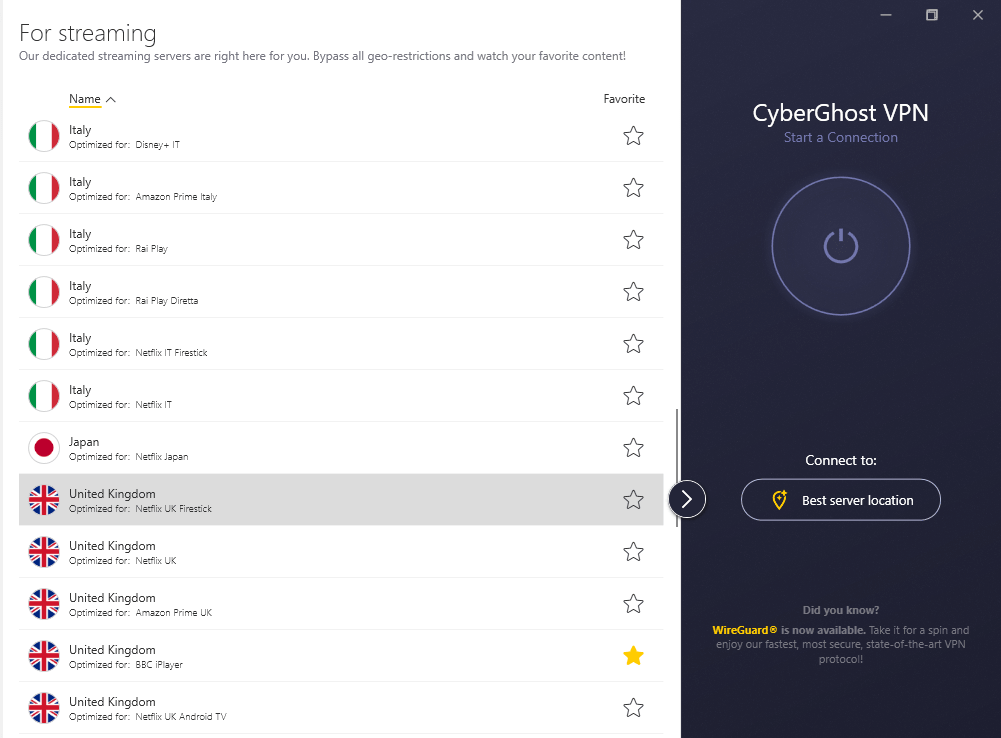 This is something CyberGhost has addressed very strategically. It suggests particular locations that are supported for the given streaming platform. For example, we were been suggested locations like United Kingdom, Italy, Japan, and more for streaming platforms like Netflix, Disney+, Amazon Prime, and Hulu. 
The only problem that still pertains to CyberGhost is with iPlayer. And it seems it's not going to be fixed any time soon. As for any streaming service, you can easily access them throughout the world. 
Torrents
This is probably one of the most anticipated topics among every other VPN service provider. But, during our testing period, it was fairly easy to pull off torrents using CyberGhost. Just bear in mind, there is no support for P2P in some of the locations.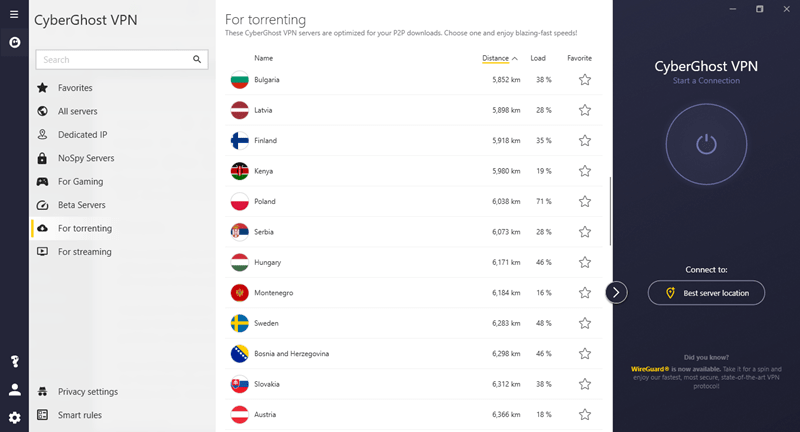 Checking their website, they had fairly good reason as well. For starters, some servers were blocked from the P2P protocol due to the abrupt slowdown of user traffic. While in other regions, CyberGhost had to follow the country guidelines, forcing providers to restrict torrent access. 
Some of these regions include the United States, Russia, Singapore as well as Hong Kong, and Australia. But, the 'For Torrenting' list makes it fairly easy to choose only the locations with access to torrent. While using the Windows client, CyberGhost automatically connects you to your preferred location every time you launch a torrent.
Performance
While testing out the performance of CyberGhost, we made sure not to leave a single room. It started out with different locations, especially from the United States, UK, and India. Speedtest.net, testmy.net, and fast.com were some of the websites used for checking download and upload speed as well.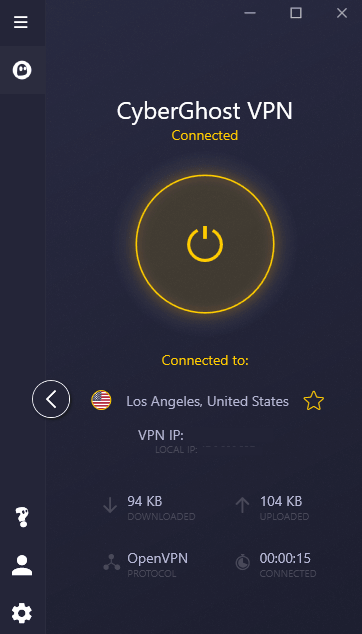 The OpenVPN (automatic mode) with the United States' server got us somewhere around 220-275 Mbps. That's a fairly satisfactory result given the current offerings from other vendors including Hotspot Shield, TunnelBear and TorGuard were almost the same.
While the performance depends on a lot of factors, it certainly offers a better deal as compared to its competitors. At the same time, we also found that there was consistency. This is something we would choose over inconsistent high speed any time of the day.
Windows Client
For starts, we only tested the CyberGhost VPN on our Windows machine and Android device and iPhone. The initial impression of opening CyberGhost VPN was pretty straightforward. It comes with a very clean interface and a console that's easier to navigate.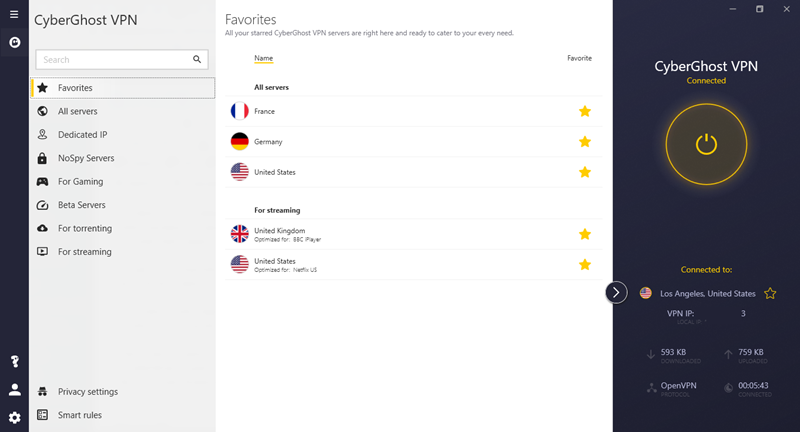 You get all the important information including a connect button, along with your connection status as well as a list of all the locations. But, at the same time, you get a plethora of additional features at the right-hand panel. 
The location picker helps you with all the available servers along with the current loads. As far as the overall connection is concerned, it is fast and reliable. Every time we tried connecting, it was almost instantaneous. 
There's also an option for an ad-blocker which you can access from CyberGhost's settings. The Smart Rule Panel in CyberGhost is quite impressive as well. We were also amazed by CyberGhost's Exceptions functionality that lets you access streaming sites available for particular countries. 
Within the Windows client, you can toggle between the different protocols as well. CyberGhost supports IKEv2, OpenVPN as well as WireGuard. Lastly, we tried with the kill switch, and it works perfectly fine on CyberGhost. 
Mobile Client
The majority of the VPN service providers, always try to underpower the mobile version as compared to their desktop counterparts. But, that is certainly not the case with CyberGhost. In fact, it packs all the features you can ask for. 
Starting with the interface, it has been kept quite minimal. Turn over to the landscape mode, and you have got yourself information such as an entire list of locations along with the connect button. There's also an option for split tunneling, that enables users to pick which app with a VPN connection. 
The same design footprint is followed with the iOS app as well. Although it lacks some of the features, due to Apple's own strict privacy and security guidelines, it doesn't hamper the core functionalities. 
Dedicated IP Address
As stated earlier, you can opt for a dedicated IP address from CyberGhost at an additional $5 per month. In other words, this brings down the overall cost of the 3 years plan at just $2.25 per month. Now, as far as the dedicated IP is concerned, it comes with its own sets of perks as well. 
For starters, you don't have to worry about getting blocked, for the malicious activities of others. After all, you will be getting your own dedicated IP address. Once you sign up, you have quite the options to choose from. Some of the locations include Chicago, Paris, New York, London, and Frankfurt. 
To ensure anonymity, CyberGhost presented us with a long text string. Pasting it into the Windows app and we get ourselves the IP. Once you activate your address, you can seamlessly switch between your dedicated and dynamic IP address. 
Privacy Policy
CyberGhost pays close attention to their privacy policy, with straight out boasting a strict no-logs policy on their website. One of the best things we liked about CyberGhost is that they truly uphold what they say.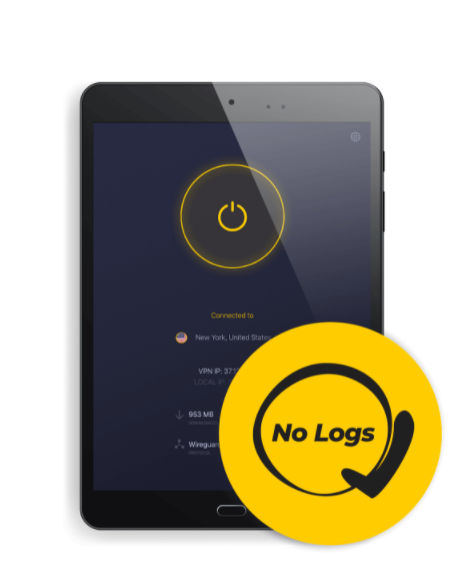 In fact, CyberGhost's specific statement goes by, "When using the CyberGhost VPN, we have no idea about your traffic data such as browsing history, traffic destination, data content, and search preferences. These are NOT monitored, recorded, logged, or stored by us."
Customer Support
During our entire testing period, we found that CyberGhost offers pretty comprehensive customer support regardless of the platform you are using. For starters, they have a wide range of web guides for you to get started. 
For the most part, this can help you to get things done. The majority of their guides come with screenshots and helpful tips, which certainly make the entire process seamless. But, there are some outdated documents as well, maybe, CyberGhost would update them pretty soon (fingers crossed).
Inserting the right keyword, you can also find the fix, within the CyberGhost database. For instance, searching for 'Streaming Status' actually helped us with an entire list of streaming services that were unavailable. 
Even their live chat session passed our test with flying colors. Shooting a technical topic towards the agent, and he easily explained the same. In other words, if you ever run into any problem, you can always count on their customer support.  
Try CyberGhost VPN (83% OFF + 3 Months Free)
Verdict
This goes without saying, one of the biggest advantages that CyberGhost has over any other VPN service is its huge server list. Based on our review, CyberGhost VPN is best suited for anyone who wants specific activity. 
This could be video streaming while spoofing the location, or just to access country-specific Netflix content. Our speed test ensured that it can easily keep up with all those activities. As for the overall interface, it is quite intuitive and easier to navigate as well. 
While our only complaint is the higher price tag, expanding their set of security tools surely compensates for the same. At the same time, offerings like split tunneling and multi-hop are really commendable. 
Overall, we have come to the conclusion of recommending CyberGhost VPN. And their unbeatable size is what makes CyberGhost VPN such a unique service. So, let us know in the comment section below, how was your experience with CyberGhost VPN?