If you have ever come across the ODS file extension, chances are it is an OpenDocument Spreadsheet. ODS files often comprise texts, charts, numbers, and formulas that are confined in the form of spreadsheets. These allow the storage of data in tabular forms. In this article, we are going to discuss what is ODS and how to open ODS files using various online and offline software.
Also Read: How to Open ODT File
What Exactly is an ODS File?
ODS file is the abbreviation used for OpenDocument Spreadsheet, initially developed by Calc. Similar to Microsoft Excel's XLSX, ODS files store data in the form of rows and columns. The only difference is, that ODS files are completely open-sourced facilitating any office suite to use the file format.
Advantages and Disadvantages of ODS File
Pros:
ODS files store data in tabular form, making it easier to maintain and edit.
Users can store large data in ODS files.
Allows easier sorting of data in the form of ascending or descending order based on your preference.
ODS files are easily convertible to other formats.
Users can find data easier with ODS files.
Seamlessly perform statistical and mathematical calculations on data stored in the ODS file.
Cons:
Data stored in ODS files are subjected to human errors.
Sometimes calculations can take significant time based on the size of the data.
Also Read: How to Edit PDF Files Online for Free
How to Convert ODS Files (Offline)
ODS files are easily convertible to XLS, CSV, PDF, HTML, OTS, and a plethora of other file formats using OpenOffice Calc. ODS files can be easily converted to other formats using any open-source, downloadable Office Suite.
If you want to convert ODS into XLSX, simply open the file in Excel and save it in a native Microsoft format.
How to Convert ODS Files (Online)
Converting the ODS file into the latest format makes it easily accessible across all devices. Thanks to the various platforms, now you can easily convert ODS files to XLSX online. Zamzar is one of the most versatile and commonly used platforms to convert your ODS file. In order to convert, follow the steps mentioned below:
Step 1: Head over to the Link and click on 'Choose File.'
Step 2: At first, a dialogue box will appear. You need to select the ODS file along with the file format you want to convert into. Choose XLSX.
Step 3: Once you have uploaded the file, click on 'Convert Now.'
Step 4: Simply click on 'Download' to get your converted file on your computer.
Google Drive is yet another great way to convert ODS files online. Upload your file and open it with Google Sheets. Now go to Files > Download and save your ODS file in any XLSX, HTML, PDF, TSV, or CSV format.
Zoho Sheet is yet another great alternative you can use to convert ODS files online. It offers similar functionalities to Zamzar.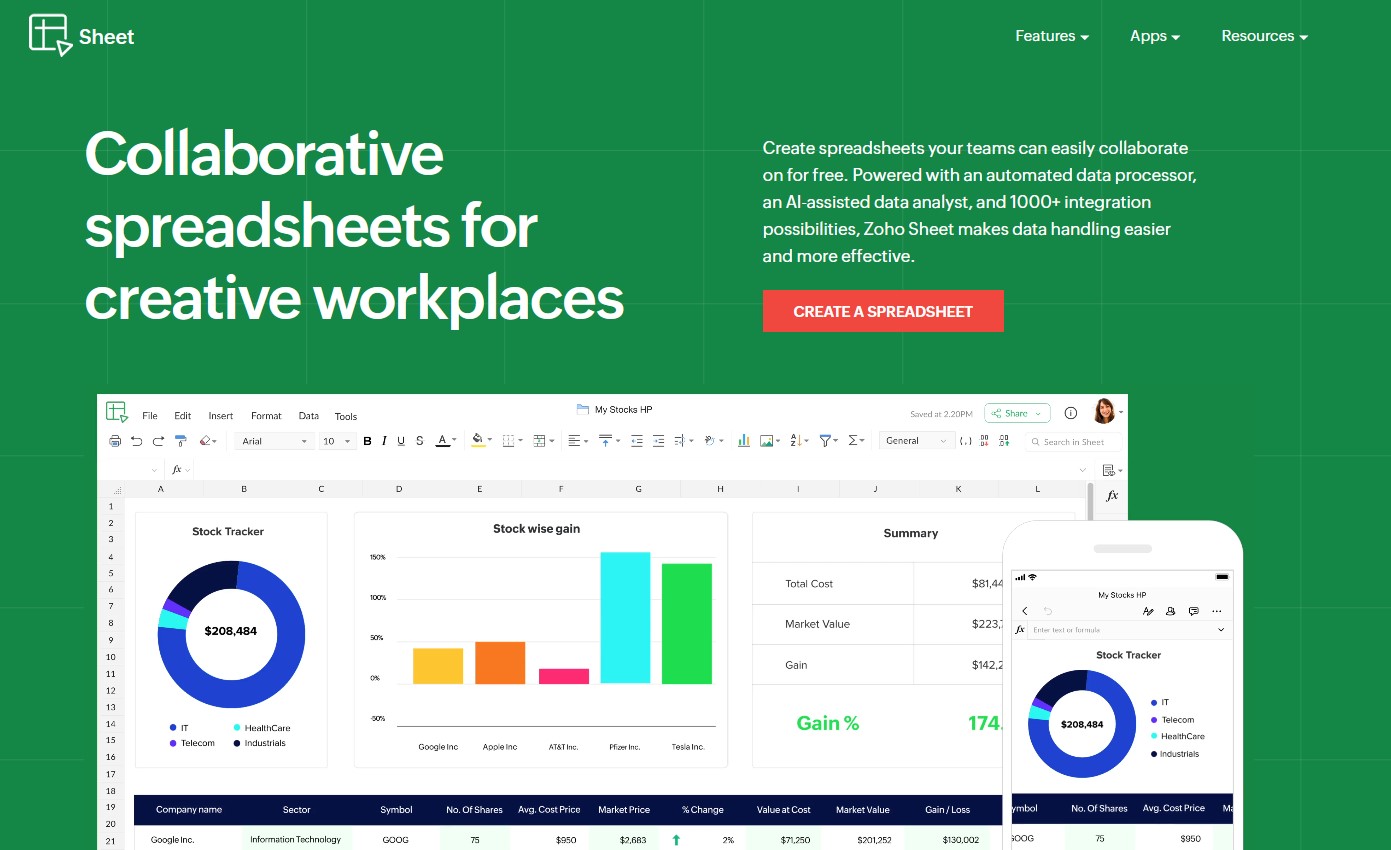 Unable to Open ODS Files?
After following through the steps mentioned below, if you are still unable to open the ODS file, try to double-check the file extension in the first place. There are several instances where a file system might have a similar naming scheme similar to an ODS file. While these formats have nothing to do with spreadsheets whatsoever.
Two of the most prominent example includes the ODP and ODM file format. ODP is the abbreviation for OpenDocument Presentation, which is a part of OpenOffice but doesn't use Calc. Similarly, ODM is the shortcut file format for the OverDrive app which doesn't even come close to ODS. 
Read: 4 Ways to Convert PDF to Word
Frequently Asked Questions
1. Does ODS files have any character set?
The character set on the ODS file heavily depends upon the language. Some of the most commonly used office suites use the Unicode standard to open and convert ODS files. This comprises of multilingual format, so you won't be having any hard time whatsoever while accessing your ODS file. Office Suites like OpenOffice and LibreOffice can also deal with any non-Unicode character set.
2. What is the difference between ODS and XLS files?
The majority of the free, open-source Spreadsheet applications such as LibreOffice Calc and OpenOffice Calc use the ODS file. While you can easily open any ODS file in Excel, you can expect some loss in formatting and graphics. Otherwise, ODS and XLS files can be used interchangeably.
Also Read: How to Open SWF File, How to Open FLV File and How to Open HEIC Files
The Bottom Line
The ODS file is XML-based, similar to the XLSX file format used in Microsoft Excel. In other words, ODS files stores data in the form of archives. With this article, you now have a clear understanding of what is an ODS file and how to open one in the first place. Let us know in the comment section below, which file format you want to cover next.