As the number of websites and applications is increasing, we find it extremely difficult to remember the passwords of our accounts. Ofcourse, people are still using their email draft folder, note-taking apps, or text files to store their passwords, but that's not at all secure.  
Today, I will review the Keeper password manager and walk you through its interface, features, security, and how it is beautifully solving the redundant issue of remembering passwords. 
Keeper has always prioritized security over anything else. And with the recent few updates, the password manager has also focused heavily on providing an awesome experience. Many users have also liked the new add-ons, such as KeeperChat and BreachWatch. Keeper is a complete package for protecting yourself against password-related data breaches and cyber threats with all of these features.
Setup
First of all, you need to create an account using your email address and a master password. Once done, Keeper will ask you to import the existing passwords from browsers and other password managers. It supports data import from all the major browsers and 20 password managers, which is great. Moreover, it supports password import from CSV files as well.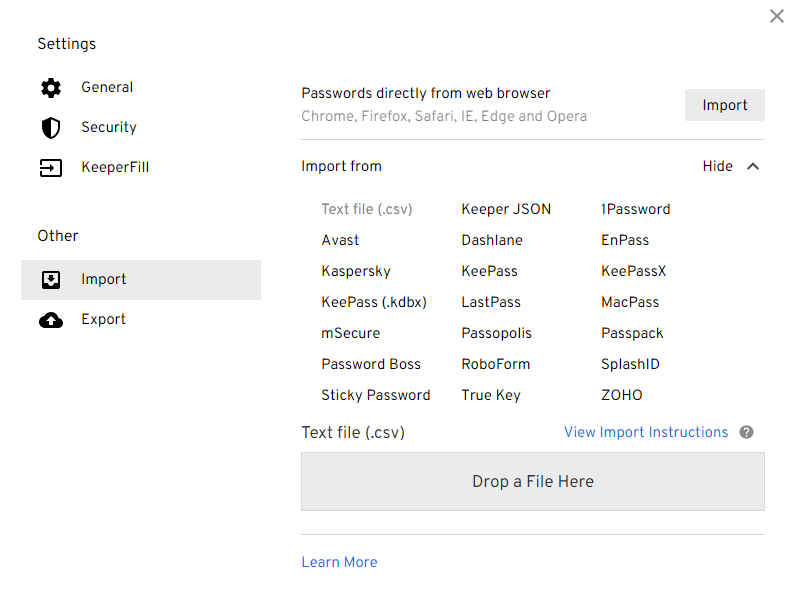 You can download the KeeperFill extension for your favorite browser from the download page. The web-based and desktop apps look identical. You hardly find any differences while using them. You can even go for the Android or iOS app. They are available in respective app stores. Setting up Keeper on any device is quite straightforward. I didn't face any difficulty there.
User Interface
Password managers are definitely not something general audiences are actively using right now. The reason is obvious; people are not aware of these kinds of tools. So, to help the new users get started easily, it's important to keep the user interface simple.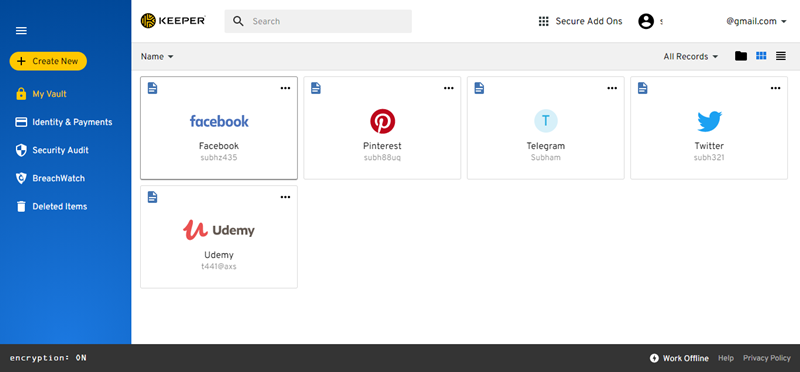 Keeper has an intuitive interface with the least to no learning curve. You can start using it right after creating the account. All the options such as My Vault, Identity, Security Audit, and Breachwatch are organized as tabs and are easily accessible.  
The admin interface is also equally easy to use as well. You will get a dashboard showing all the essential information like user activity, security issues, etc. Under the admin tab, you can manage users, teams, 2FA, reporting, alerts, and other features. Remember, the dashboard elements may vary based on additional modules you've opted for in your plan. 
Features
First of all, You can use Keeper on Windows, macOS, Linux, Android, and iOS devices to keep your passwords safe. The password manager also easily integrates with all the major browsers like Chrome, Firefox, Safari, Edge, etc. During my testing, the in-browser password autofill extension and the auto form-filling feature worked well with Chrome and Firefox.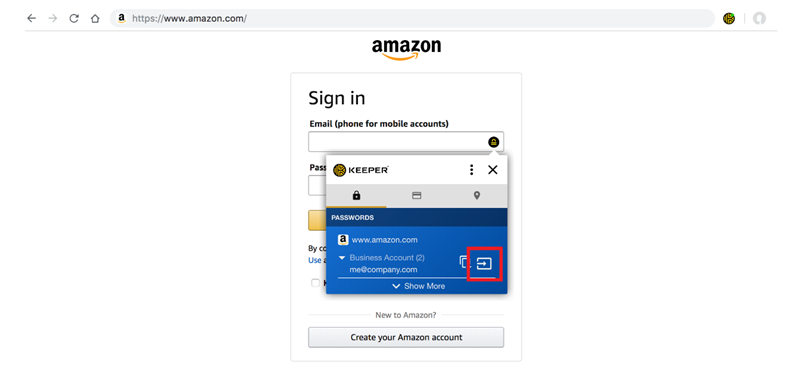 Keeper provides every user their own encrypted vault to keep passwords and other personal information safely stored. It offers essential features like password generator, identity and payment information management, and shared folder. All these features work really well. However, the identity information form can be improved by allowing users to add custom fields (in case he/she wants to add multiple addresses, etc).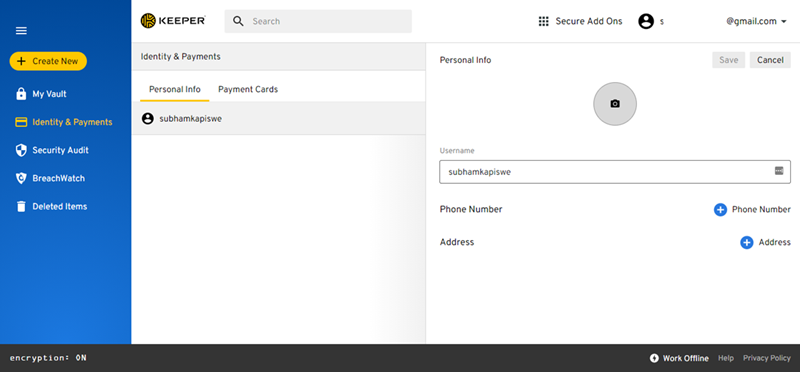 Furthermore, Keeper also comes with BreachWatch, KeeperChat, and Secure File Storage as add-ons. BreachWatch monitors the dark web for stolen usernames and passwords and sends you an alert when the stolen they matches with any of your username or password. The KeeperChat is a secure messaging application, while Secure File Storage allows you to store your photos, videos, and other sensitive files in your encrypted digital vault. 
If you opted for a Business plan, the admin panel also consists of all the required options. You can easily manage users, assign them roles, and form groups. Moreover, you can also adjust user-level permissions, enforce policies to ensure all the employees are using a strong password, etc. All these features make password management simple and secure.
Security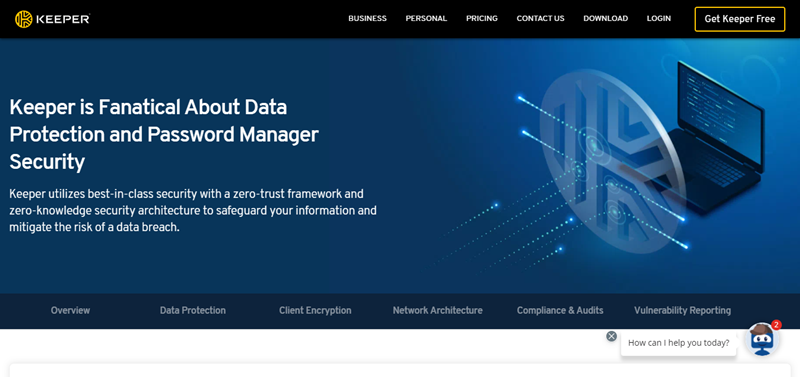 Keeper offers best-in-class security in various forms. First of all, the master password and the key used to encrypt and decrypt the information is only known to the user. It uses AES 256-bit encryption and PBKDF2, one of the strongest encryption available out there. All the user data is encrypted and decrypted on the device only, not on the cloud or other Keeper servers. It means even if the Keeper server gets hacked, your data can never be compromised.
For companies, the admin has full control over their activity, such as what information which employee can access. Keeper also regularly undergoes OC 2 and ISO 27001 auditing; and is certified with EU-US Privacy Shield. If you are interested, you can know more about the security here.  
Pricing
Keeper comes at a very reasonable price compared to other competitors like LastPass, Dash Lane, and 1Password. You can opt for Keeper Unlimited plan for $2.91/month (billed $34.99 annually) for personal use. You can buy it for your family too for just $6.24/month (billed $74.99 annually). However, if you are not sure, Keeper gives you a 30-days free trial option to get you comfortable with the product.
Talking about the other plans, Keeper also offers enterprise plans with several other features such as Single Sign-On, Automated Team Management, CLI Provisioning, Advanced 2FA, and more. You can discuss your requirements with Keeper and schedule a demo.
The Bottom Line
Keeper is one of the best password managers out there. Its security is unmatched and leaves no stone unturned in keeping your data safe. I liked Keeper because its simplicity and user friendly interface. Whether you use a personal or admin dashboard, both are well organised. Though some add-ons might increase your bill, it completely depends on you whether you want to use them or not. Overall, the complete password manager solution comes at quite a justified pricing.