Tumblr is one of the best places to showcase your work and build a portfolio. People also use this website for business, travel or hobby blogging. But for me, Tumblr is a great place to find cool memes and GIFs. You just have to follow some funny Tumblr blogs and you'll never run out of awesome content. But in recent years, the amount of NSFW content on the site has significantly increased. Tumblr has many blogs — especially adult-related — restricted with a Safe Mode warning.
I understand that restricted mode is there for a reason but if you are above 18, there's no practical reason why you should have Safe Mode enabled. So, let's have a look at how you can turn the safe mode off. Also, there's nothing to worry if you don't want to create an account. I will also talk about some ways to turn off Safe Mode without an account.
Note: If you are under 18 years of age, Tumblr offers no way to get rid of this restriction. And, really, you shouldn't. Enjoy the clean and kids friendly content for now and come back once you turn 18.
Disable Safe Mode on Tumblr
Tumblr has the Safe Mode enabled by default for all users regardless of their age. So, just signing into your account won't help. You will have to turn it off manually.
1. First of all sign in to your Tumblr account, click the Account icon and go to Settings.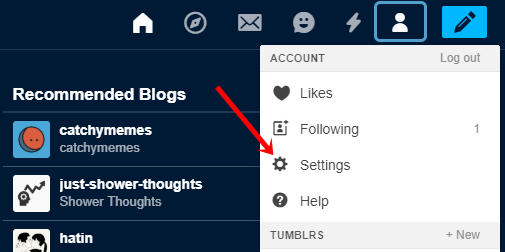 2. In the Filtering section, you'll see the Safe Mode option, just click the switch next to this option to turn it off.

You can now easily search and access blogs or posts that were previously marked as "not safe for work." Also, remember, to access NSFW content, you should have been signed in.
Also Read: Is it Possible to View Private Instagram Account Without Following?
Turn Off Safe Mode on Mobile
Surprisingly, disabling the safe mode on the web doesn't sync with all your devices. Even, if you are using the same Tumblr account on your mobile, you need to turn it off again.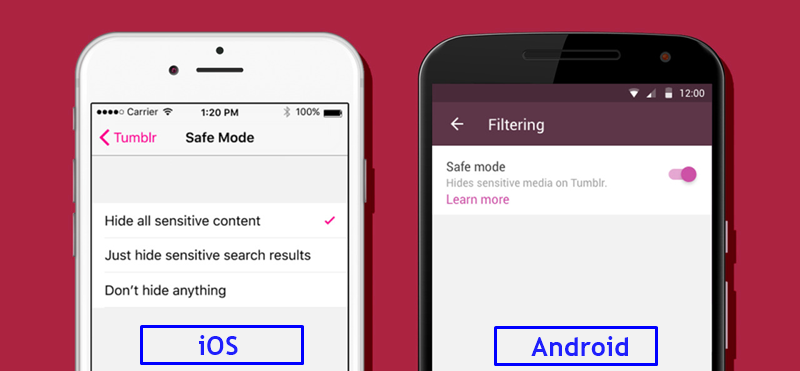 Android Devices
Tumblr Android app lets you disable the safe mode within the app easily. Just follow the steps below.
1. Launch the Tumblr app, tap the Account icon, then tap the Settings icon present at the top-right of the screen.
2. Tap General Settings and go to Filtering.
3. Lastly, tap the switch next to Safe Mode to turn it off.
That's it. You can now view the NSFW content on your Tumblr mobile app.
iOS Devices
Unlike Android devices, turning off the safe mode in iOS devices require you to follow a different process. Here, you won't see the Safe Mode option in the Tumblr app. It's available in the iOS Settings app.
1. Open Settings on your iPhone or iPad, scroll down and tap Tumblr.
2. Under Tumblr Settings, tap on the Safe Mode.
3. Lastly, tap Don't Hide Anything to get rid off safe mode restrictions.
Now, re-launch the Tumblr app to access all type of content.
Turn off Safe Mode on Tumblr Without Account
I understand you don't want to create a Tumblr account but need to access some restricted content on Tumblr. And, obviously, it's blocked. In this case, I won't suggest you waste your time and create a Tumblr account either. There are many websites that help you bypass Tumblr restrictions and access all the content easily. Let's have a look at some of them.
Tumbex
Tumbex is one of the best websites that allows you to access restricted content easily. You can search for posts and see all the images in a customizable grid and that makes everything quite simpler. Tumbex also allows you to choose your preferred image quality (SD, MD and HD) and help you save data and enhance performance. Furthermore, you can also sign in using your Google or Facebook account and bookmark blogs and posts for later.
TumblViewr
Tumblviewr is another useful website that makes accessing Tumblr content quite easier. The website comes with a simple user interface. You just have to type the name of any blog, and it will start loading content as thumbnails. This makes the scanning of thousands of posts really fast. You can also click on a thumbnail to see that image in full resolution.
Also Read: 5 Best Anonymous Chat Apps For Android If You Like Talking With Strangers
Enjoy Restriction-Free Tumblr
I also hate online restrictions and always try to find ways to bypass them. However, not all the restrictions are bad. NSFW content isn't for everyone. And, if you are not fulfilling the basic age criteria, you should stay away from such content.
So, that's all for this article. Make sure to check the websites above even if you have an account, they are good to search Tumblr blogs and posts. What do you think about Safe Mode on Tumblr? Do let us know in the comments below.