With the advent of the internet and the increased instances of compromised data, the need for antivirus software is important now more than ever. But at the same time, finding the right software can get tedious, especially with a plethora of options to choose from. So, today we are going to take a closer look at VIPRE's Advanced Security antivirus and how it holds up in our day-to-day usage.
Testing the software on our latest devices, the antivirus was able to detect most of the emerging threats such as trojans, malware, rootkits, and more. So, here is our honest review on VIPRE Advanced Security and whether you should consider getting the software for you or not.
VIPRE Advanced Security Antivirus: At a Glance
The VIPRE Advanced Security comes with the following features:
Malware Scanning: Can easily scan files and applications for malware, trojans, or viruses.
Advanced Real-Time Protection: The advanced machine learning algorithm can detect any threats or security compromises.
Cloud-Based Security: VIPRE's online database remains up to date with all the latest listing threats. This enables VIPRE to recognize even the most recent malware.
Web Protection: VIPRE is also capable of protecting you from online threats, restricting access to malicious websites as well as downloads.
Ransomware Protection: Protects you from any ransomware that can infect your PC.
Email protection: Capable of detecting emails containing viruses, as well as protects against any phishing attack.
Firewall: Restricts any network attack on your PC.
Auto-Patch Update: Makes sure that all the third-party software is kept updated.
File Eraser: Capable of deleting files permanently on your PC.
Overall, VIPRE Advanced Security comes with all the standard features you can ask for in antivirus software so that you can stay completely safe online. With just a few clicks, you can easily scan your PC for any malware and virus and secure your personal data with ease. When you are online, it can protect you from hackers as well as data thieves.
Set-Up Process and Use
The installation of the VIPRE Advanced Security is quick enough. It was within a matter of minutes. As for all the above-mentioned features, they are pretty simple and easy to understand as well. As for web protection, you can simply toggle the feature on and off with a single click of a button.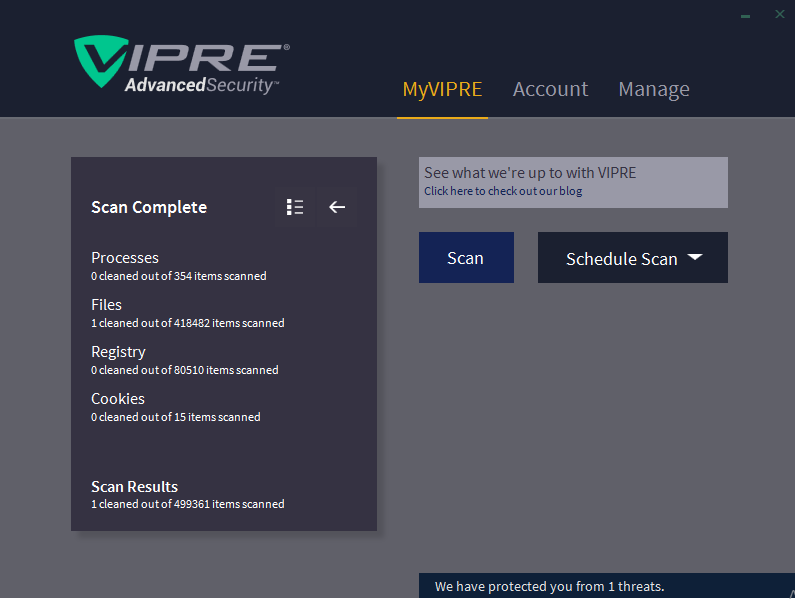 The antivirus comes with a basic dashboard, where you can also schedule your scan, for any time of the day. Overall VIPRE Advanced Security Antivirus is very easy to use, making it the perfect fit for even non-technical users. All the important features you need are right there on the dashboard.
Antivirus Scanner
VIPRE is capable of performing various types of antivirus scans including Full Scan, Quick Scan, Dedicated Program Scans, Registry Scans for Windows, Rootkit Scans, Cookies Scan, and Scans for Compressed Files as well.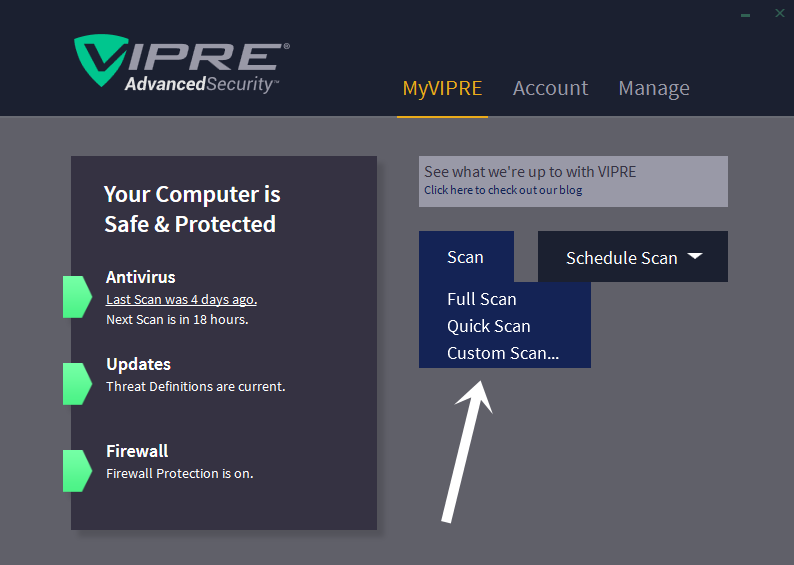 We started out our test with VIPRE's quick scan, which included looking out for all the essential files as well as registry keys for Windows. Right before the scan, we even placed some of the malware files in the System32 folder, and the Antivirus successfully removed them all.
While a full scan took quite a long time to complete, but it also passed our test with flying colors. Now bear in mind, it was longer than any of its competitors, but on the flip side, it only consumed 15-20% of the CPU resources.
Web Protection
The web protection function that comes with VIPRE Advanced Security generally blocks access to malicious websites. This is generally done by comparing the URLs within their database, and the one you have been searching for.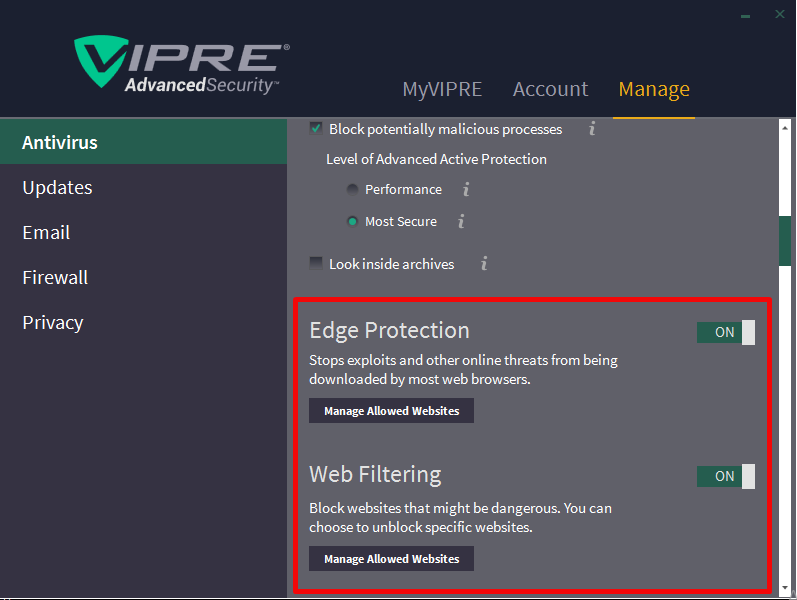 Even after visiting some of the fakest and shady websites, VIPRE managed to block every single one of them. Although with that, there were also clear instructions on how you can proceed forward, and make sure whether a website is secure or not. There's even an option to share the website across social media platforms to let your friends and family know.
Email Protection
VIPRE Advanced security also offers email protection out of the box. The program scans incoming and outgoing mails for virus and sends to quarantine if find any. You can easily manage your email apps and let the software work seamlessly.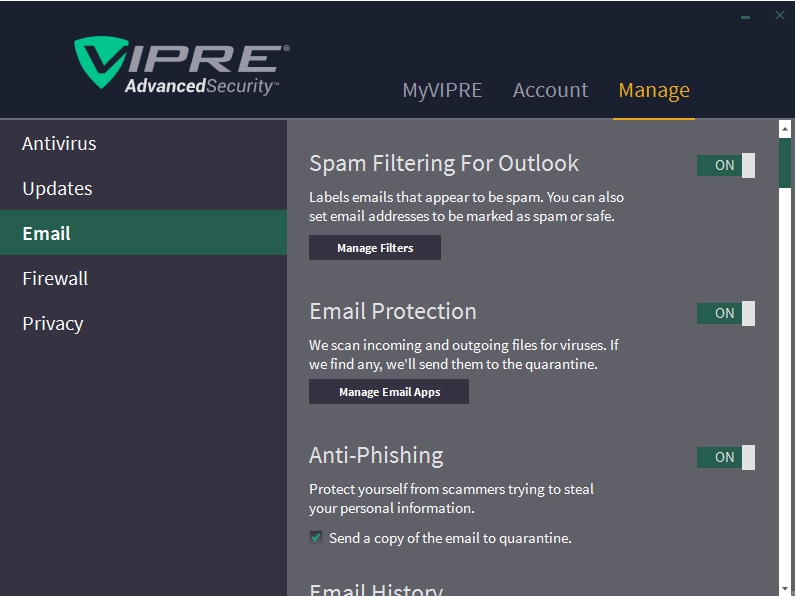 Moreover, there's also an option for Anti-Phishing to protect yourself from scammers who send lucrative fake emails with an intention to steal your data, etc. Although I keep my email accounts always clean, so it didn't recognize any issue. But the setup was simple. There's also a dedicated spam filtering option for Outlook.
Plans and Pricing
The overall pricing for VIPRE Advanced Security is expensive as compared to others. The price starts at $23.99 (1 Year) which includes protection for 5 PCs or Macs. The antivirus program comes with 30-days money-back guarantee. So, in case you are not satisfied with the purchase, you can always claim your money.
Alternatively, if you want more features such as Dark Web Scanner, Unlimited VPN, Microphone & Webcam blocker, and more, you can go for VIPRE Ultimate Security Bundle. The price starts at $39.99 (1 Year) which also includes protection for 5 PCs or Macs.
Unlike other Antivirus programs, VIPRE offers its Android Security program as a different package. The VIPRE Android Security comes with Malware Scanner, App Lock, Web Protection, Account Privacy, etc. The price starts at $9.99 per year for 1 year. You can learn more about VIPRE Android Security here.
Final Verdict: Should You Consider Getting VIPRE Antivirus?
This goes without saying, VIPRE Advanced Security Antivirus comes with good virus detection capabilities. During our time of testing, it was able to detect malware almost 95% of the time. But it would be even better if the company plans to add more features to the product such as a system cleanup tool, performance optimizer as well as a password manager.
VIPRE antivirus comes with an intuitive dashboard and an easy-to-understand user interface. Web protection, on the other hand, was able to block all malicious websites with ease.
So, it all comes down to you, whether you want to give it a try. With a 30-day money-back guarantee, you can easily use VIPRE completely risk-free So, let us know in the comment section below, how was your experience with VIPRE Advanced Security Antivirus?