The feature phones are becoming obsolete with time, but if you are looking for a cheap mobile under 1000 Rupees, this article is for you. Almost every other person owns a smartphone these days, but when it comes to battery life, there are people who still prefer their old mobile phones.
Also, If you are someone who uses many sim cards and your smartphone has a hybrid sim slot, these keypad phones can help you without disturbing your budget. There can be many other reasons why would you want to buy a mobile under 1000 INR. I also use a Nokia 1600 at my home. Its job is to just stay charged and keep a sim card active.
Must Read: What is 123Pay? How to Use UPI Without Internet?
Best Mobile Under 1000 INR in India
Before proceeding further, you should know that there are very few companies who still make basic features phones. If you see any popular Nokia, Samsung, etc mobile listed on any website, just remember either the device is a refurbished model or a fake one. So, without any further discussion, let's get started..!!
1. Micromax X415
Micromax X415 has a powerful 1000 mAh battery with a 4.49" screen. So, once fully charged it will work for 2-3 days. Also, the best part about this cell phone is that it features a power-saving mode extending the standby time and reducing battery consumption. Though the phone falls on the heavier side but looking at its functionality, Micromax X415 is a great option.
The camera is decent but not the best. It does miss out in a few areas. However, for calling and messaging purposes, it's the best. Also, it's available in 3 colors, black, red and blue. You can consider Micromax X415, f you don't want to spend less, but still, demand a good phone.
Buy Micromax X415
2. Micromax X412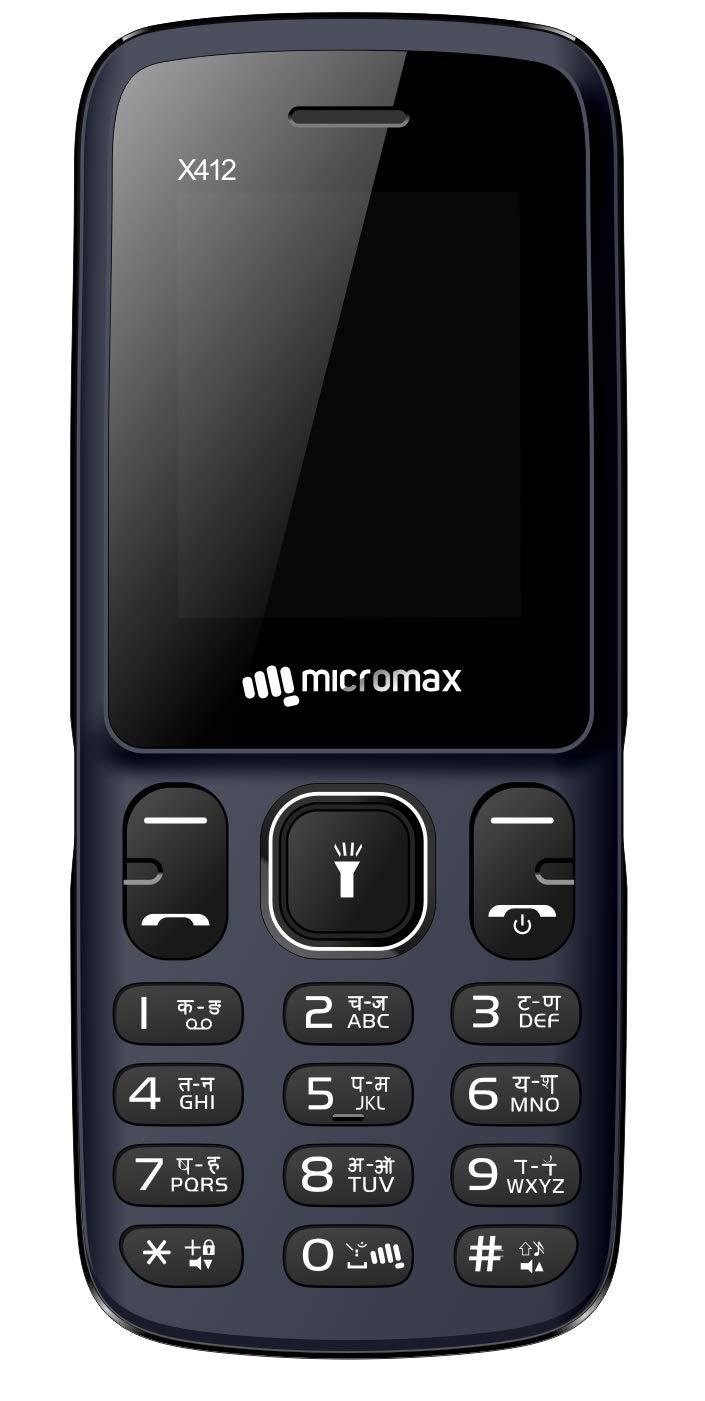 Micromax X412 sports a 4.49 inches display and 1 MP rear camera. The phone is packed up with 30 MB RAM and 30 MB ROM backed up by an 800 mAh battery. Undoubtedly, Micromax X412 is the best phone you can get on this budget. Plus, you can get the phone in two colors including red and blue.
Overall, the phone is great for daily use. It's the best smartphone around, with great performance and a sturdy build. The phone has good user reviews and comes with a one-year manufacturer warranty. So, you can definitely check it out and make the final call.
Buy Micromax X412
3. Itel Ace 2
Itel ACE 2 is a great buy under this budget. It comes with 1.8 inches Quarter LCD display and 4 MB RAM/4 MB ROM which can be extended up to 8GB. It offers a 1000 mAh battery backup which is sufficient to get you through the day.
Backed up by 12 months warranty, Itel Ace 2 is ideal for everyday usage. The phone is also available in two colors including blue or red. Overall, Itel Ace 2 is one of the best phones under 1000. Talking about its other features, Intel Ace 2 has a VGA camera, audio and video player plus wireless FM with recording. So, grab it before it becomes out of stock.
Buy Itel Ace 2
4. Tork T3 Pro
Tork T3 Pro is a fantastic phone with tons of features at this price range. In terms of display, you'll receive a 1.8 inches bright display. But the best part about this phone is that you won't have to worry about your smartphone's battery draining because this phone has a 2000 mAh battery that can meet all of your everyday needs.
If you want a good phone on a budget, then we highly recommend Tork T3 Pro. The features are good and the phone is quite attractive as well. Furthermore, you can get more out of your mobile experience with a bright display and quick response time.
Buy Tork T3 Pro
5. Lava A1 Josh
Lava A1 Josh made it to the list for all good reasons. It has a 4MB RAM/1MB ROM with a 512 GHz processor. Not to mention, this is one of the most-selling Lava phones under 1000. A phone is definitely a value-for-money option. There are a lot of features you'd get in Lava A1 Josh which is a bonus at this price range.
The 800 mAh battery isn't bad. You can stay connected to your friends and families all day long. Plus, one year warranty on the product gives us the reason to buy Lava A1 Josh. Grab it before it gets sold out.
Buy Lava A1 Josh
6. Karbonn K107S
At this price range, Karbonn K107S would be a great option. It's stylish, functional, and comes with a powerful battery of 1000 mAh. At this price range, we wouldn't mind purchasing it. Karbonn K107S is a dual sim phone with 35 MB RAM/ 35 MB ROM. Currently, the phone is available in three colors black, blue, and red.
Moreover, it has 1.8 inches bright LCD display and 0.03 rear camera. For any doubts, you can check the reviews and decide. Karbonn is one of the popular brands in the Indian market. They built good quality and configuration products. So, Karbonn K107S is worth checking out.
Buy Karbonn K107S
7. Lava Hero 600 Plus
Lava Hero 600 Plus is a great phone for this budget. Its main highlights are its 620 mAh Lithium-ion Battery and 4.57 cm (1.8 inches) QVGA display screen. Plus, it has battery saver mode, so you won't run out of battery any time soon. You can get the phone in any of the two colors, sapphire blue, or green.
In addition, you're getting 12 month warranty on the phone. Before purchasing, check the reviews in case you have doubts. Overall, the smartphone is good and decent. We highly recommend you to try it. It is probably one of the best and cheapest phones under 1000.
Conclusion: Best Mobile Under 1000 Rupees
I hope you found the above options useful for buying a phone under Rs. 1000. All the phones are basic in features and made for calling and messaging purposes only. I will only recommend these mobile phones if your budget is not at all flexible. If you want a good-looking phone from a trustworthy popular brand, you should increase your budget. Otherwise, just select anyone from the above list.