Taxes, everyone knows how confusing they can be. It is one of the most complex things that many people are still unaware of. The whole process of filing tax in itself can be an arduous task. But, worry not. We are here to rescue you from this terrible ordeal and help you look for some handy tools that can help you with your taxes.
The world has gone digital for a long time now, and it is time that you should know about these 6 powerful tools that can help you in filing your taxes. So, without wasting any time, let's continue with our list of the best tax software you can use.
Also Read: 7 Best CRM Software You Can Use
The Best Tax Software You Can Use
1. Credit Karma

Credit Karma is one of the best free tax software out there. It allows users to import all of the previous returns that have been created using this or other software as well.
This software provides more filing options compared to the rest in the group. You can file for mortgage interest, property tax, and even student loan deduction. The best thing about this tax software is it is completely free. It won't cost a penny for filing both state and federal tax returns. Apart from that, you can enjoy features like Audit Defense, which automatically check calculation accuracy for free.
As far as security is concerned, Credit Karma uses 128-bit encryption and performs regular vulnerability assessments to tackle the issues. However, the multi-state filing option is not available.
Explore Credit Karma
2. TaxSlayer

TaxSlayer provides a simple and easy interface. All the users have to do is just start by entering their tax situation, their income, or they can simply import a W-2 form. The pricing starts at $24.95 for the classic package and increases based on your requirements.
The software is brilliantly crafted to find the best deductions possible. The prices are reasonable, especially for a tool that supports low state filling. There is a 100% accuracy guarantee. The company is also ready to cover any penalties or interest charges. But the professionals are available only on the premium and self-employed plans.
Explore TaxSlayer
3. TurboTax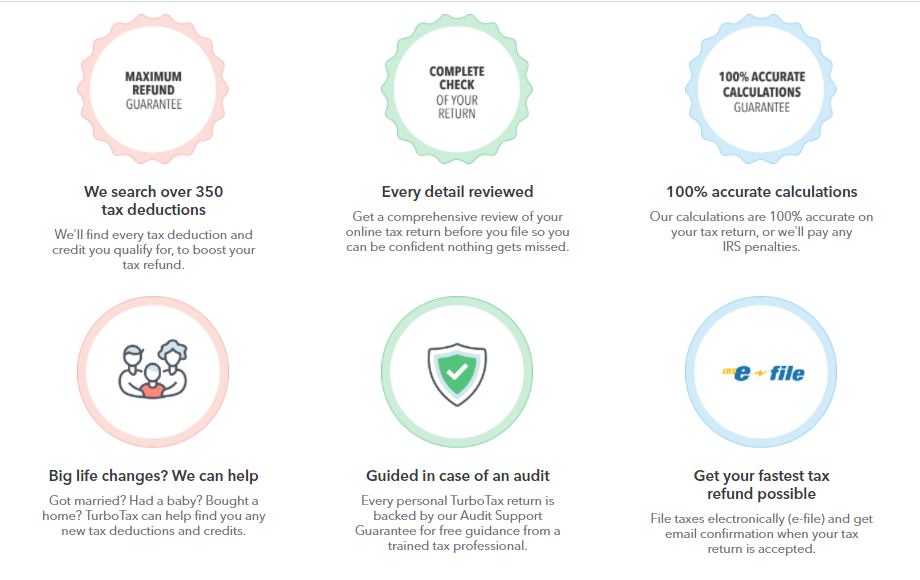 If you are a first-time tax-payer, then this one is surely going to be useful to you. TurboTax categorizes taxpayers before even you start using it. You will be given various options like whether you want more deductions and maximize credits, are you a salaried person, pay rent, etc. Based upon your selections, it will suggest a package which is most suitable in your condition.
TurboTax offers four packages as of now – Free Edition, Deluxe, Premier, and self-employed. Furthermore, it allows you to import previous return documents. You can request for manual review before filing your tax return. Overall, it's easy to use and comes with smart upgradable tax support. It follows a more live assist route than others.
Explore TurboTax
4. Jackson Hewitt

Jackson Hewitt comes with all the essential features you require while filing your taxes. It allows you to import your tax forms and returns and later walk you through a filing process with the help of a series of self-explanatory questions.
On the other hand, this software stands out in the Tax Pro from Home service. You just have to upload your documents, and then one of the company's employees will take over.
It has live online support. There is a 100% accuracy guarantee and a tax professional to help you out. The few drawbacks include the limited tax support, which you can improve by paying more. And It only imports Jackson Hewitt returns.
Explore Jackson Hewitt
5. H&R Block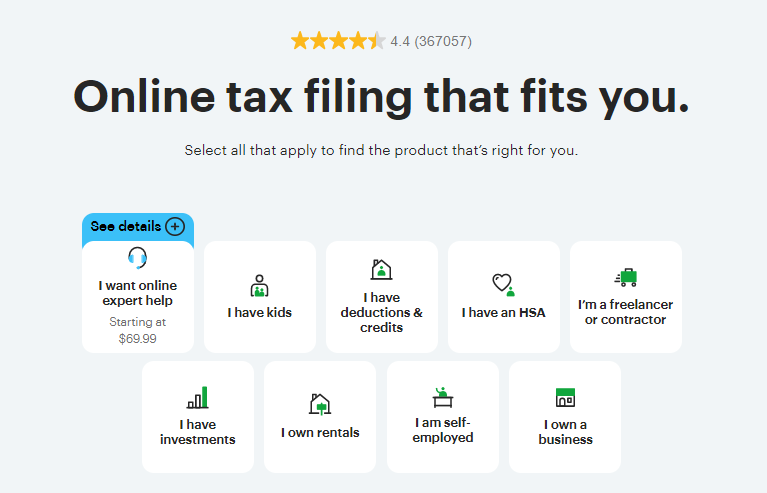 Compared to TurboTax, H&R Block can offer you similar features but for a little less. The interface is quite simple and can be easily followed by users using on-screen instructions. But if you are still not sure, you can request an agent for a proper consultation (online/offline) at just some extra price starting at $69.
This software also allows users to import previously filed returns. There's one free plan too for simple tax filings. Moreover, they have an office at 1200 locations that all provide walk-in help as well. The tax support is upgradable and also offers a live chatbot option that can assist you. Overall, On the other hand, a few cons of this tool include the limited tax support options and the state filing fees that are more expensive than other competitors.
Explore H&R Blocks
6. TaxAct

TaxAct is another good tax software you can use. It gives direct competition to TurboTax and comes with almost similar features and plans. Just like others, you can import your previously filed tax return without any hassle. TaxAct offers you a downloadable version of its software for your Windows and macOS. This software will cost you around $47.95-$94.95.
it's simple and comes with free and unlimited phone and online chat support. There's a 100% accuracy guarantee, and unlike any other software on this list, TaxAct will not only refund the cost of the software but it also pays the difference in either the lower refund or the higher tax liability, adding any legal costs or penalties. If you are going for a free version, remember it's limited and comes with no audit support.
Explore TaxAct
Wrapping Up
And with that, we have come to the end of our list of some of the best tax software that you can use. In short, the true purpose of these online tools is to make your tax filing journey easy, and the six of these programs are quite effective in that. Other than that, make sure that you don't miss out on any important dates and just keep on filing your returns.