Looking to convert OST to PST seamlessly? In this article, I will unlock the secrets of efficient email management by delving into the world of converting OST to PST effortlessly.
When it comes to accessing important mailbox data stored in an Offline Storage Table (OST) file, you need to convert it to a Personal Storage Table (PST) format first. In this step-by-step guide, you'll discover how to effortlessly convert OST to PST, ensuring smooth data recovery, migration, archiving, and backup. So, let's get started!
Read: How to Convert JPG to PDF Online
What is an OST File?
An OST file, short for Offline Storage Table, is a data file created by Microsoft Outlook to store a local copy of mailbox data when Outlook is configured to work in an offline or cached Exchange mode. It allows users to access their email messages, contacts, calendars, and other Outlook data even when they are not connected to the Exchange server.
Why would you want to Convert OST to PST (Personal Storage Table) Format?
1. Data Recovery: If you Exchange's account is inaccessible or got corrupted, converting the OST file to PST allows you to retrieve your email messages and other data. PST files can be imported into Outlook to access the data or to transfer it to another computer or email client.
2. Migration: Converting OST file to PST format ensures the data migration and access while switching to a different email client or new client. For example, if you are looking to move from Outlook to a different email client that doesn't support OST files, you can convert it to PST files and retain the data.
3. Archiving: For people who want to maintain an archive of their Outlook data in PST format for long-term storage or to free up space on the Exchange server, converting the OST file to PST is required. They can create a separate archive file that can be easily managed and accessed whenever needed.
4. Backup: Converting OST files to PST format provides an additional backup option. PST files can be backed up separately, ensuring that important Outlook data is protected in case of hardware failures, data loss, or accidental deletions.
How to Convert OST to PST?
There is much software out there in the market, that are dedicated to converting OST to PST files. For this article, we will be taking into account Stellar Converter as a reference. It is a powerful software that can be used to seamlessly convert inaccessible OST files into usable Outlook format.
Stellar is able to convert just about everything including your mailbox, emails, attachments, calendars, and contacts with 100% accuracy, without any file size limitations whatsoever. Here's a detailed step-by-step guide on how to convert OST to PST:
Step 1: Firstly, launch Stellar on your device. Now, click on Select Outlook OST. A pop-up would appear on the screen with two options, List Profiles or Choose Manually.
Step 2: Click on List Profiles to view all the OST files stored in the default location, and click on Convert. You can also click on Choose Manually to check the OST file one by one.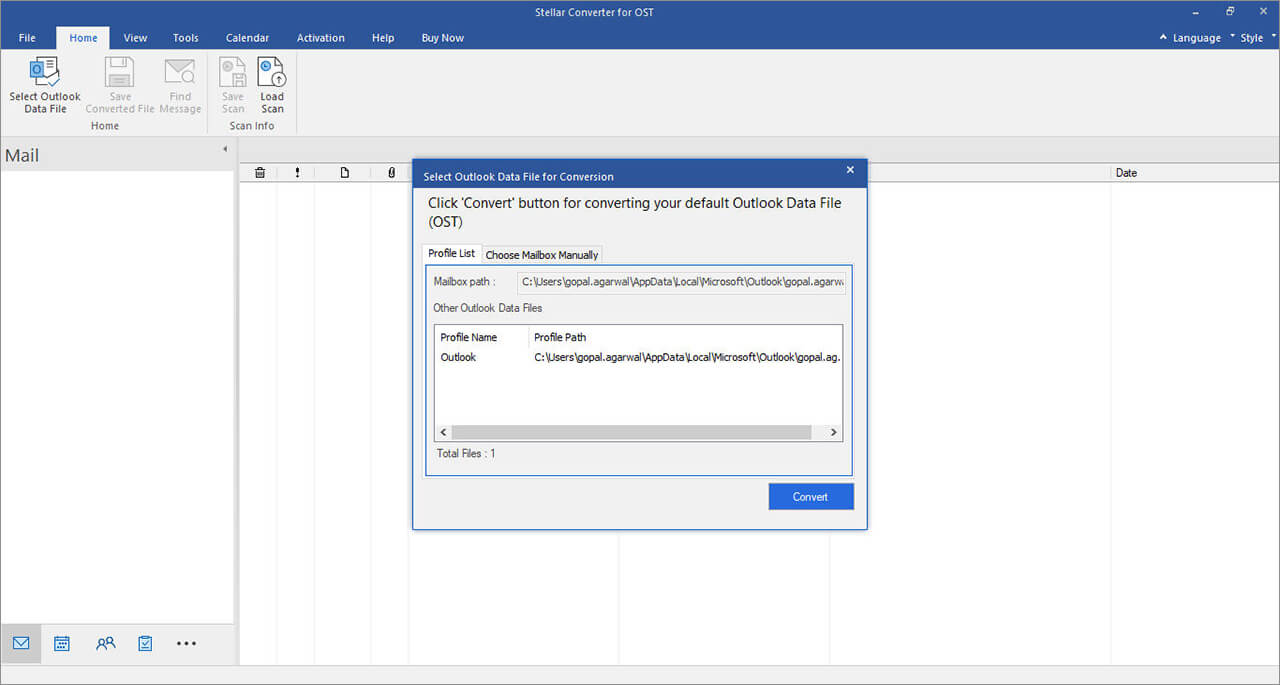 Step 3: Once you have completed the conversion, you can find previews of the Outlook mailbox folders along with the deleted items often denoted by red color from the Left Panel. Simply, preview the mail items and select them to save.
Step 4: There is also the find message option to look for emails. You can use various parameters including 'To,' 'From,' 'Date,' and 'Subject,' to sort them individually.
Step 5: Under the home tab, simply click on the 'Save Converted File.' A pop-up will appear including all the file formats that are available. Simply, select PST and click on 'Next.'
Step 6: Click on 'Browser to choose a save location' and select the files based on your preference. The 'Apply Advanced Filter' facilitates users to further apply filters.
Step 7: A new dialog box will appear, allowing you to include and exclude emails based on specific email IDs and date ranges.
Top 3 Alternatives to Convert OST to PST
1. SysTools OST to PST Converter
The SysTools OST to PST converter is used by millions of IT administrators and office personnel worldwide. It comprises various products in its line up including data recovery, file conversion, migration, cloud backup, digital forensics, and more. Furthermore, SysTools is equipped with full data conversion, while supporting batch exports for ease of use and accessibility.
Salient Features:
Comes with an all-in-one utility tool
Offers some of the most advanced scannings for OST files
Ability to convert OST files to PST in bulk
Both data-based and user-driven filtering options
Preserves OST file metadata post-conversion
Generates a complete report post-conversion
Get SysTools
2. Kernel OST to PST Converter
The Kernel OST to PST converter is one of the many products developed by Lepide Software. Kernel software specializes in data recovery, backup, data security, software monitoring, cloud migration, and more. That being said, the OST to PST converter predominantly specializes in converting OST files into PST, Office 365, EML, MSG, and Exchange Server.
Salient Features:
Seamless migration of OST to PST across all versions of Outlook
Direct export to OST files without data loss to all cloud-based Microsoft Mailbox
Easily repair or recover, corrupt OST files
Dedicated Search Tool to look for specific emails in the OST file
Ability to split PST files across various sizes
Dedicated migration report based on various item types
Get Kernel
3. Softaken OST File Exporter
The Softaken OST File Exporter is a state-of-the-art email management software that is dedicated to converting OST files to various formats including EML, PST, EMLX, MSG, and MBOX. The OST File Explorer has the ability to seamlessly extract data even from offline OST files, making it truly unique on its own. Furthermore, it can be used regardless of the Outlook version or Windows OS.
Salient Features:
Comes with a very simple and easy-to-understand user interface
Extensive support for both ANSI and Unicode
Ability to recover completely deleted mailboxes
Accurate data migration without any change in files whatsoever
Easily preview data prior to conversion
Get Softaken
Recommended: 4 Ways to Convert PDF to Word
The Bottom Line
So that our curated guide on the steps you need to follow to properly convert OST to PST. For starters, you can always use the Demo version of Stellar, and conveniently convert files based on your preference. 
I hope the this article helped you effortlessly recover, migrate, archive, and backup your Outlook data. Whether you're facing data inaccessibility, undergoing a system migration, or simply aiming to streamline your email management, the OST to PST conversion process is your key to success. Feel free to share your thoughts or issues you may face in the comments below.