If you are following me for a long time, you definitely noticed that I always prefer dark mode wherever available. Recently, I talked about getting dark mode on Facebook Messenger and Chrome Browser on Windows. But what about browsing the Internet on your Android device?
Nowadays most of the people spend a significant amount of time on different websites and googling stuff. Though in the day time or specifically during light, there's nothing to worry about. But when we open a webpage in the middle of the night, the light coming out of our phones causes too much stress on our eyes.
Today, I will explain how you can activate dark mode in your Android Chrome browser. All thanks to the recent Chrome Update (74) which made it's possible to make the entire browser dark using Chrome Flags. So, let's get started..!!
Activate Dark Mode in Android Chrome Browser
The very first thing you have to do is go the Google Play Store, search for Google Chrome and update the app.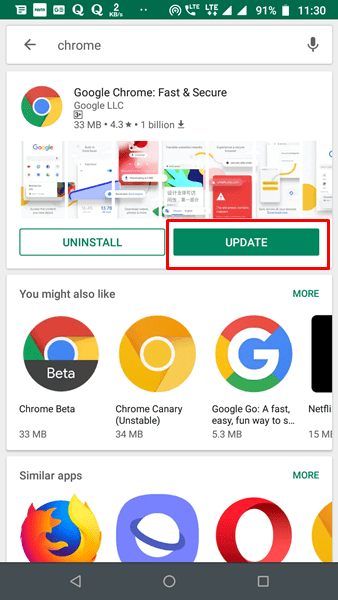 If you already updated the app or the update is not available, just make sure if you're on the latest Chrome version 74. To check the version, go to Settings, scroll down to the bottom and tap About Chrome. If you see Chrome 74.something, you're all set to proceed. Otherwise, you have to wait for the update for your device.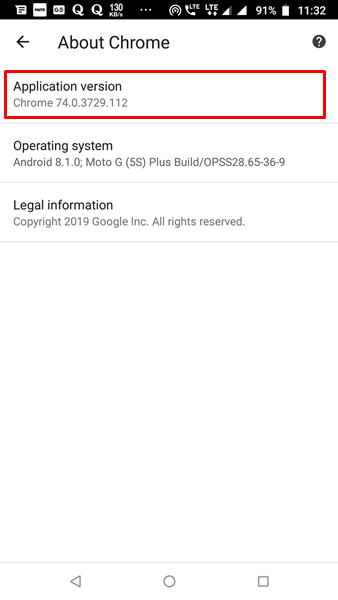 Now, open your chrome, type chrome://flags in the search bar and hit go button on your keyboard.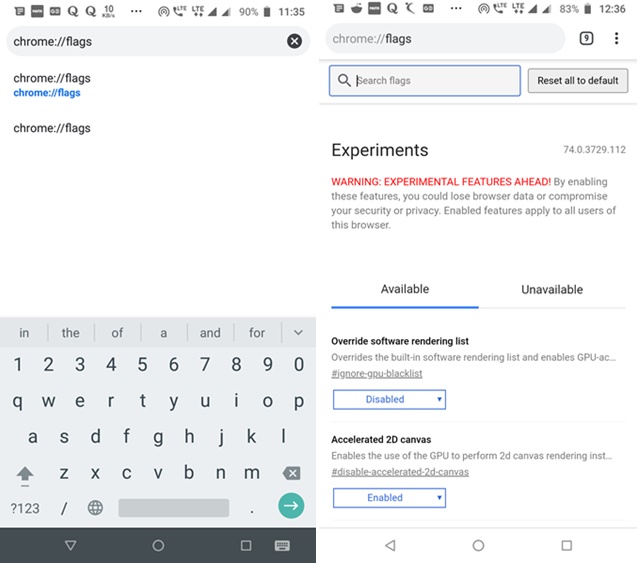 It will take you to a page titled Experiments and also show you a warning. But don't worry if you know what you're doing, the Chrome flags are mostly harmless.
Also Read: How to Restore Recently Closed Tabs in Chrome
Now, tap on the search bar present at the top of the page, type 'dark' and hit go. You'll see two results – Android web contents dark mode and Android Chrome UI dark mode.
You'll have to enable both of these flags but in the following order. Otherwise, you may get the dark mode in webpages but won't get an option to enable the dark mode for the entire browser.
First, enable the 'Android Chrome UI dark mode' flag. Just tap on the button saying 'default', change that to 'Enabled' and Relaunch the browser by tapping the button present at the bottom.
Now, enable the second Flag 'Android web contents dark mode' by following the same steps and lastly Relaunch the browser.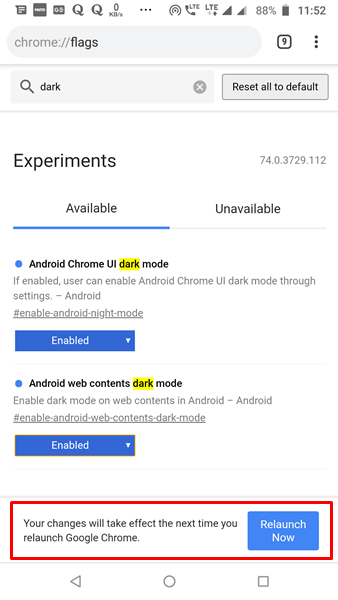 Finally, just tap the options (three-dots) icon present at the top, go to Settings, look for Dark mode and enable it. This will make your entire Chrome browser's UI dark.
If you were just looking for the dark webpages (not the UI), you can turn it off anytime.
Once again, there's no risk in enabling any of these Chrome flags. The UI flag works perfectly and gives a nice experience. However, the web content flag isn't like an official feature. It doesn't only dark but also invert the colours, which sometimes causes bad experience with images.
How to Enable Dark Mode in Chrome Browser
I hope you found this article useful. Although other browsers like Opera and Samsung already had this feature for a long time, Chrome is yet to come up with a stable solution. As I said, follow the above order while enabling the flags, otherwise, dark mode for UI doesn't get activated. Let's hope that Google will solve this bug in future and we'll get an inbuilt option for dark mode. Till then, follow this workaround and enjoy the dark mode in your Android Chrome browser. Lastly, if you face any issue activating the dark mode, use the comments below. It's always open for you.