Dark mode is one of the trendiest thing these days. Developers are adding this feature in their apps at an impressive rate. If you are someone who uses dark mode wherever available or just loves to try it out, here's good news for you.
The social media giant Facebook is also working on a dark mode feature for its messenger app. Like any other dark mode, it will change the background of your Messenger to deep black. Though it's not something too overwhelming, you may like to try this new beautiful black theme.
The dark mode in Messenger is still in the testing phase and should be released anytime soon, but there's an interesting way to activate and use this feature now. So, if you are interested in using dark mode on Messenger on Android or iOS, here is the easiest way to activate the hidden dark mode. The company has developed a quite funny process to enable the dark mode. Just follow the steps below.
Also Read: What is Facebook Watch Party and How to Use it?
Activate Dark Mode in Facebook Messenger
1. First of all, launch the Facebook Messenger, open any contact and send the ? (moon) emoji to him/her. If you are confused about choosing a contact, you can even send it to yourself.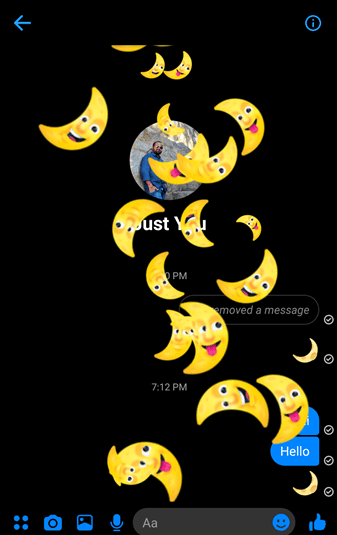 2. Once the emoji is sent, you will see a shower of moons with a popup saying "You Found Dark Mode!". Just tap "Turn on in Settings" to visit the settings page.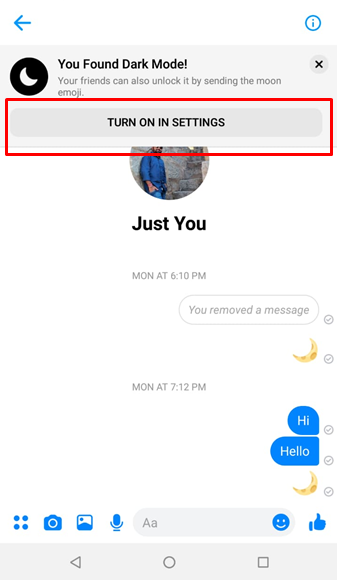 3. Finally, you will see a new Dark Mode option just below your name. Just turn it ON and enjoy this awesome dark mode.
Also Read: How to Activate Dark Mode in Android Chrome Browser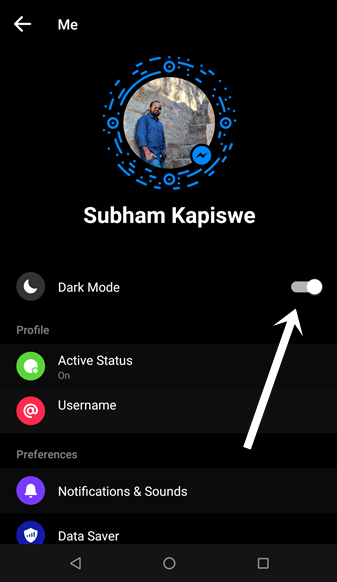 Note: If the above method doesn't enable the dark mode, just force close the messenger and launch again.
Recommended: How to Deactivate Facebook Messenger Account
Enjoy the True Dark Mode in Facebook Messenger
I hope you found the tutorial easy enough to activate the hidden dark mode messenger. I really liked the way Facebook has set it up. Also, the company has given a True Black background, not a dark-grey or bluish black. If you have also enabled the dark mode, let us know your experience in the comments section below.