The most popular internet browser Google Chrome is dominating the browser industry with 69.2 percent market share. It comes pre-installed on almost every Android smartphone and other Google products. With the last few updates, Google has fixed many issues related to its memory usage. Though there is still a long way to go in order to become the most optimized browser, I prefer Chrome mostly because all my history and bookmarks remain synced between my phone and computer. Google Chrome offers a lot of useful features but you can even extend its functionalities by using flags. Today, I am going to share some best Chrome flags for Android which can definitely help you in some your important tasks.
You May Like: Here's How I Turned My Google Chrome Completely Dark in 2 Minutes
What are Chrome Flags?
The addition of new features by Chrome go stage by stage. Earlier, when they remain in the development phase, they are called flags. You can access all the available flags by typing chrome://flags in your chrome browser.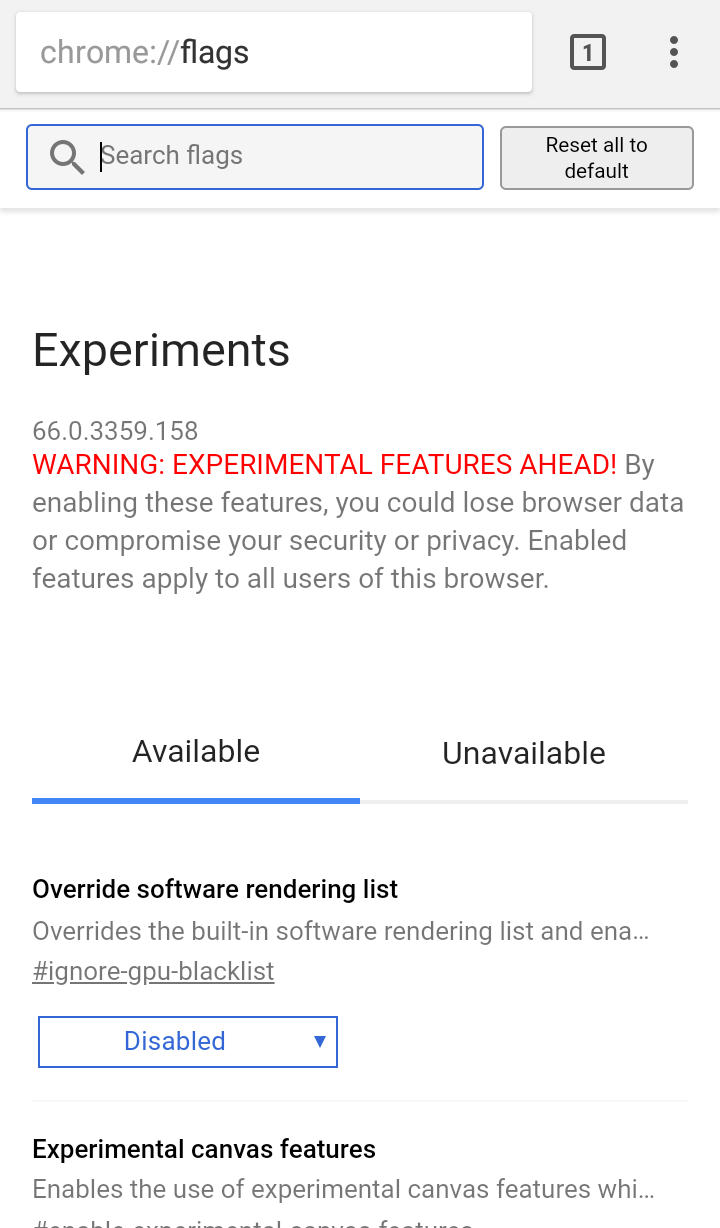 Here, you should remember that flags are experimental features that are currently in the development phase. These haven't been rolled out in a stable version. So, there are chances that some of these features may not be available later (Check out some cool Google tricks).
Best Chrome Flags For Android
1. Extra Features for Video Player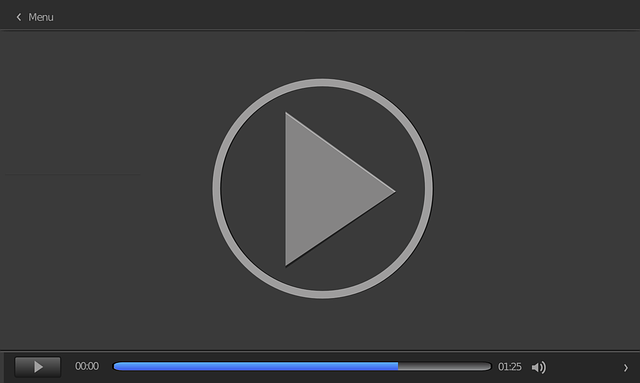 We play videos on Chrome browser quite often and I am sure you all have tried pausing the video by double-tapping on it. But it doesn't work. You also cannot fast forward or rewind the video by double-tapping on the left and right of the screen.
Using chrome flags you can easily get these features on Chrome's video player. Just search for the #enable-modern-media-controls flag and enable it. You will see the full-screen, time and the volume buttons are now above the timeline bar instead of the side.
chrome://flags/#enable-modern-media-controls
2. Increase Your Download Speed
Parallel downloading is one of the reasons why Internet Download Manager (IDM) is so popular. It allows creating multiple connections for downloading the same file and hence the speed significantly increases. Though there are many methods available on the Internet which claim to increase the download speed. But most of them are usually repeated old stuff or fake.
Using the #enable-parallel-downloading flag, you can enable parallel connection feature on your Chrome browser. After enabling this flag, your download speed will be increased. Though If you are downloading small files, it won't matter much. But, you will definitely notice the improvement when downloading movies or any other big files.
chrome://flags/#enable-parallel-downloading
3. Change Download Location
Usually, when you download files on your Android phone, it automatically goes to the default folder. There is even no option in Chrome to change the download path. This causes file management issues to people who are continuously downloading different files.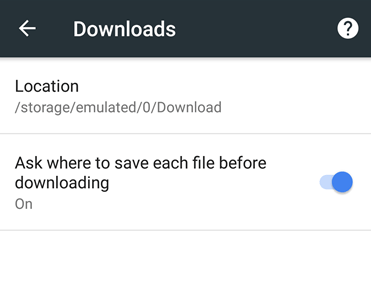 The #enable-downloads-location-change is one of the best Chrome Flag for Android which let you set any location for downloading files. After enabling this flag, You will also see a new option under Chrome setting. You can also toggle a switch that will force Chrome to ask you where to save the file every time.
chrome://flags/#enable-downloads-location-change
4. Offline Bookmarks
There are still many places in the world where slow or no internet connection is available. If you are also someone who often travel to these places, You should know about Offline Bookmarks. You can easily enable Offline Bookmarks flag and access some web pages offline. After enabling this flag, Chrome will save these web pages in bookmarks for offline usage.
You May Also Like: Top 10 Developer Options in Android Devices You Should Know!
5. Always Read Mode
People use to read a lot on the Internet and so there are many internet browsers who comes with something called Reading mode. When enabled, it removes all the formatting and ads to make the page as minimal as possible. unfortunately,  there's no reading option available in the stable version of Chrome till now.
But you can enable this feature using #reader-mode-heuristics flag. After it is enabled, you will see a small notification at the bottom of the screen asking if you like to see the page in a simplified view. You can choose night mode, change font type and size in the appearance section of Settings.
chrome://flags/#reader-mode-heuristics
6. Moving Address Bar to Bottom
You can move the address bar from the top to the bottom of the screen using the cool "Chrome Home" flag. First, you need to visit Chrome Flags page and search for Chrome Home and enable it. While I use this option just to get a new browsing experience but it can resolve a very annoying issue people face when they have a large-screen phone and their thumb don't reach the address bar.
7. Block Redirects
People call it a bad user experience when the website automatically redirects you to some other address. If it were only up to only user-experience, there should be no issues. But there are many redirects which leave you to an unsafe page and put your security and privacy at risk.
Google is currently working on some Chrome flags to protect the users and restrict redirects. You can use #enable-framebusting-needs-sameorigin-or-usergesture Chrome flag for Android now. As said earlier, this flag is under development phase and so it only works when there is a time interval before the URL redirects to another site. When you visit a website which is immediately redirecting to a new address, this flag will not work.
chrome://flags/#enable-framebusting-needs-sameorigin-or-usergesture
8. Scroll Anchoring
When we are talking about best chrome flags for Android, Scroll Anchoring is a must to consider. This flag fixes some very annoying issue while browsing the Internet in the Chrome browser. You might have noticed that in Chrome when you open long pages, there is annoying page jumps due to wrong taps. You can easily fix this the issue by enabling "Scroll Anchoring" flag. The option adjusts the scroll position to make sure there are no text reflows.
Also Read: 5 Ways to Fix ERR CONNECTION REFUSED Error in Chrome
9. Compact Tabs
If you use Chrome browser on a tablet, you will see tabs at the top of the screen. But there are no tabs available for Android phone users. Normally, they tap the square icon (with a number) to see all the open tabs as cards. Sometimes, they have to struggle a lot to find the tab they want.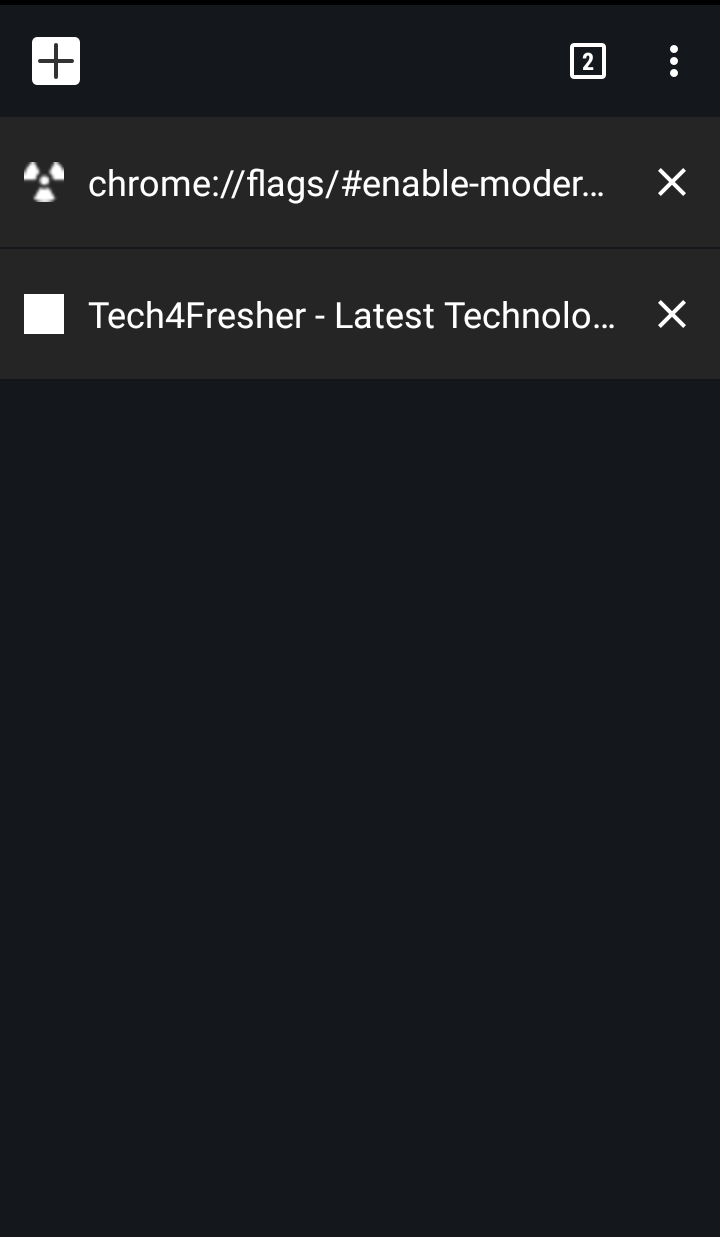 Using Accessibility Tab Switcher flag, you can see all the open tabs as a compact list. Just search for Accessibility Tab Switcher in the chrome flags page and set it to enabled and You're all set. Now, when you click the tabs button, you'll see a list of tab names making it much easier to switch between the tabs.
10. QUIC Protocol
Though Internet speed has improved a lot in recent years, if you are still on a slow connection, this chrome flag is for you. QUIC stands for Quick UDP Internet Connection and is known to improve the browsing speed. You can search for 'Experimental QUIC Protocol' in the flags menu and set it to enable.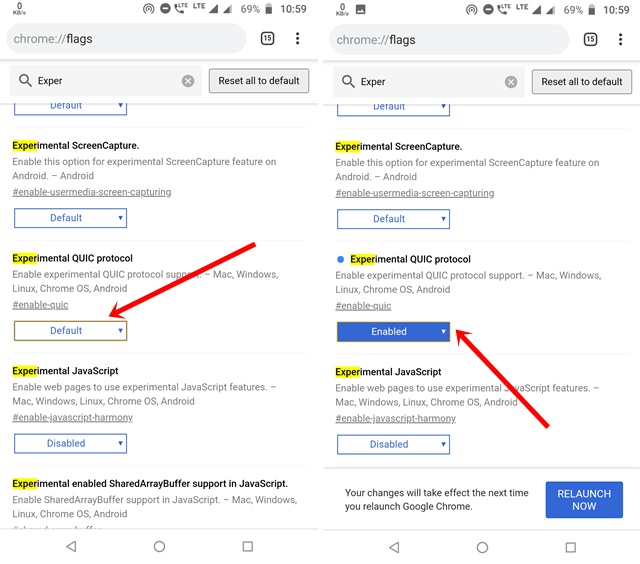 As QUIC work on UDP, its latency is lower than TCP.  According to Google, QUIP can improve page load times by 3% and if you use QUIC for youtube, you would see less buffering and smoother playback.
11. Search Ready Omnibox
This is a new chrome flag aims to solve one of the most common issues. Whenever we tap the address bar, the default URL is automatically selected and we again have to use to cross icon to clear it.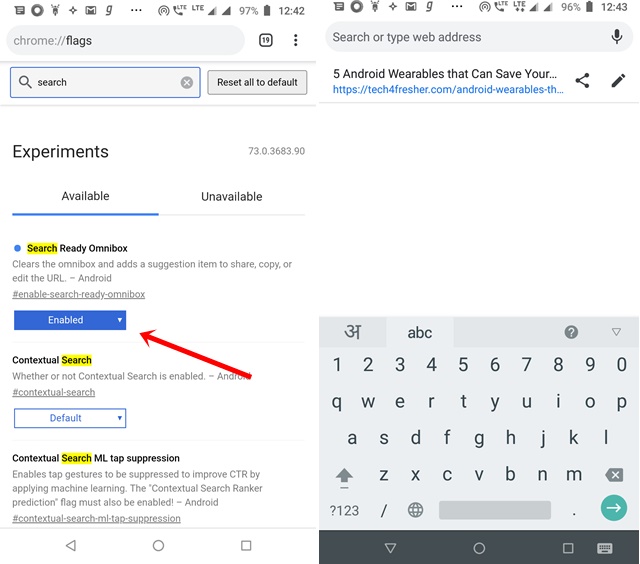 With this chrome flag, you no longer have to go through the same process again. First of all, search for 'Search Ready Omnibox' in Chrome flags menu and change its status to enabled. Now, whenever you tap the URL bar, the link will be removed and available for sharing just below the search box.
Also Read: 5 Best LightWeight Browsers For Android to Speed Up Your Device
12. Remove Suggested Articles From Home Screen
Whenever you open the Chrome browser, you see a list of articles present at the home screen. While I don't have any issue with those articles, but if in case, you find them irrelevant or you like a clean interface, there's a chrome flag to disable it.
Just search for the #enable-ntp-remote-suggestions flag, set it to disabled and restart your browser. It will remove the suggested articles from the home screen of your chrome browser.
13. Ephemeral Tab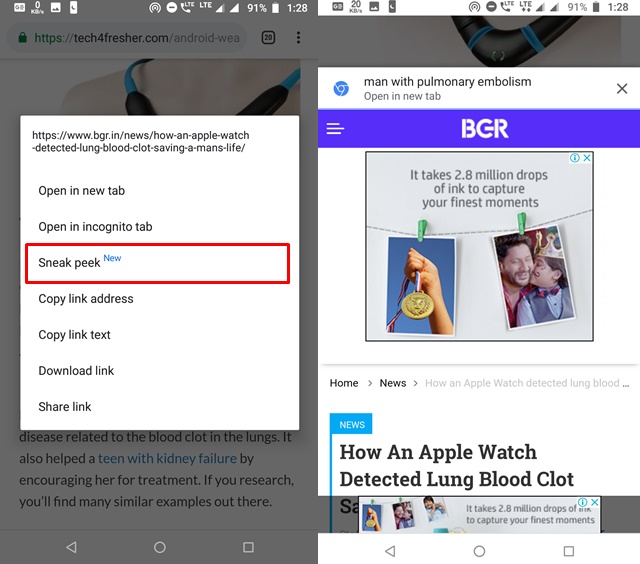 In order to provide better and more authentic information, webmasters and bloggers add various links to their articles, but opening each of them in a new tab is not preferred by everyone.
This Chrome flag provides you with a sneak peek of the webpage in an overlay tab. In this way, you can easily read the content without switching tabs. This is one of the best chrome flags for Android I ever found. Just go to chrome://flags, search for #enable-ephemeral-tab and enable it. Now whenever you long-press a link, you will see an option to sneak peek the content.
14. Back and Forth Gesture Navigations
If you are also fascinated by the gesture navigation of Chrome browser on Mac or just looking for an interesting chrome flag on Android, try this one.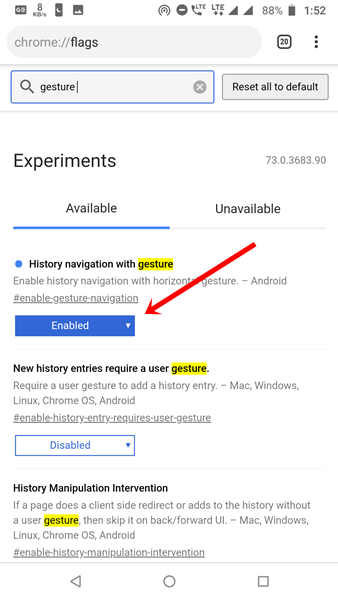 Visit Chrome flags page, search for 'History navigation with gesture' and set it to Enabled. Now you can swipe left and right on Chrome browser to easily move between webpages. This is a very useful Chrome flag for Android.
Also Read: How to Enable New Emoji Panel in Google Chrome?
Check out these Best Chrome Flags For Android
Google has adopted a nice way to test the new Chrome features as flags. Before writing this article, we have tested most of these flags on Chrome version 73. So, you may find some of these flags not available on your Android phone if you are using an old version of Chrome. Try out these Chrome flags on your Android phone and let me know which Chrome flag you found most useful. Also, if you know any other Chrome flag that should be included in the list, do let us know in the comment section below.