Internet Download Manager is the most popular and the best download manager available for Windows. It comes with a user-friendly interface and some really useful features. It's fast and can be integrated with almost every popular browser. If you are using IDM for a long time, you definitely know that it creates multiple connections using its Dynamic Segmentation feature and boosts the downloading speed. Apart from the speed, IDM also comes with other features like Download Speed Acceleration, Download Resume, Built-in Scheduler, Automatic Antivirus Checking, etc. But the fact is – best things never comes for free. IDM is available for 30-days free trial and after that, you would have to pay $11.95/Year. If you ask me, they are charging a nominal amount for a download manager like IDM, but still, it's not affordable for many users. Today, I am going to share 7 free IDM Alternatives that you can try in 2021.
Also Read: 10 Best Websites to Download Subtitles for Movies and TV Shows
Top IDM Alternatives (Free)
7 Free Internet Download Manager (IDM) Alternatives
1. Eagle Get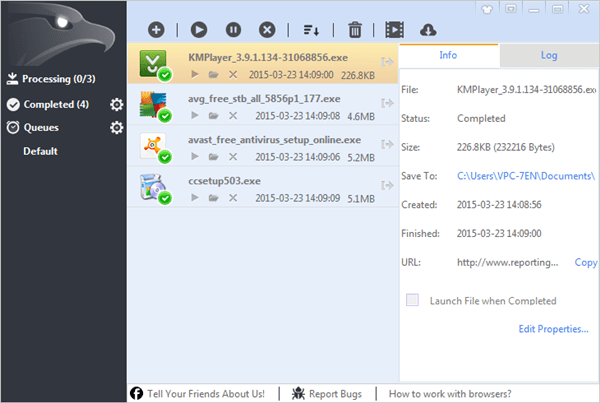 I use a lot of software on my laptop like video editors, image editors, browsers, some for development purpose, etc. So, I always try to avoid installation of unwanted programs. Eagle Get is one of the best lightweight download managers for people who are running a system with limited resources.
It comes with all the essential features like multiple downloads, accelerated speed, download scheduling, browser integration, etc. It can also resume the failed downloads and also comes with inbuilt malware checker. If you are interested in customization, Eagle Get also allows you to apply themes. Overall, the software is lightweight and easy to use. If you are still using IDM and have some pending downloads, don't worry. Eagle Get also provide an option to move your pending downloads to this software. Try it once as an IDM alternative and I hope you'll like it.
Available For Windows Only (Download)
2. Free Download Manager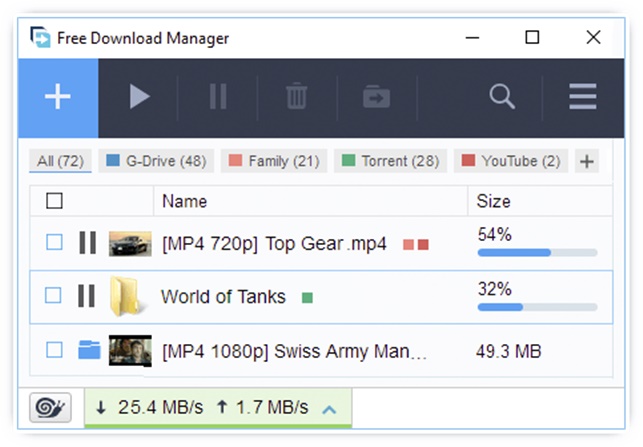 Free Download Manager offers almost all the features that you are using in IDM. It's a free alternative to IDM that comes with features like download acceleration, BitTorrent support, inbuilt audio/video converter, adjusting traffic usage and many more. The software has a smart file management system and a powerful scheduler which are found to be quite useful many times.
The Free Download Manager is available in multiple languages and is small in size. The best thing about this software is BitTorrent support using that you can easily add magnet links and torrent files to this download manager.
Available For Windows 7+ & Mac OS X 10.9+ (Download)
3. JDownloader
JDownloader is one of the best Internet Download Manager alternatives out there. It's a free and open-source program that comes with features like multiple downloads, multiple connections, powerful OCR support, automatic extractor, theme support, etc. Overall, it has almost all the features that the majority of people uses in IDM. The JDownloader can also solve simple captchas for you and thus provide a seamless experience. If you are not willing to pay for IDM, try this download manager.
Available for Windows, Linux, Mac & Java-based OS (Download)
4. Download Accelerator Plus (DAP)
Download Accelerator Plus or DAP is another popular download manager. Just like other download managers, it also creates multiple connections and speeds up the download process. It comes with something called Multi-thread acceleration engine and creates 8-10 threads to finish the download as soon as possible.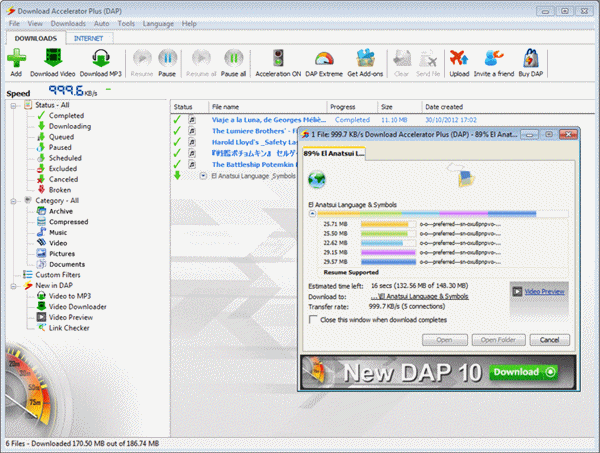 Also Read: 10 Simple Ways to Fix WiFi Connected But No Internet Access
The DAP comes with integrated audio/video converter that works quite well even for converting Youtube videos with high conversion speed. It has 300 million active installations which make it a must-try software.
Available For Windows (Download)
5. Flash Get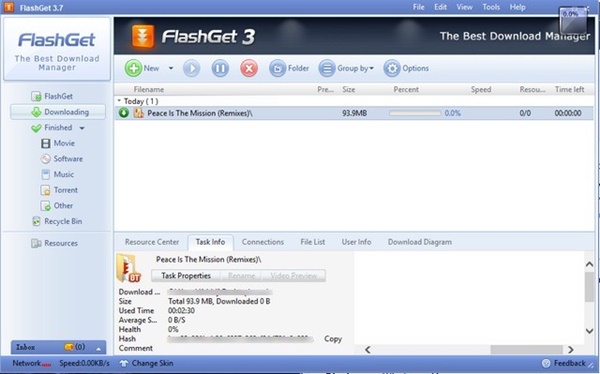 FlashGet download manager is a free program which is known for its speed. If your IDM trial has expired and you are looking for some free alternatives, try Flash Get. This software allows you to create unlimited download categories and claims to provide 5 times faster download speed than IDM. After finishing the download, the Flash Get can automatically request the Antivirus program to scan the file. Try it out if you are looking for a simple download manager with an integrated offline reader.
Available For Windows (Download)
6. Internet Download Accelerator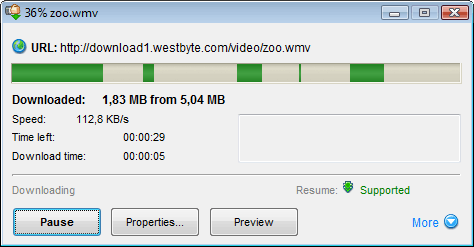 If you are addicted to IDM's user interface and doesn't want to try any other downloader, I will recommend you Internet Download Accelerator. With a similar look and feel, you will get all the necessary features in this download manager. All the options like pause, resume, schedule, shutdown computer after downloading, etc are super easy to use.
Like most of the other download managers, it also uses file splitting and multiple connections to boost the downloading process. Overall, a very good IDM alternative for basic users.
Available For Windows (Download)
7. Extensions & Add-ons
If you are just interested in downloading files with basic pause and resume functionality, there are many Chrome extensions and Firefox add-ons to take care of your needs.
The first extension is Chrono Download Manager which offers all the basic features along with bulk image downloading. It allows you to manage your downloads inside a browser tab instead of installing an application. The extension is very useful as it detects all links, images, audios and videos on a webpage.
Alternatively, You can also try Download Ninja, a feature-rich Chrome extension with the download, pause, resume, speed limiting and download acceleration features. Overall, you can try this extension as a free IDM alternative.
Also Read: Proxy vs VPN: The Real Difference
Wrapping Up: Best Free IDM Alternative
I hope the above download managers will fulfil all of your requirements. Most of the IDM users don't require advanced features. They just want a one-click download button and that's it. Though the above free download managers have all the essential options, it depends on you i.e whether you are a normal or advanced user and which features you are ultimately looking for. If you know any other good IDM alternative, let us know in the comments section below.