Do you have a hard time focusing on your task, losing your productive hours? Windows 11 is going to come and save the day with the all-new 'Focus Sessions' baked right into the Clock App. The tight integration with To-Do and Spotify is going to provide an excellent package for all the laser-focused individuals.
With Focus Sessions, users can keep track of everything remaining for the day and take breaks more efficiently. While the idea seems pretty compelling so far, let's see how Microsoft manages to pull that off.
What is 'Focus Sessions' All About in Windows 11?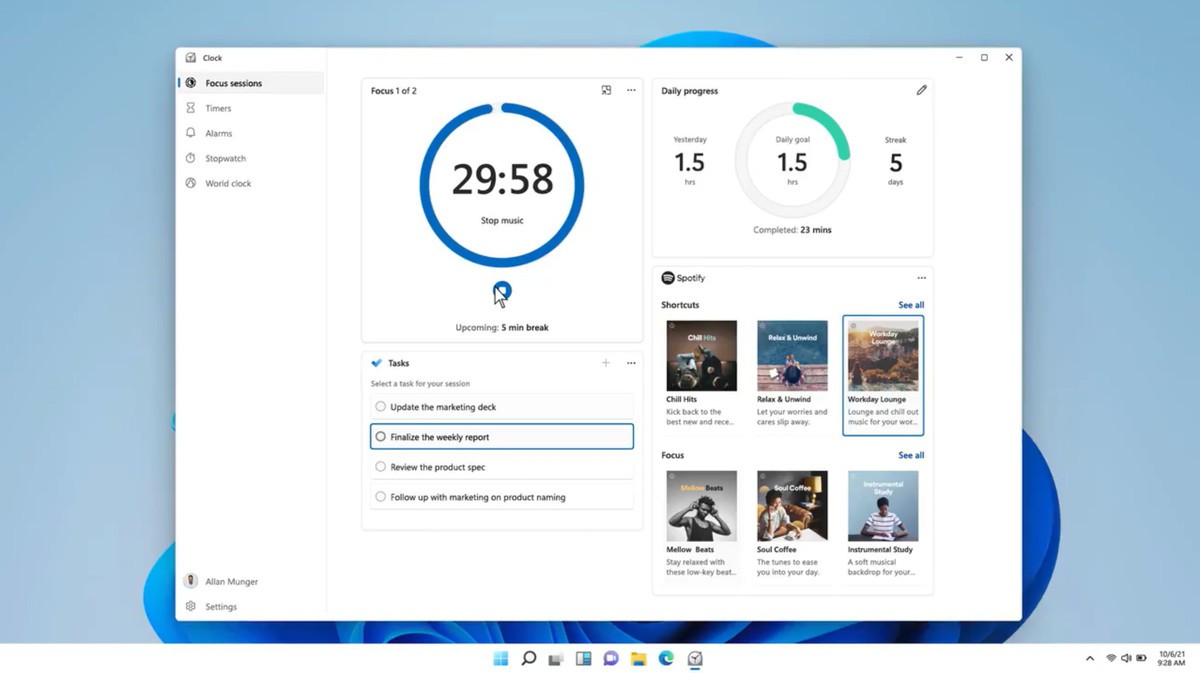 Instead of getting distracted with app notifications, Focus Sessions lets you complete the tasks at hand. The Microsoft To-Do list allows you to plan out your day more efficiently, while the Spotify integration keeps you motivated. This seems to be a killer combination whatsoever.
Although the Focus Session is not available in public Insider Previews, chances are you are going to find the same with the finished version of Windows 11 later this year. Although the concept of the Pomodoro technique is nothing new, finding it built into Windows 11 makes all the difference.
Microsoft seems to make a huge bet with their Spotify tie-in. Neither less to say, Windows 11's Focus Sessions can compete against macOS Monterey's own version of Focus Mode. Android and iOS are some of the strongest contenders as well.
What to Expect in 'Focus Sessions'?
With Panos Panay teasing the Focus Session of Windows 11, it seems to be a part of the Clock app. The overall execution is pretty simple. Designate a certain amount of time to your task, and listen to your favorite music without getting distracted. In fact, you can also keep track of your progress as well.
It comes with a very minimalistic and clean interface, with all the relevant information including your daily goals, completed minutes as well as streaks. It is similar to the already present feature of Windows, Focus Assist but on steroids. Certainly, the Focus Session is a crafty productivity tool worth using.
The Bottom Line
The only thing we can do is wait till Microsoft drops the Focus Sessions on the next preview build. So, are you excited trying out Windows 11's Focus Sessions?