Every smartphone comes with a Specific Absorption Rate (SAR) value that defines the maximum amount of radio frequency waves can be absorbed by our body. The standard SAR value is 1.6W/Kg. In simple words, higher the SAR value, more the possibilities of getting exposed to harmful radiations. You can check your smartphone's SAR value by dialling *#07#.
Whenever your phone sends or receives the signal, some of the radiofrequency waves get lost to the environment. This is called mobile radiations and are harmful for all of us. Though the FCC (Federal Communication Commission) has set some safety guidelines in terms of SAR Value, some intelligence from our side is also expected.
Smartphone addiction has become a common thing these days. I have seen many people who just prefer to stick with their smartphones the whole day and night. If you are still considering its normal, let me tell you that you can't be so sure before knowing about the phone and its SAR value.
If you are using a phone with higher SAR value, you may be welcoming some serious health-related issues. Not only this, mobile radiations and its relation to cancer has always been a debatable topic.
Today, I will share the top 10 most radiation emitting smartphones in 2019. The list has been prepared by the German Federal Office for Radiation Protection (Bundesamt fur Strahlenschutz) and published by Statista.com
| Smartphone | SAR Value |
| --- | --- |
| Xiaomi Mi A1 | 1.75 |
| OnePlus 5T | 1.68 |
| Xiaomi Mi Max 3 | 1.58 |
| OnePlus 6T | 1.55 |
| HTC U12 Life | 1.48 |
| Xiaomi Mi Mix 3 | 1.45 |
| Google Pixel 3 XL | 1.39 |
| OnePlus 5 | 1.39 |
| iPhone 7 | 1.38 |
| Sony Xperia Z1 Compact | 1.36 |
I am surprised to see the most popular smartphones are present at the top of the list. The Xiaomi Mi A1, OnePlus 5T and OnePlus 6T need no introduction as far as their hardware and prices are concerned. The list makes it clear that Chinese players are responsible for maximum levels of radiations.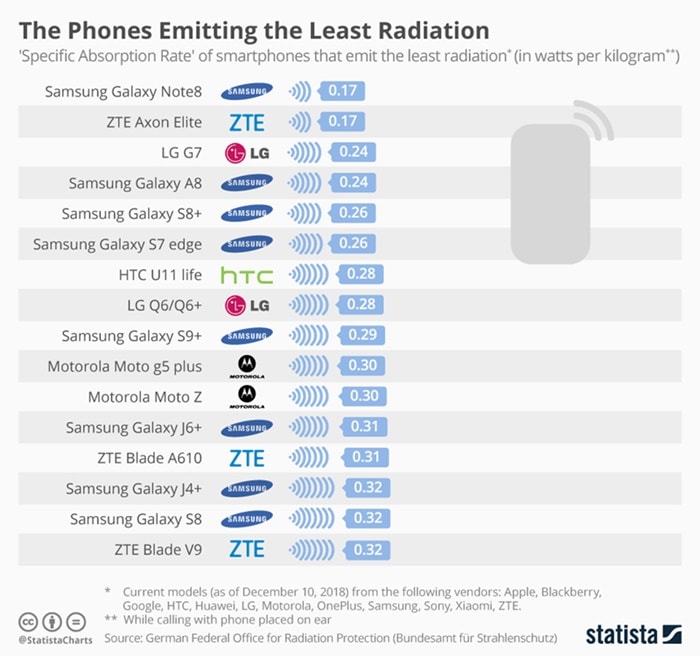 Also Read: 7 Best Call Recorder Apps For Android
Also, it's worthy to know that Samsung Galaxy Note 8 is least prone to radiations and the company has their 5 smartphones among the top 10 least radiation emitting smartphones