If you spend the majority of your time on the computer screen, this article is for you. Rainmeter is one of the best tools to customize your desktop screen. It's an open-source project that provides many cool skins to give the computer desktop a new and fresh look. Rainmeter also allows you to add hardware usage meters, audio visualizer, and various other cool things on your desktop.
In this article, we have shared some best Rainmeter skins you can try. But before going ahead, if you are new to Rainmeter, you can download it from this official website. The software is available for all versions of Windows ranging from Windows XP to Windows 11. So, without any further ado, let's get started!
Also Read: Best Windows 10 Themes with Download Links
1. IronMan Jarvis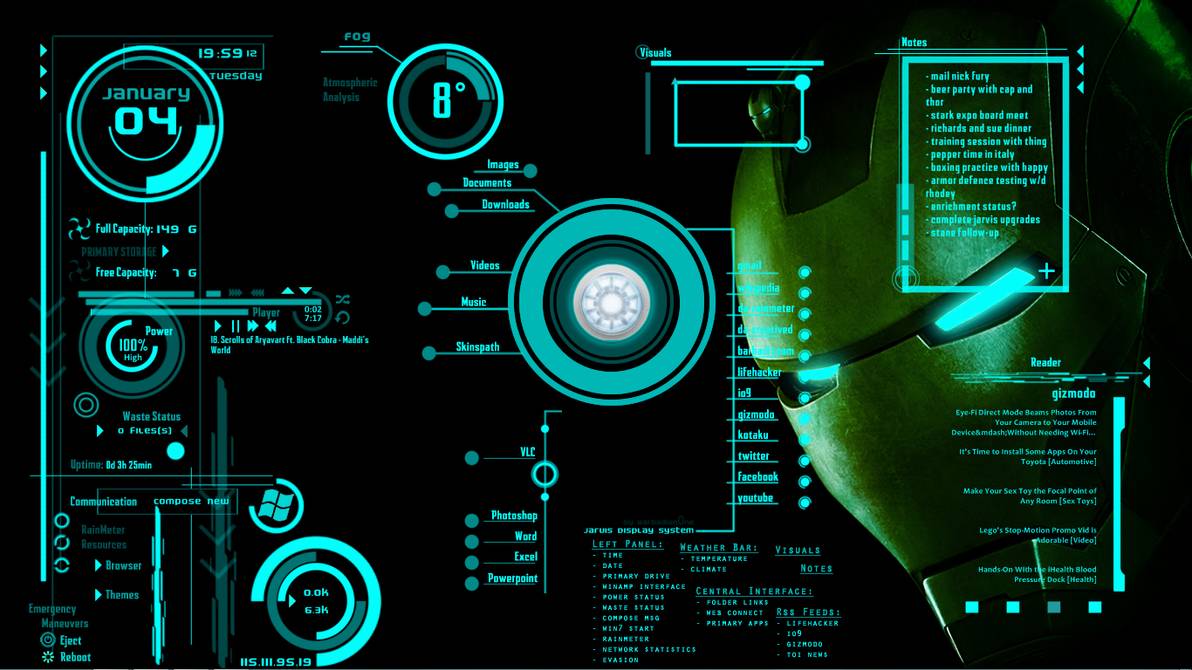 IronMan Jarvis is the favorable skin for those who love Marvel's iconic character, Ironman. This Rainmeter skin displays basic information such as temperature, RSS feeds, the capacity of the hard disk, and much more. In addition to these, you can add your own shortcuts as well to the desktop, which will make your desktop look more appealing. IronMan Jarvis comes in four different colors.
2. FLHUD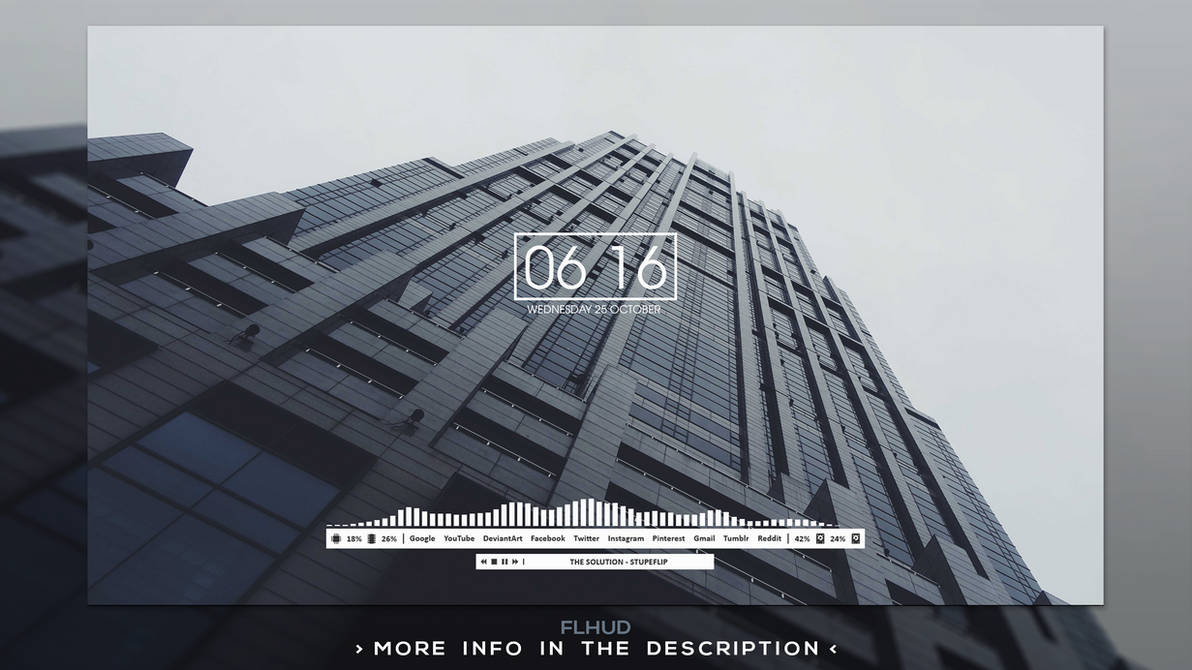 FLHUD is known for keeping the desktop simple. It has a widget on the top bar which displays the current time and date. At the bottom it displays a list of websites, so you can easily navigate from one website to another. Beneath the website URL's, a music player will also be displayed. If you are looking for simple rainmeter skins, try this one.
3. Pog Pack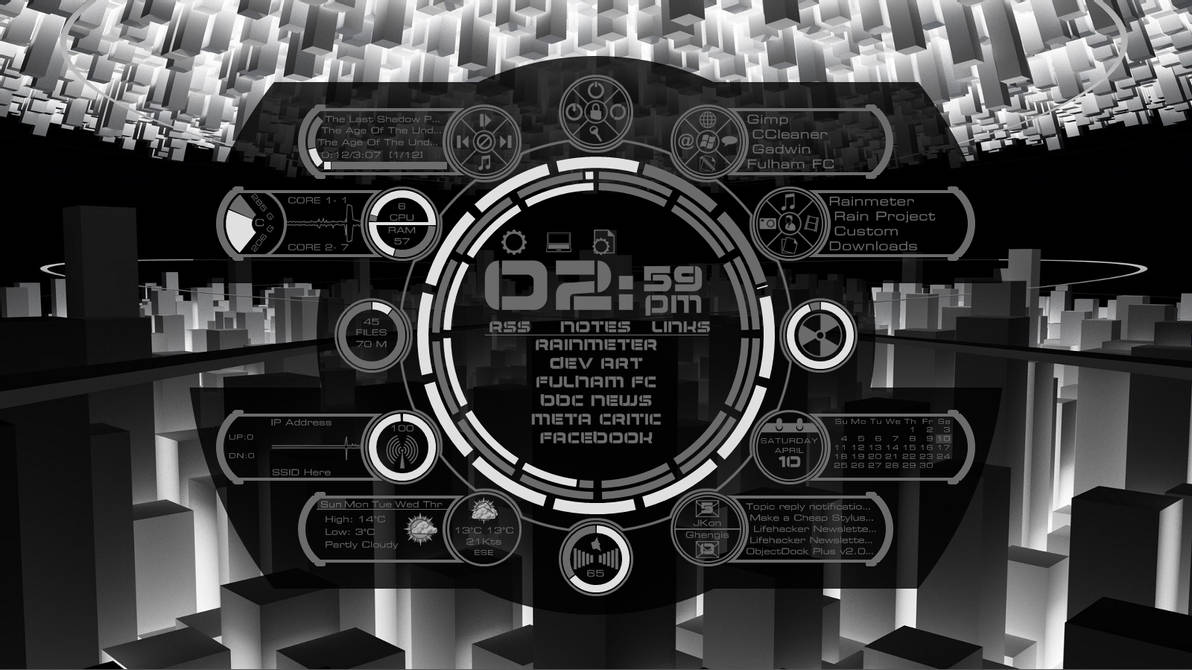 Pog Pack is one of the oldest skins available, but still, it manages to deliver an elegant look. It has 12 pogs that are located on both left and right sides of the basic centre watch. Pog Pack is equipped with the 10 variable that allows you to customize the overall look of the desktop.
4. Ageo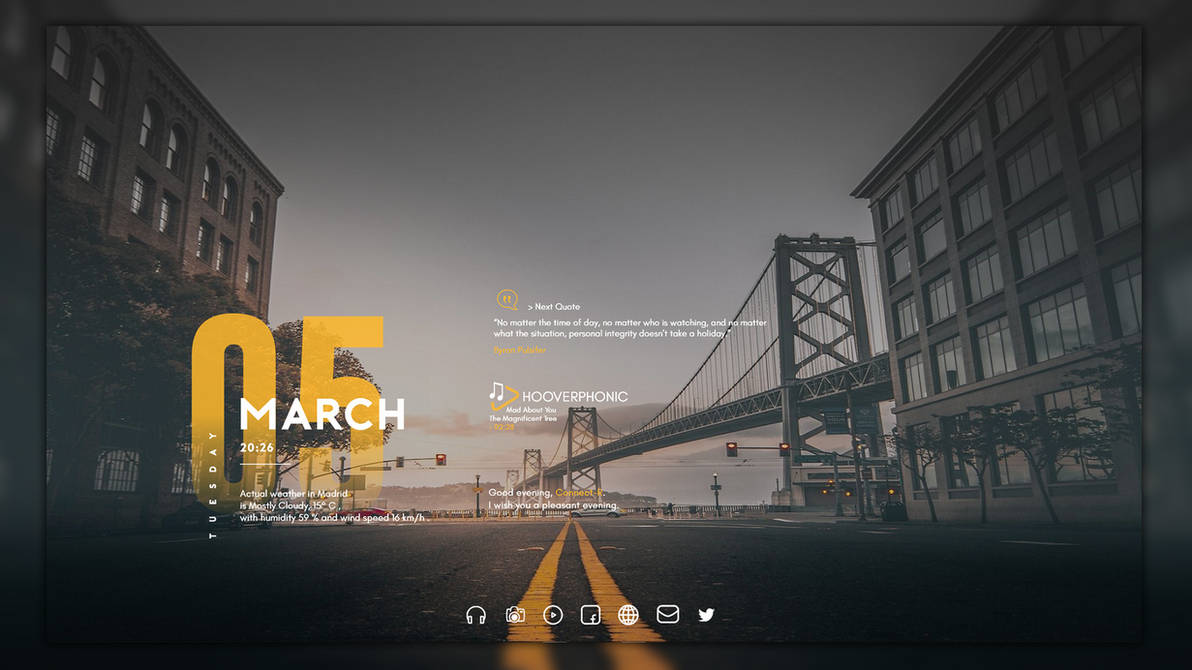 Ageo skin gives the best material look to your Windows computer desktop. It offers support for several widgets such as weather, time, date, music player. In addition to these widgets, Ageo skin also has a widget to display motivational quotes. Ageo skin is a highly customizable Rainmeter skin, which allows you to change the desktop font size as per your preferences.
5. Flat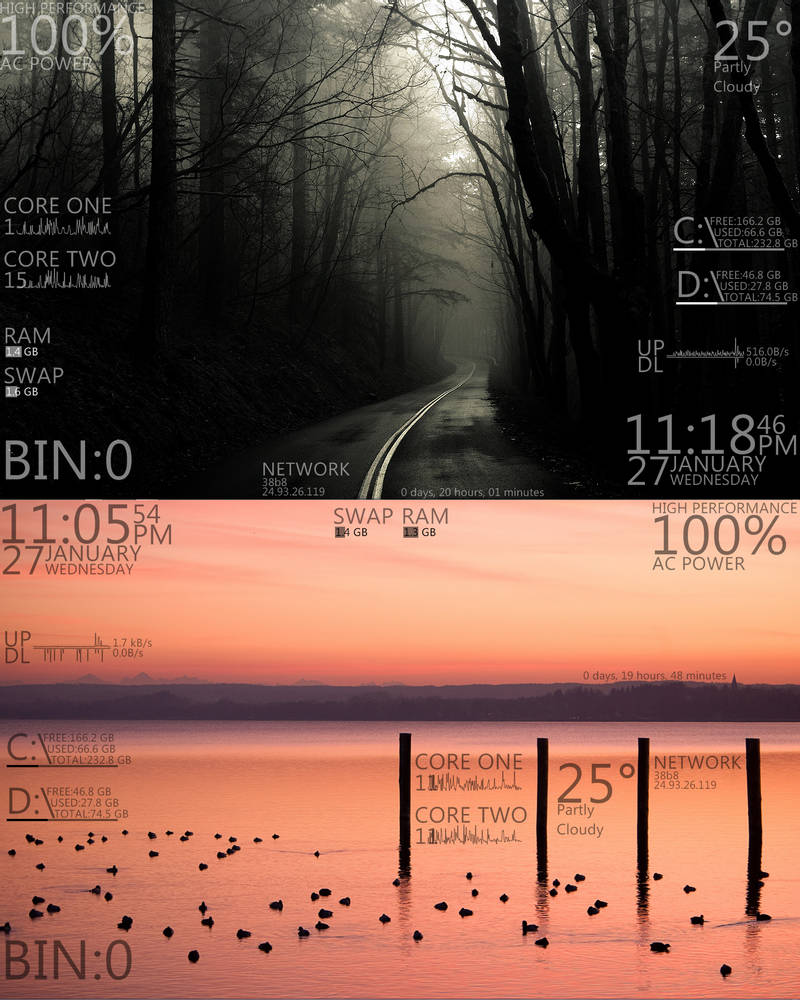 Also Read: How to Make Everything Smaller in Windows 10
Flat Rainmeter skin is available in two versions one is dark and one is light version. This skin display information such as system bar, time, date, graphical battery monitoring, and a lot more. Flat Rainmeter is well suited for advanced users who want to keep detailed system information.
6. Avengers SHIELD OS
If you like the JARVIS skin mentioned above, you are going to love the Avengers SHIELD OS. Not to mention, you are going to play Nick Fury, while managing the Avengers right at the home screen. You can get the skin in multiple resolutions, as well as some handy shortcuts to launch your favorite apps. It comes with all the standard widgets including volume control, RAM and CPU stats, media playback, and more.
7. Moderate

Moderate Rainmeter skin is a favorable choice for users who want to get a feeling of the Android user interface from Windows computers. It is employed with several powerful widgets such as date, weather, music player, recycle bin, etc. If you own a touchscreen Windows computer then it's worth trying Moderate Rainmeter skin.
8. Senja Suite

Senja Suite is a lightweight and clean Rainmeter skin that gives you an aesthetic look. This skin is more focused on improving the basics, so if you're an average user of the computer then this is the favorable option for you. Senja Suite skin contains widgets like time, user profiles, shortcuts, a slideshow of your selected pictures, and much more.
9. LIM!T
The only limit to anything is what you set by yourself. And the LIM!T skin is the perfect example of the same. The big widgets backed by clean fonts give you enough information to be displayed on your homepage. Some of the most common widgets that you can use include Date/Time, current media playback, CPU and RAM usage along Weather Statistics.
10. Spiderman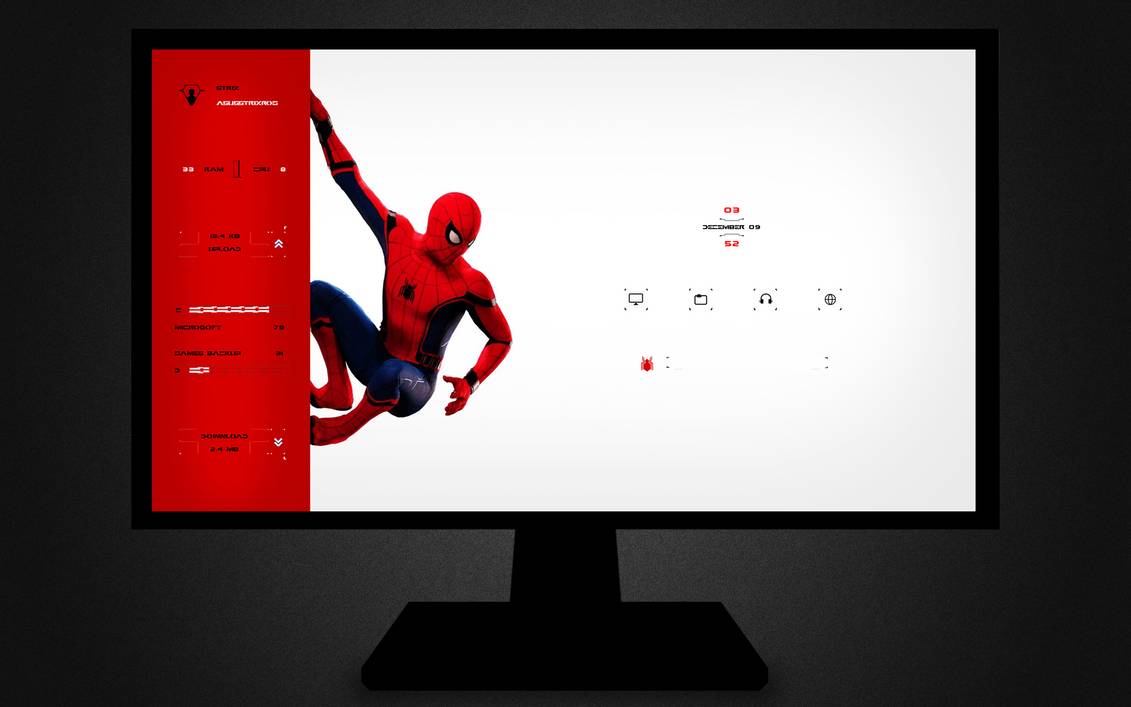 Who doesn't know Spiderman, the iconic character who appears in the Marvel movies. If you're a fan of Spiderman movies then you should check out this skin, it will not disappoint you. This skin displays all the essentials on the desktop screen including downloading and uploading speed.
11. Before Dawn RM Bar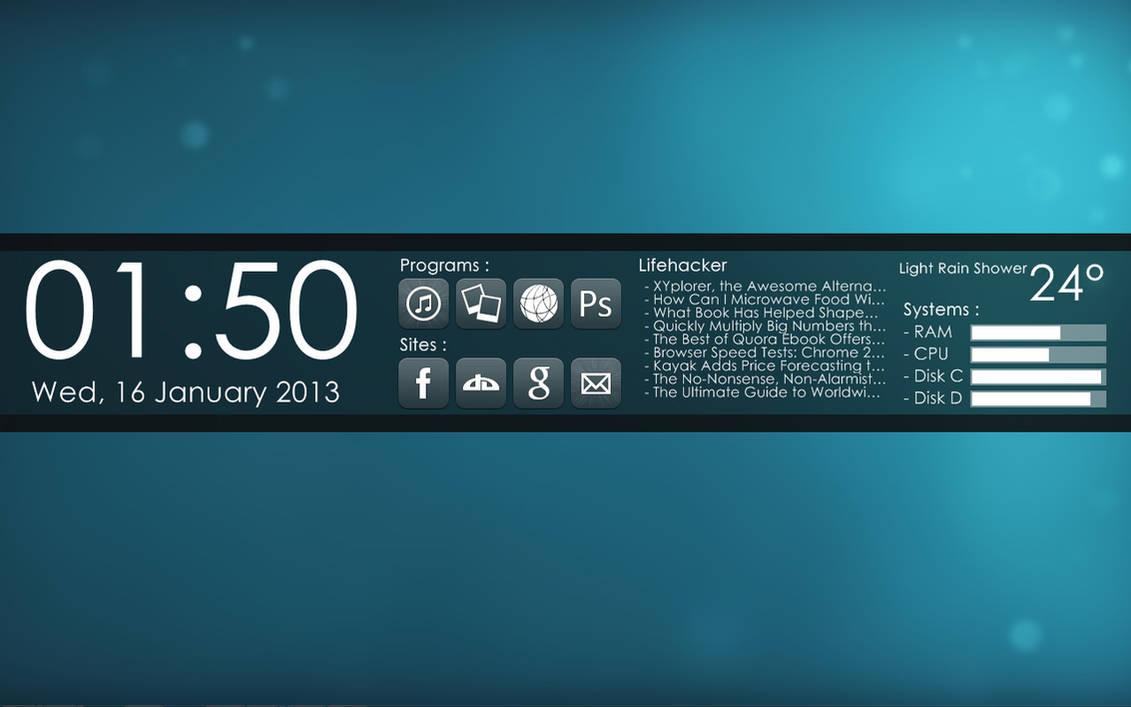 Due to its easy-to-use interface, Before Dawn RM Bar manages to secure a place in our list of best Rainmeter skins. Most of the users prefer it because of the elegance of the interface it offers. All the essential system information will be displayed in the center which stands it apart from other skins. It also displays information such as time and date.
12. Cyberpunk 2077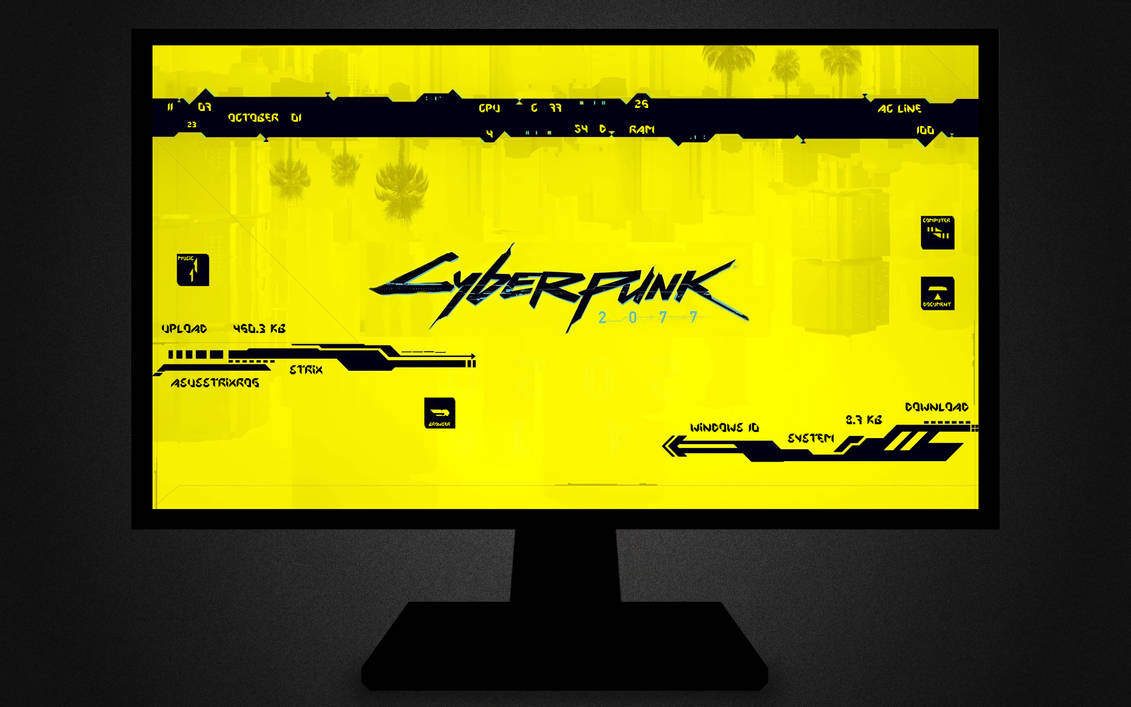 If you're an admirer of the Cyberpunk 2077 game series then this Rainmeter Skin will not disappoint you. This skin is designed in a way to give your desktop a look similar to a Cyberpunk game. All the system information along with the desired widget such as time, date, download, and upload speed will be displayed on the home screen.
13. Mond
If you want versatility for your Rainmeter skin, Mond is a great addition to have. Not to mention, how well it goes with any dark wallpaper. The Mond skin offers a plethora of customizations while allowing you to add multiple widgets to your home screen. Although for Spotify integration, there is a workaround with a separate plugin. Overall, the Mond skin is very minimal and doesn't take a toll on your resources.
14. The Gemini Suite
The Gemini Suite is a simple yet effective Rainmeter skin that offers CPU, RAM, and date-time widgets. There are a few customizations you can make with the Gemini Suite as well. Users can add their favorite games and apps within the left widget. In fact, you can also integrate with your stream account, and launch games right away. Not to mention, the Gemini Suite also has an Xbox Game Bar, that adds a whole new world of possibilities.
15. Sonder
Yet another minimalistic theme, with a touch of nature, Sonder can make you feel right at home. The clock, calendar, CPU, and weather also have a greenish tint in Sonder. Add TouchbarX, and you have got yourself a transparent taskbar that goes well with Sonder. Lastly, being still under active development, there are new features being added every once in a while.
16. ALIENS
The term Alien sits just about right with the skin. It is the perfect example of how a desktop wallpaper can completely influence your overall setup. Furthermore, pair your Alien skin with their companion wallpapers, and you have the best setup possible. Each module in the Alien skin is completely customizable, starting from adding power status to disk partitions, users have the ability to personalize their skin just the way they want.
17. Minimalist 2
Just as the name suggests, Minimalist 2 is the epitome of what a minimal theme looks like on Windows. Keeping up with its name, Minimalist 2 comes with all the necessary features including CPU and RAM usage, battery percentage, storage as well as the ability to add shortcuts and folders. Not to mention, users can add time and date usage, and widgets along with changing the wallpaper for the perfect vibe.
18. Circle Launcher
In Windows alone, users can add software icons to their taskbar. But, if you want to take your personalization game a little further, Circle Launcher is the perfect skin for you. Just as the name suggests, Circle Launcher allows adding circle icons over the desktop to launch apps and games. And for the best part, Circle Launcher has 150 icons in its collection as of now.
19. Wisp
One of the most unique features of Wisp is the lack of boundaries for the widgets, which makes the text appear to float on the desktop. So pair Wisp with the right wallpaper, and you have some of the most amazing-looking setups. In the neat look skin, users can add all the relevant information including disk partitions, overall space usage, system date and time, temperature, CPU/RAM usage, and more.
20. Speed
Getting a transparency effect backed by the frosted glass is one of the most sought-after setups for Windows. The Speed skin is the perfect fit while keeping up with the consistency. Furthermore, every widget in Speed can be re-arranged based on your screen resolution. Users can also display their date and time, RSS feeds, CPU/RAM Usage, and certainly the temperature for three days forecast.
21. Enigma
This goes without saying, Enigma is by far one of the most downloaded Rainmeter skin of all time. After all, it was Rainmeter's default skin back in 2009. In fact, you can spend countless hours, customizing Enigma just the way you want. Stretching it a little further, Enigma is capable of showing every single piece of information one can possibly think of. Each sub-module is heavily customizable and can be rearranged individually. Try out Enigma to figure out more.
22. Big Sur
Last but not least, on our list of Rainmeter skin is Big Sur. After all, at least once you must have craved for your Windows to look and feel like macOS. And that is exactly where the Big Sur skin comes to save the day. It comes with all the standard widgets, but with a touch of macOS including a calendar, music player, clock, to-do list, brightness toggles, and more. Another great aspect of the Big Sur skin is that it covers all the latest news articles right on the desktop.
Final Take: Best Rainmeter Skins
Each of the Rainmeter skins we have discussed so far is unique and delivers the look you're craving for. The above skins not only improve the look and feel of the desktop but also add additional functionalities. So go ahead to choose any of them to make your desktop more attractive and functional.
In addition to these if you have any other skins also in your mind that are worth including in our list then don't hesitate to share with us. Lastly, let us know which Rainmeter skins you have chosen and how was your experience with them.