The most popular instant messaging app WhatsApp has released a new feature about a month ago. The new feature named 'Delete for Everyone' allows users to delete sent messages on WhatsApp. No doubt, the feature is most requested and useful one but does it really deletes the message from the receiver's phone? Let's find out.
How does it work?
Being an open source operating system, Android let installed apps interact with each other. It maintains a record of all the notifications in a log file. The log file can be accessed even without rooting your phone. This is the case which many apps are using to show the messages that have been deleted by the sender.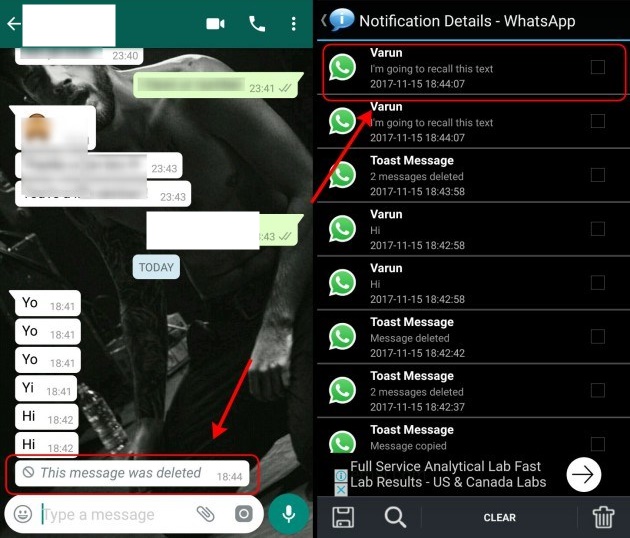 So, let's talk about the thing for which you came here. If you want to read deleted or recalled messages on WhatsApp, just tap on your home screen for 2 seconds, go to widgets and select settings shortcut. Then add notification log/notification history shortcut to your home screen. This may work differently on every phone but the main thing remains same that you have to add notification log shortcut on your home screen. Even if you are unable to add this shortcut, don't worry. Just install Notif Log app from the play store and leave the rest to this app.
Also Read: Create Awesome Animated Movies on your Android Using Toontastic 3D
For reading any deleted WhatsApp message, just open this shortcut or the app and that's it. You'll see the entire notification history on your phone's screen. As this is a bug in WhatsApp that should be fixed, I can't assure that this trick will work in future or not? But for now, it's working absolutely fine.
There are also some restrictions in this trick which are actually imposed by the Android System. Under these restrictions, you can only read up to 100 characters of that deleted message and only until the device is restarted.
So, if you liked this article, share it with your friends and for any query, just comment below.