WhatsApp is the most popular instant messaging application due to many reasons. Its end-to-end encryption promises users that their messages and personal information will remain private and untouched in any circumstances. WhatsApp has added a lot of interesting features since it was acquired by Facebook (now Meta) in 2014.
But the company has surprised everyone with its updated privacy policy few months back. After this, many privacy-conscious people started looking for WhatsApp alternatives. In this article, we will share some best alternatives to WhatsApp you can try.
1. Signal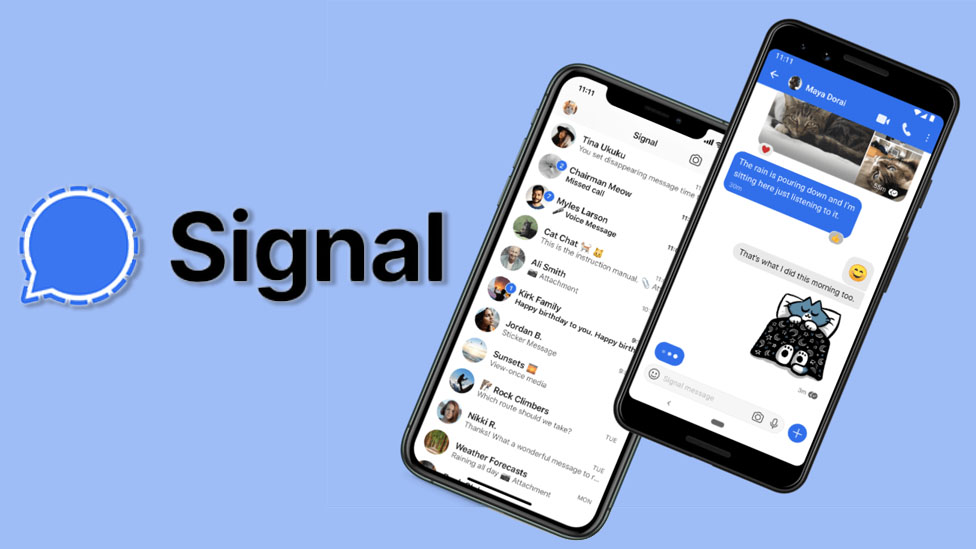 The Signal is free and comes with strong privacy protection which makes it the best WhatsApp alternative. Like WhatsApp, Singal comes with easy to use interface, you will get familiar with its features within minutes. Signal instant messaging application is available for both Android users as well as for iPhone users. It also follows end-to-end encryption which makes it more secure.
After WhatsApp's privacy policy surface online, many people across the globe have switched to Signal. It is an open-source application, which allows experts to find the bugs in applications. Moreover, users can set a specific time period after that their message history got vanished automatically, WhatsApp still lacks this feature. If you're concerned about privacy then the Signal application definitely worth a try.
Related: 5 Reasons Why Signal is Better than WhatsApp
Pros:
State-of-the-art end-to-end encryption
No advertisements
Available free of cost
Open Source project
Available for all major operating systems
Cons:
The phone number is mandatory to register
lack of animated emojis
Download: Signal
2. Telegram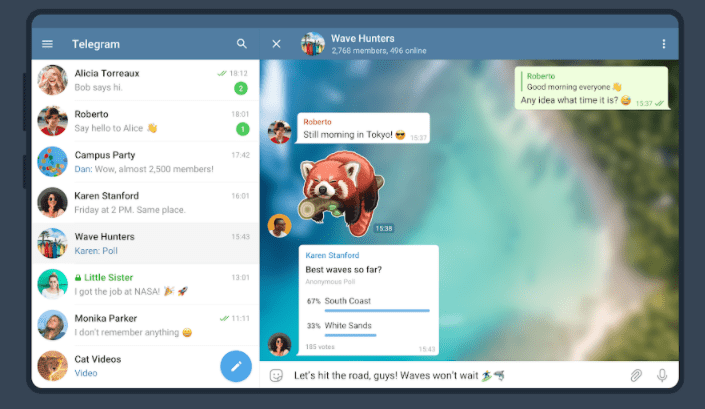 Telegram is another privacy-focused app like WhatsApp. It is a free application, which offers comfortability across multiple platforms. Telegram has pretty much featured similar to WhatsApp such as calling, messaging, documents sharing, and many more. It is a cloud-based messaging application which means it can deliver messages faster than WhatsApp. Telegram has end-to-end encryptions even for calls.
Telegram also offers support to delete messages automatically after a period of time similar to the Signal.
Related: 10 Cool Telegram Bots Every User Should Know About
Pros:
Available free of cost
No advertisements
End-to-end encryption for voice calls
Self-destruction project
Cons:
No facility for voice messages
Stores metadata
No functionality to select multiple files at once.
Download: Telegram
3. Discord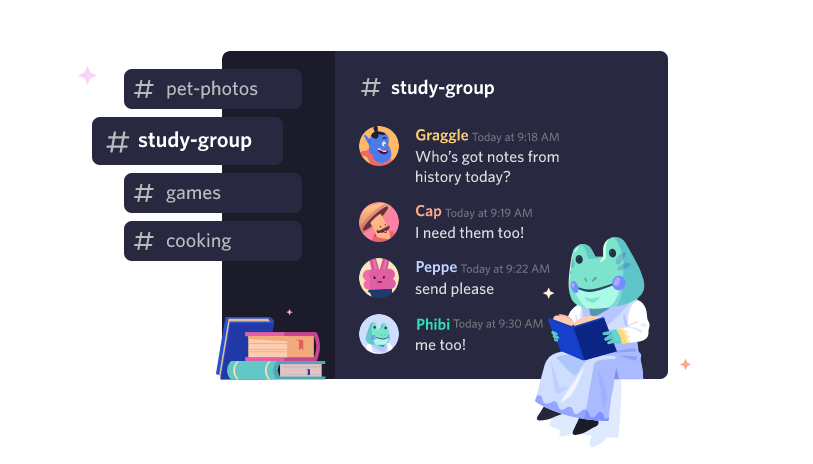 Discord is a popular messaging application that allows its users to talk, video chat, and hang out with its worldwide community. Many gamers take benefit of Discord to communicate with their fellow gamers. Discord offers a variety of servers based upon the user's interest. Similar to WhatsApp, Discord also offers a direct messaging functionality which makes it the best WhatsApp Alternatives. Anyone with Discord's direct messaging feature can exchange information such as send messages, emojis, GIFs, images, documents, and so on.
Discord application is compatible with almost all operating systems including Windows, iOS, Android.
Related:
Pros:
Superior video chat quality
Easy to use
An organized group of peoples
Available free of cost
Cons:
Lack of theme and emojis
Download: Discord
4. Skype

Skype was introduced by the tech giant Microsoft and is mainly known for its video conferencing. It delivers crystal clear voice and video calls and allows you to react to any messages using fun emojis. Skype is a more preferable option for businesses that are still bonded with the limitations of WhatsApp. It offers the industry's best end-to-end encryption to keep your sensitive conversations private.
WhatsApp doesn't allow screen sharing. While Skype comes with built-in support for easy screen sharing, you can easily share presentations, photos, documents on your screen during the call. With Skype, you can even reach people who are not on Skype, to do so, you have to enrol for Skype subscriptions by paying a certain amount.
Pros:
Easy to use interface
Crystal clear voice and video calls
Easy screen sharing
The group calling up to 8 people
Instant messaging
Wide collection of emojis
Cons:
Ads
Lack of translation feature
Requires high bandwidth internet connection
Need to pay charges to make calls
Download: Skype
5. Snapchat
Snapchat is not technically a dedicated messaging app, but rather a social media platform. Given its unique features, you can always use it as a messaging application. For example, the self-destruct messages can truly come in handy at times.
Furthermore, users are always notified whenever someone takes a screenshot of the chat. Being one of the most innovative chat services, you can create group chats, group voice calls, send gifs, and more. If you want to access quirky features while chatting, Snapchat has got you covered.
Pros:
It offers a very unique messaging experience
Seamlessly use geofilters
Doesn't allow to take screenshots
Cons:
The overall UI can feel overwhelming at times
Download: Snapchat
6. Threema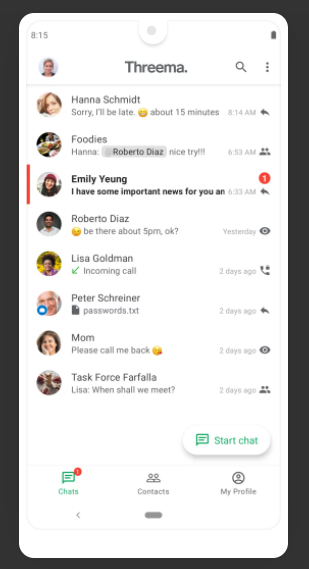 Threema is another messaging app like WhatsApp that promises to offer complete security. If you're a privacy-centric person then Threema is worth a try. The app offer encryption for the data including messages, documents, and other shared files. But still, Threema lacks some WhatsApp features such as video and voice calling. Also, this app never stores metadata which makes it a more secure WhatsApp alternative.
Pros:
No need for a phone number
End-to-end encryption for all the messages
Multi-platform compatibility
Cons:
Doesn't offer any free trial
Download: Threema
7. Keybase
If online privacy is your primary concern, Keybase is the perfect WhatsApp alternative to look for. Being an open-sourced application, there is no private company interference whatsoever. With end-to-end encryption, your data won't be compromised.
The app doesn't allow you to take any screenshots as well. Overall Keybase shares more resemblance with Slack, although it is not business-oriented in any way possible. Furthermore, you also don't anyone's email or phone number to connect on Keybase. Although it is a new messaging app, it is still available on all the major platforms.
Pros:
Completely open-sourced
One of the most secured messaging platform
Offers cross-platform functionality
Cons:
Download: Keybase
8. Bridgefy
Bridgefy is one of the most unique apps on our list, and truly a WhatsApp alternative for that matter. Bridgefy truly comes in handy, especially while camping in the woods where there is no internet connectivity. It offers a peer-to-peer Wi-Fi Direct or Bluetooth mesh network so that you can interact with your nearby friends.
Furthermore, you can also send messages over long distances as well. Bridgefy truly shines when there is a natural disaster or somewhere you are not able to find any reliable mobile network. Overall Bridgefy is a pretty solid alternative if you want to use WhatsApp offline.
Pros:
Offers messaging without relying on the internet
Seamlessly send individual messages or broadcast into groups
Completely free to download
Cons:
Download: Bridgefy
Conclusion
That's all for this article. The above WhatsApp alternatives respects privacy and have almost all the essential features. If you know any other app that have potential to be a WhatsApp alternative, do share in the comments below.