TikTok, owned by Chinese company ByteDance, is now facing a severe hatred in India. This is a media app used for creating and sharing short videos but with time, people have started using it for sharing inappropriate and vulgar content.
80% of Youngsters Want TikTok Banned in India
As per a recent survey conducted by popular news app Inshorts, 80 per cent of youngsters in India want the controversial video app TikTok to be banned in the country. Rest 20 per cent may be enjoying the app but the survey is done after the Madras High Court's announcement the last week.

The court advised the Central government to immediately ban the TikTok app claiming it was harming the foundation, cultures and values of the nation. The Madras High Court even said that app was promoting pornography among youngsters through the easily accessible platform, and the government has a social responsibility to stop it asap.
Also Read: 15 Best Android Apps For WhatsApp Stickers
On the other hand, ByteCode has given the statement that they are committed to abiding by local laws and regulations. "We fully comply with the Information Technology (Intermediaries Guidelines) Rules, 2011. We are currently awaiting the official order by the Madras High Court and once received, we will review and take appropriate action regarding this matter," said TikTok.
The company has also appointed an Indian 'Chief Nodal Officer' to better coordinate with the country's law enforcement agencies.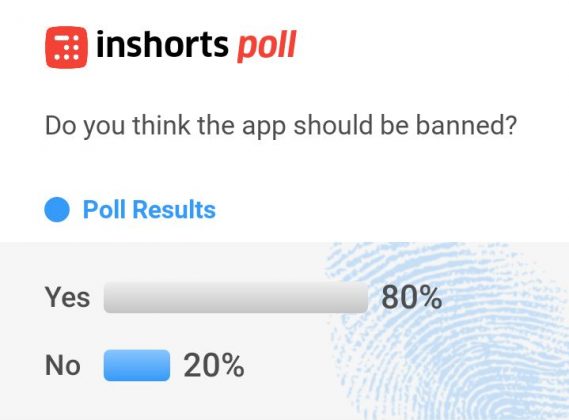 Inshorts survey asked 30,000 participants majorly from Tier-1 and 2 cities, and belonging to the age group of 18-35 in the country, whether they think the TikTok app should be banned in India. It resulted in 80% of people voted in favour of the ban and 20% were against it.
Another popular technology blog Beebom has also conducted a poll in the past, asking fans if it's a responsible decision to ban apps like TikTok. They found almost 50 per cent of votes is in favour of banning TikTok.
The Chinese media app TikTok has a global user base of more than 1 billion users, in which over 50 million users are from India. According to a blog post by Oliver Yeh, Founder of Sensor Tower, "In January, 43% of the app's new users were from India, compared to merely 9.5% in the same month in 2018."
Also Read: 10 Best Online Dating Apps in India
Considering the large user base of TikTok in India, not only the users but also the company is waiting to hear the Supreme Court's decision on 15th April. So, if you are a TikTok user or someone who watch TikTok videos too much, tell us what do you think about the ban of TikTok in India.