Since the beginning, computer animation has come a long way. But, it was only back in the 1980s when the release of Tron paved way for computer-aided graphics. Later the same was followed by movies like the Matrix, Jurassic Park, Terminator, and Toy Story, further refining the process of computer animation.
Fast forward to 2021, and we have various animation software to choose from. Based on your preference, you can go with 2D, hand-drawn, 3D, and even stop-motion animations. So, in this article, we are going to discuss some of the best animation software you can get your hands on.
You may also like our article on the best free video editing software you should try.
The Best Animation Software (Free & Paid)
1. Maya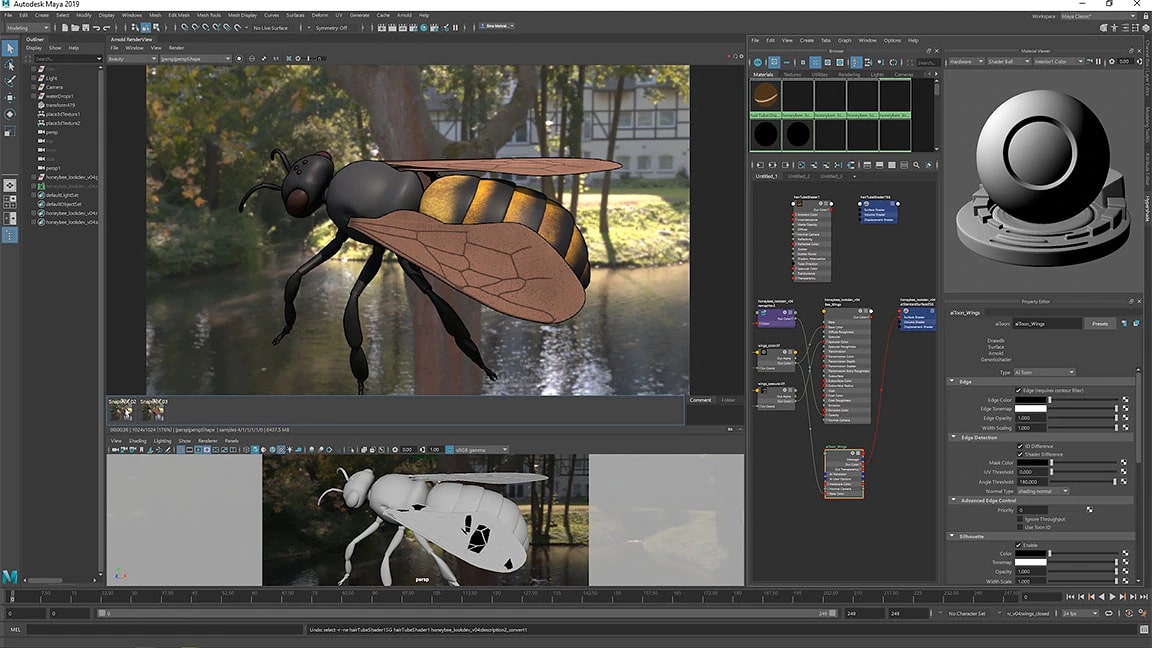 Owned by Autodesk, Maya is an award-winning 3D graphics and animation software. One of the primary reasons Maya has gained quite popularity is due to its versatility. It can be used for 3D applications such as video games and special effects for TV shows and movies. If you are in search of great 3D animation software, Maya is just the right fit for you. After all, notable titles such as Lord of the Rings, Ice Age, Spiderman as well as Star Wars has been made using Maya.
Salient Features:
Offers clip matching features.
Pain effects that enable users to make any 3D shape using freehand drawing tools.
Users can create their own scripts and plugins for further customization.
Comes with lip-syncing technology known as voice-o-matic.
State-of-the-art color management system.
Easily achieve realistic effects like cloth simulation and explosions.
Seamless rendering technology.
Supported OS: Windows, macOS, Linux
Pricing: 1545 USD/year (with 30 days free trial).
Download Maya
2. Pencil2D
Pencil2D as the name suggests is a simple, easy and intuitive software that can provide you with the right assistance for 2D animation. Since Pencil2D is completely open-source, it is free to use. On top of it, the easy-to-understand user interface makes it completely easy for beginners.
Salient Features: 
Over lightweight and completely easy to use.
Offers cross-platform functionality.
The in-depth tutorial can help the user to get started with Pencil2D.
There is also a website that continuously gets updated with all the latest news and information.
An entire community of users dedicated to discussing problems and brainstorming new ideas.
Supported OS: Windows, macOS, Linux
Pricing: Free to use (Open Sourced)
Download Pencil2D
3. Renderforest
If you are looking for a one-stop solution for all your video, logo, and animation needs, Renderforest is just the right fit for you. Mostly catering to business needs, Renderforest is well suited for web designers as well as business owners who just want to get things done. Even without prior experience, you can start working on Renderforest.
Salient Features: 
Driven by Artificial Intelligence and Machine Learning, you can create some of the best logo designs within a few clicks.
With more than 50,000 artworks to choose from.
Offers a plethora of mobile-friendly website templates to choose from.
Web page animation with just one click.
The monthly subscription fee depends on the total number of videos you create.
Supported OS: Web-based, supports every other platform.
Pricing: Offers a freemium model with pricing that ranges up to 49.99 USD/month. Although the most popular plan is 39.99 USD/month.
Visit Renderforest
4. Animaker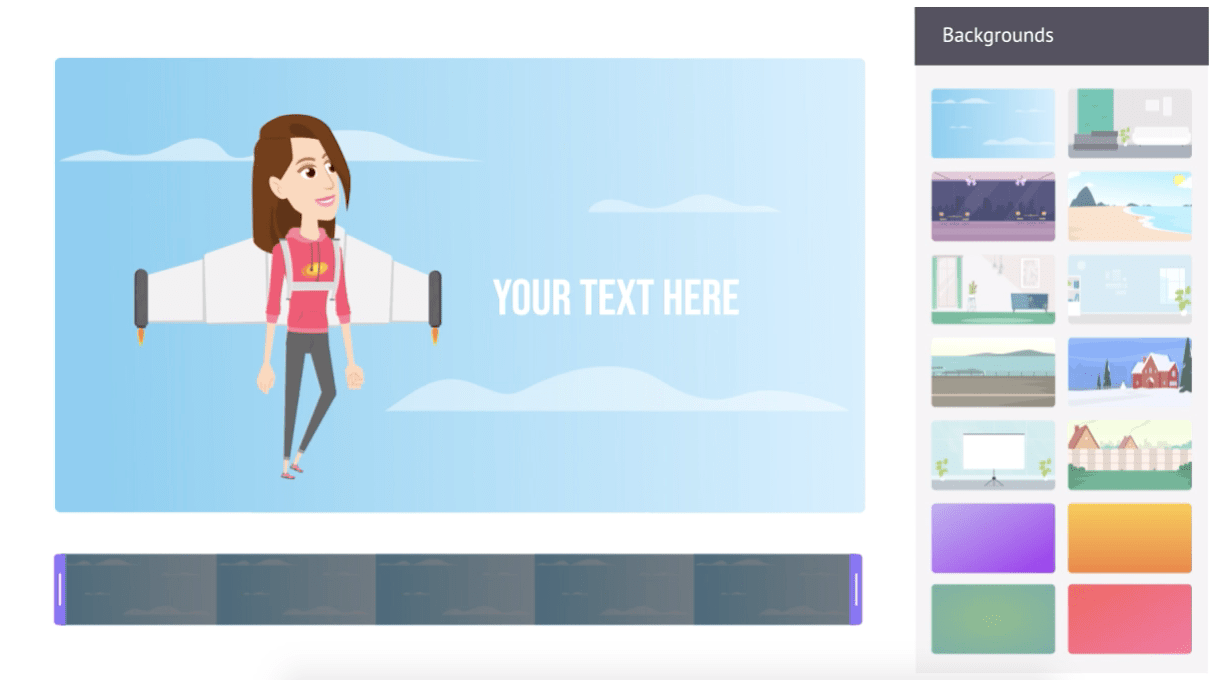 Animaker is yet another web-based 2D animation tool that offers a wide range of services to its customers. With the right assistance, users can actually create animated videos using the in-built video creation tool. Back in 2017, they also launched the very first vertical video creation tool.
Salient Features: 
A cloud-based video animation tool best suited for GIF and small videos.
Offers direct video upload options to platforms like YouTube and Facebook.
Has one of the largest collections of charts, icons, and animated characters.
Easier lip-syncing for characters.
Supported OS: Web-based, supports every other platform. Also comes with a Google Chrome extension.
Pricing: Animaker comes with a freemium pricing option. After that, the pricing varies based on video length and download quality.
Visit Animaker
5. Blender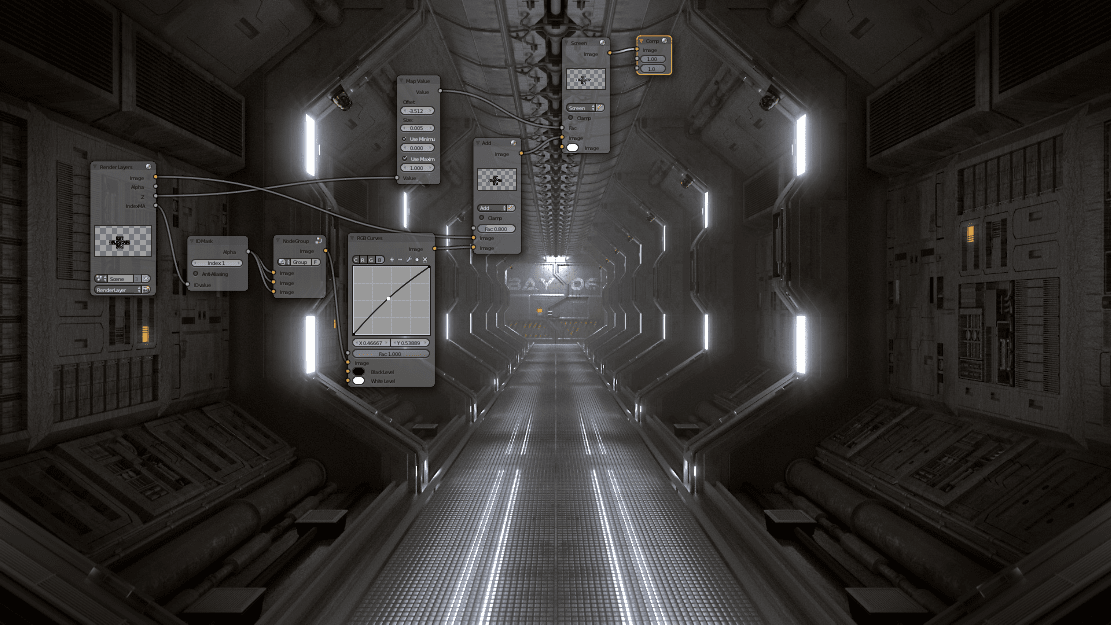 At this point, there is hardly anyone who hasn't heard the name Blender. In fact, it is considered one of the most popular free animation software used for 3D animation. While released back in 1998, it soon made its name within the industry. Primarily Blender is used to animate cinematic visual effects, motion graphics, and 3D models. If you are someone starting out your professional animation journey, Blender is the animation software to use for.
Salient Features: 
All simulations are based on industry-standard libraries.
The introduction of the game engine is most effective in creating games.
Comes with an efficient and effective video creator.
The availability of in-depth tutorials makes it very easy to get started with Blender.
Supported OS: Compatible with macOS, Linux, and Windows.
Pricing: Free, open-source.
Download Blender
6. Adobe Character Animator
Coming from the house of Adobe, the Character Animator caters to the high hopes within the industry. As the name suggests, it is primarily used for animating cartoon characters. It is a real-time animator that makes the best uses of facial expression, as well as captures full-body expression to animate characters.
Salient Features: 
Comes with intuitive and easy-to-understand UI settings.
A plethora of animating options.
Comes with in-built puppets in order to get started.
One-click animation option for walking, breathing, behaviors as well as blinking.
Supported OS: Windows and macOS.
Pricing: 7 days trial, after which 52 USD/month. It also comes in a bundle with the 'creative cloud' package.
Download Character Animator
7. Animation Paper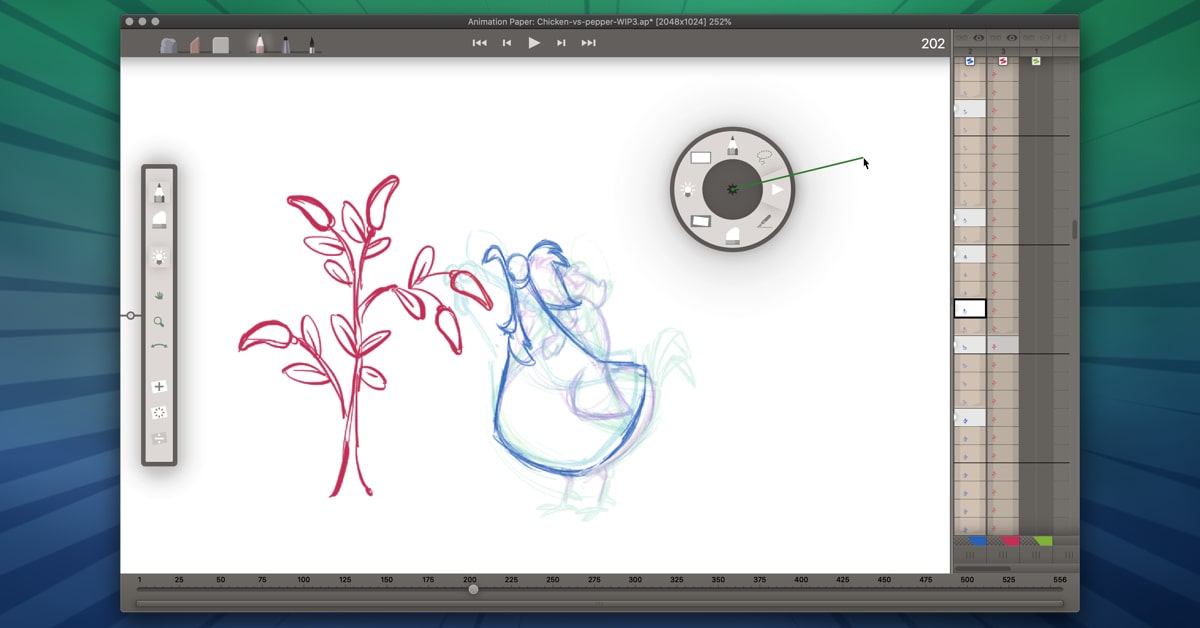 If you are looking for the most comprehensive 2D animation software that can cater to multiple purposes, Animation Paper is exactly what you need. The software is made for all professional animators, game developers as well as filmmakers. Mostly used for creating characters and hand-drawn animations, its efficiency, and high working speed make all the difference.
Salient Features: 
Offers high-quality lines, so that you don't have to worry about quality degradation upon export.
Comes with a user-customizable toolbar.
The user-friendly interface makes it easier to work around.
Simple and lightweight.
Supported OS: Windows, Linux, and macOS.
Pricing: The free version is known as 'Plastic Animation Paper.' The current one comes at a price tag of 79 USD/month.
Download Animation Paper
8. K-3D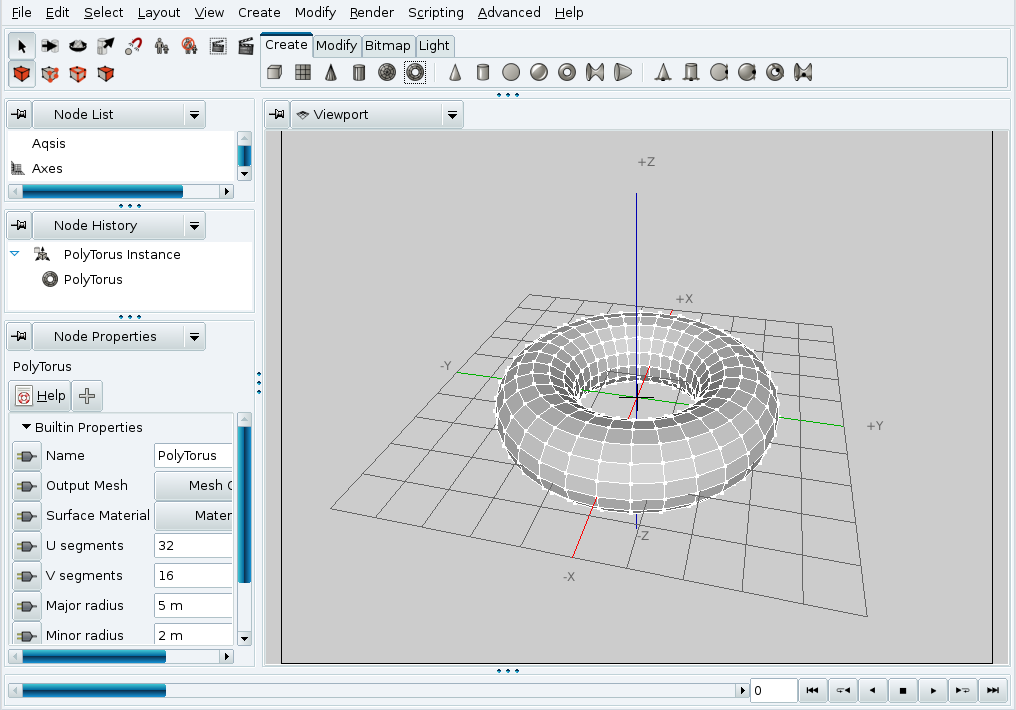 Another great 3D animation software within our list is K-3D. With the availability of various plugins, K-3D is one of the most versatile software for artists and designers. Neither less to say, it is very easy to learn and comes with an intuitive UI. As compared to any traditional modifier, you can actually explore a whole range of possibilities with K-3D. In the end, you can also expect some basic 2D animation out of the same as well.
Salient Features: 
Although meant for 3D animation, working in 2D would do just fine.
Specially created for animators working on a low budget.
The combination of multiple plug-ins improves the overall quality of the workflow.
The render engines are capable of providing animation with motion-picture quality.
Supported OS: Windows and macOS.
Pricing: Free
Download K-3D
9. OpenToonz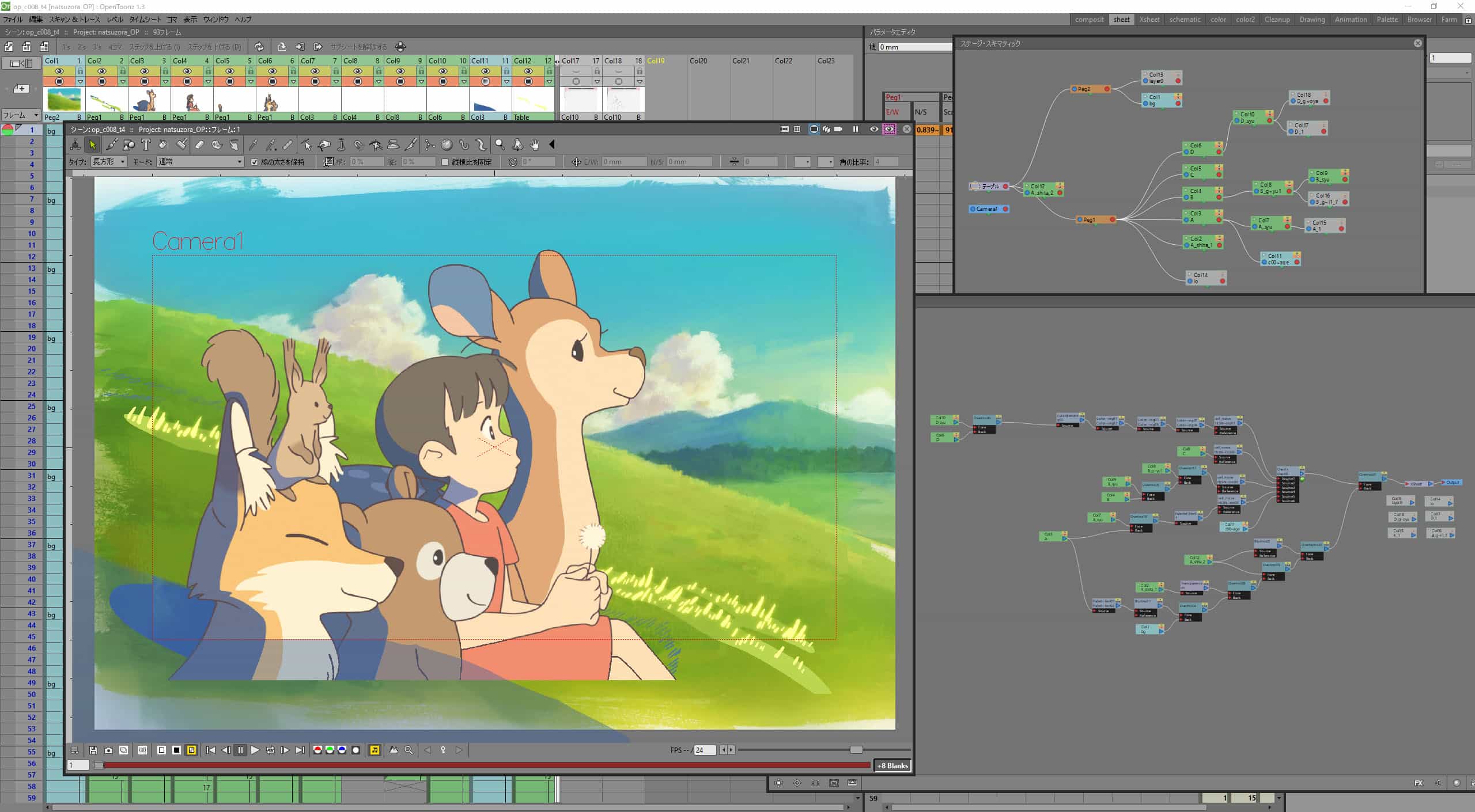 If you want to get experimental with your animation, while looking for a wide range of customizability, OpenToonz has got you covered. And the best part? Anyone can tweak the source code and make changes accordingly. After all, it's one of the perks of having an open-sourced software. Mostly targeted for developers and animators, OpenToonz is the perfect fit for small to medium-sized businesses.
Salient Features: 
The source code can be easily edited for further customization.
Comes with a GTS scanning tool. (Only for Windows).
A plethora of animation effects to choose from.
Best suited for seamless cutout animations.
Comes with in-built particle effect features.
Endorsed by Studio Ghibli improves its credibility and trustworthiness.
Supported OS: Windows, macOS, and Linux.
Pricing: It is completely free to use.
Download OpenToonz
10. KeyShot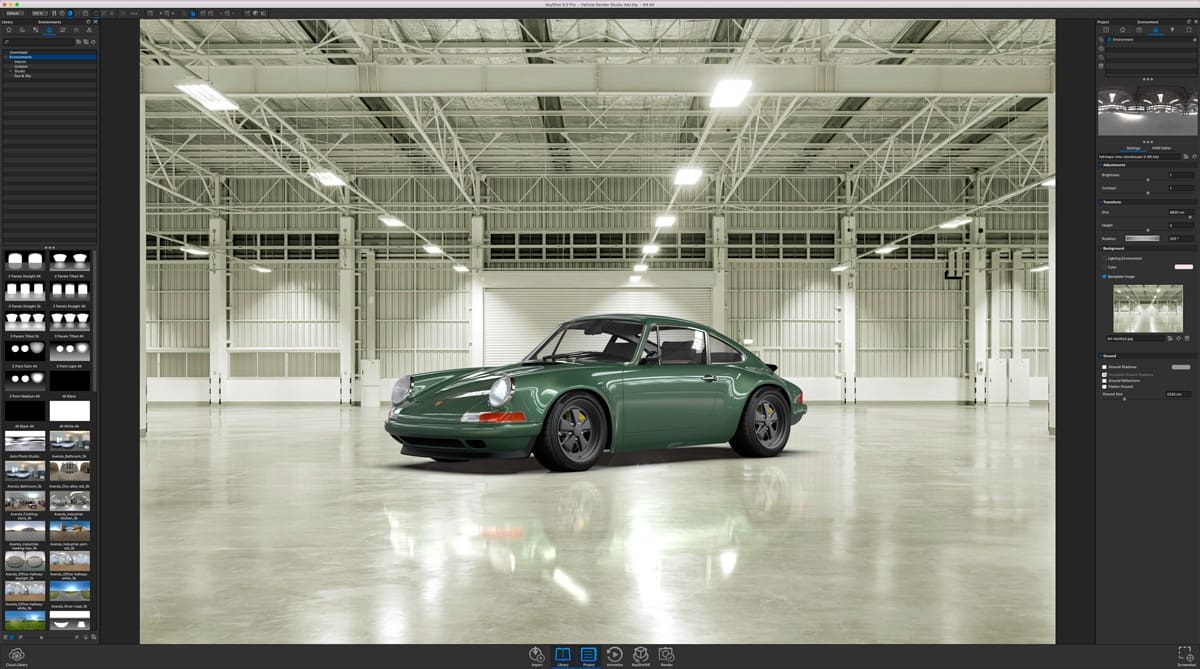 Specifically curated for illumination, KeyShot can provide some really good, high-quality 2D and 3D animation. With support for more than 30 file types, versatility is something where KeyShot really comes on top. Best suited for concept modeling, it can also be used for every other 3D design including automobile, jewelry as well as toys.
Salient Features: 
Great detailing and accuracy in visualization.
A plethora of formats for the import and export of files.
Availability of VR animation.
Supported OS: Windows and macOS.
Pricing: With a 15 days free trial period, KeyShot pricing ranges from 995 USD to 2995 USD. There are some enterprise solutions as well.
Download KeyShot
Which Animation Software You Liked the Most?
This goes without saying, there is a plethora of animation software you can find out there in the market. But, you need to find the one that directly correlates with your business. So, understand the exact nature of your work, and choose the software accordingly.
In case, you are looking forward to working on complex animation, our recommendation would be to go with Maya or Blender. It can provide you with unparalleled reels. For some basic animation, you can always go with Renderforest or Animaker.
Let us know in the comment section below, which tool worked the best for you?