Talking normally doesn't make us look cool all the time. Sometimes, we should experiment with different ways of communication. If you are also fascinated by watching Morse code in movies and tv series, here are some best Morse code apps for Android that you can install and try them out.
Morse code is basically a character encoding scheme that encodes text characters as sequences of two different signal durations called dots and dashes or dits and dahs. it is generally used in intelligence departments for sending and receiving encoded messages. You can read more about it here.
Today, I will share some best android apps to learn morse code and send secret messages to your friends for fun. If you want to learn this skill, you can even practice morse code and improve your skills.
Also Read: Best Apps For Dyslexia (Android & iOS)
Best Morse Code Apps For Android
1. Morse Code Reader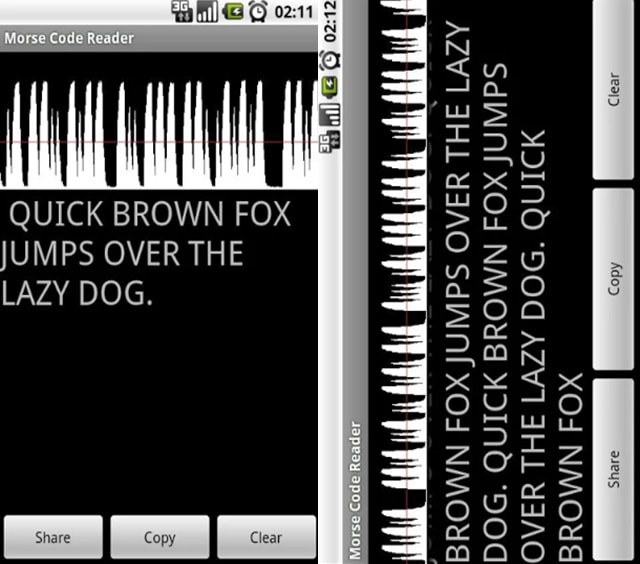 Let's start with a simple Morse code reader app. Do you also believe that the falling raindrops and flowing air tries to tell something? If yes, you can use this app to understand the secret message hidden inside them. Morse code reader takes the input from the external environment and tries to convert them to text.
The user-interface of this application is very simple. It just has three button – clear, copy and share at the bottom. It's a wonderful app that records sound through mic of your phone and tries to guess the pattern. The app can be used to decode recorded messages transmitted by radio.
The only limitation in this app is – if you are in a crowded place or surrounded by lots of ambient noise, the Morse code reader also try to find meaning from them and thus ignore the actual message. Although, you can use this app in quiet places and have fun.
Available For Free on Play Store: Install Now
2. M3 Translator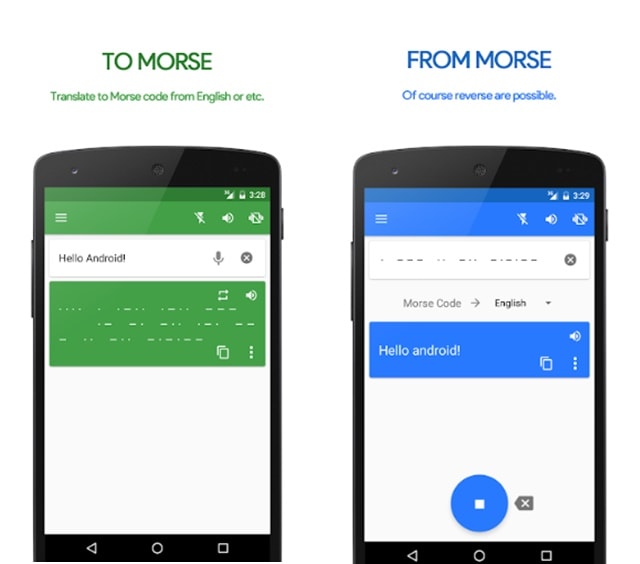 This is another Morse code translator app which lets you convert any text to Morse code and vice versa. The interface is quite user-friendly. You can either type the text using the keyboard or use its voice input feature.
When you tap the icon displayed the at the top-right corner, you will find three channels – sound, flash and vibration. Just select the channel(s) through which you want to transmit your message. The app will display the output just below the input text box.
You can copy and share the Morse code with anyone and have a secret conversation. Now, that's all about converting your text to Morse code. The M3 translator can also translate Morse to languages like English, Russian, Hebrew, Greek and Japanese.
Now, It's on you whether you want to chat using vibrations and flashes or want to translate and read the Morse coded documents.
Available For Free on Play Store: Install Now 
3. Morsee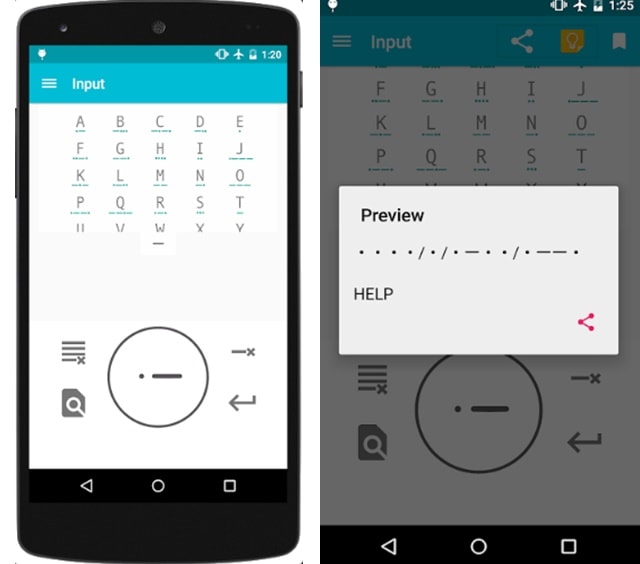 If you want to learn or practice Morse code without going into in-depth, you should try Morsee. It's a very simple app that lets you learn Morse code from English, Kana(Japanese) and the Cyrillic(Russian) alphabets.
First, the app will show you letters and the corresponding Morse code. You can learn and can start practising by pressing the big button. A short press records a dit(.) and long press for a dah(-). The layout is very simple and so you won't find any difficulty while using this app. You can use Morsee to learn and practice this language and can also convert secret messages to Morse code and send your friends.
Available For Free on Play Store: Install Now
4. Morse Mentor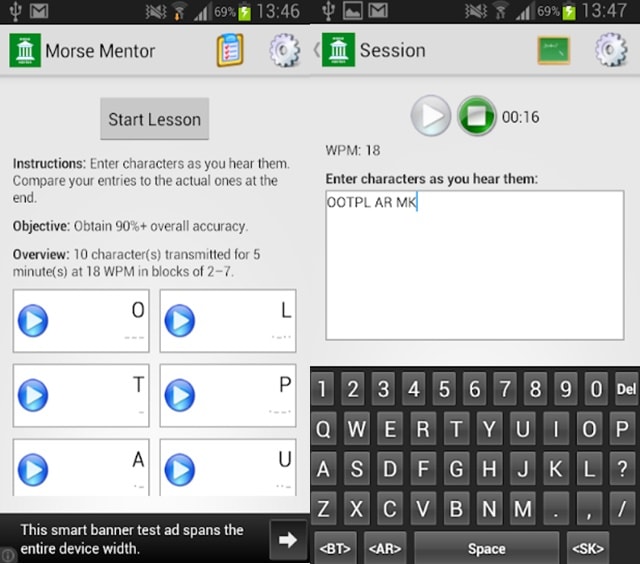 Morse Mentor allows you to learn Morse code using the Koch method. The layout is simple and comes with accurate instructions at every stage of learning.
Here, you can keep track of your progress and will receive reports about your result after each lesson. If you are not getting the desired results, you can even repeat a certain exercise until you reach 90% accuracy. The reports will be visible only to you so that you can plan how to study and complete the lessons further.
Available For Free on Play Store: Install Now
5. Morse Code Quiz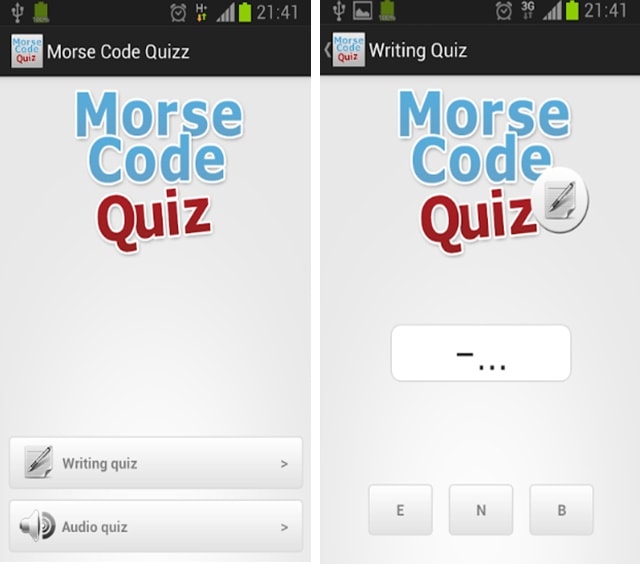 Also Read: Best Puzzle Games For Android
If you have learnt the basics of Morse code and looking for some cool ways to practice, this quiz game is for you. It has two quiz games – first where you have to recognize the dits and dahs to guess the letter, and second where the app will play the morse code audio you have to guess the code.
The app just doesn't let you play and pass time but will also improve your Morse code skills significantly. Morse code quiz is based on a different concept and so you can even encourage kids to play it and learn a new skill.
Available For Free on Play Store: Install Now
6. Morse Code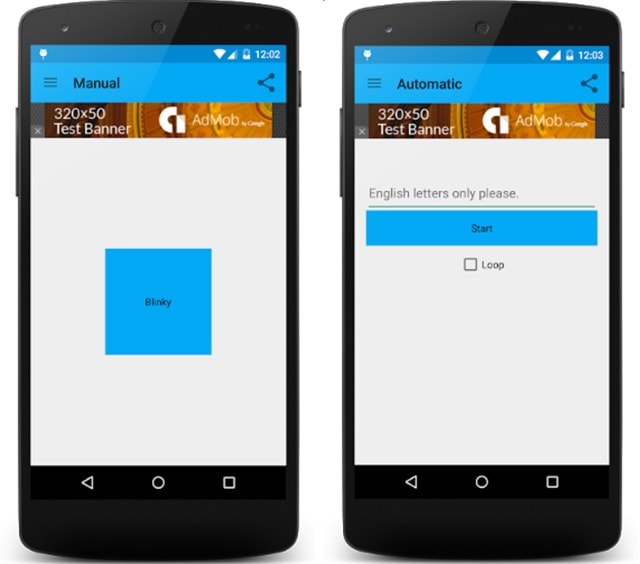 This app is another one of the best Morse code apps for Android. There are times when we communicate with people by making several signs using our face, hands, etc. While other apps are for learning, practising and communication, this Morse code app enables you to do face-to-face communication easily.
When you open the app, you will find a big blue BLINKY button in the centre. Just tap it and start communicating with people. The output message will be in the form of sound and light, which you can even turn off.
You can save the common words in the predefined area, use auto-translator or dictionary. I found this app quite handy to pass some message to people available around you.
Available For Free on Play Store: Install Now
7. Morse Trainer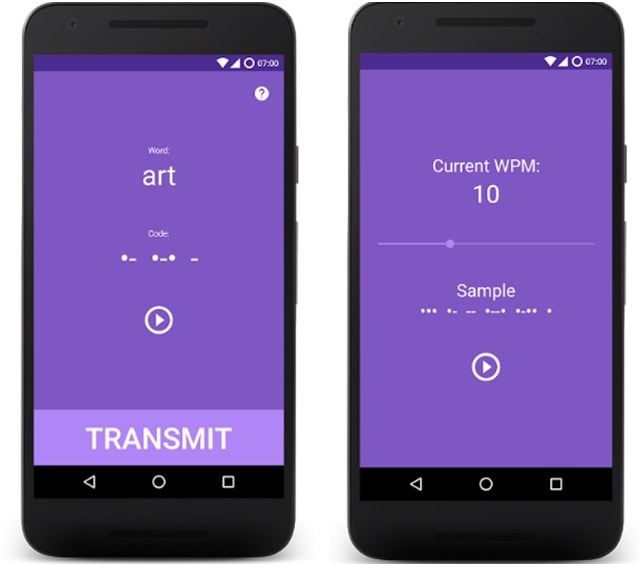 People usually get distracted when start learning new things. If you are also among them, you should try this Morse trainer app.
It only has two options – first, you can learn the morse code of every alphabet and then practice by tapping the transmit button present at the bottom. There are many exercises available on the app for improving your skills. Overall, the app works quite well in teaching Morse code and providing the right way to practice skills.
Available For Free on Play Store – Install Now
8. Morse Trainer For Ham Radio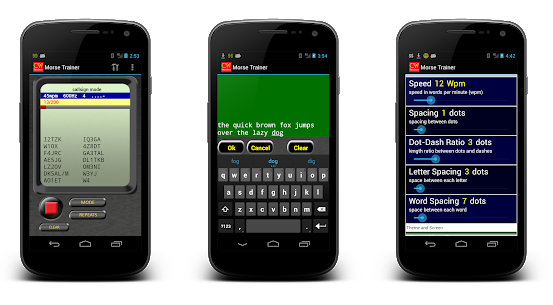 This app is basically for amateur radio operators and comes with all the features required to make some expert in Morse code. This Morse trainer app is based on Farnsworth speed and Koch method. You can adjust frequency, waveform, fading, speed, space, etc and start learning from any level.
The app has five different learning modes like Real ham radio callsign mode, QSO text mode, Most common English words mode, Own text mode and Ebook mode. This app is one of the best ways to learn Morse code for beginners.
Available For Rs 185.98 (~$2.6) on Play Store – Install Now
9. MorseLight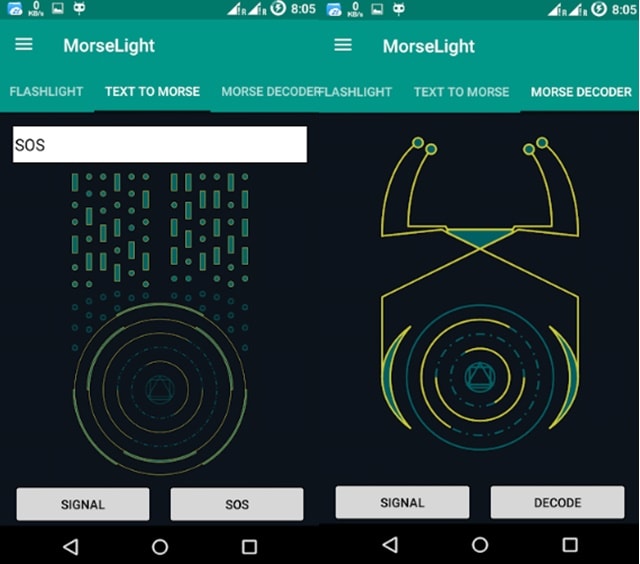 People have been transmitting coded messages through light since ages. It's among one of the most common ways to transmit Morse codes. If you also want to communicate with your neighbours and send secret messages through flashlight of your phone, MorseLight app is for you.
You just have to type your message and press the signal button. The app will use the flashlight of your phone and convert the text to Morse code. The short bursts of light can only be understood by the other party.
However, it's important to remember that this app only converts text to Morse code but cannot decode the incoming flash morse code. For this, you can either input the signal manually or try Torchbearer app (currently not available in PlayStore) for automatic translation.
Available For Free on Play Store: Install Now 
10. The Morse Project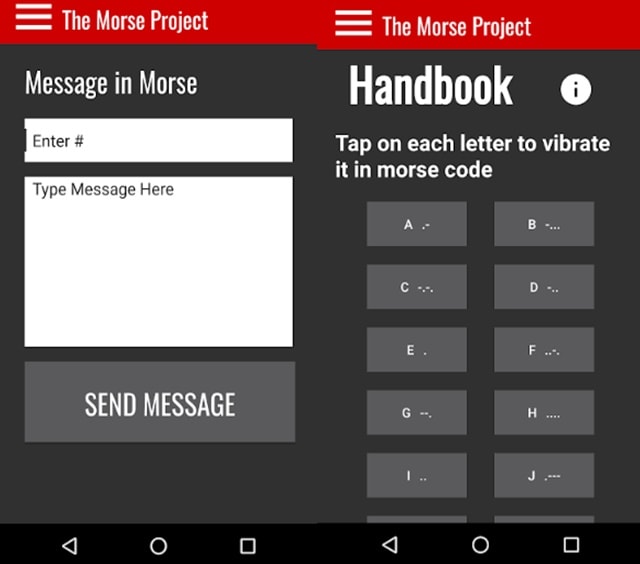 The Morse Project allows you to have a secret conversation with anyone. With a simple and minimal layout, there aren't any other features. You can just send and receive texts using this app. Whenever someone sends you a message, your phone will vibrate in Morse code and you don't have to take your phone out and read the message.
This is actually an experimental app which would become interesting when you start getting the vibration patterns in Morse code. There is also a dedicated section for learning Morse code for beginners. Overall, it's a fun app for us but can become very useful for visually impaired people.
Available For Free on Play Store: Install Now
Final Words: Best Morse Code Apps For Android
Though Morse code is slower than other modes of communication, it is still used in many places. It can be transmitted through sounds, flashlight, blinking and many other ways. I hope you will have fun learning and practising morse code with the above best Morse code apps for Android.