A webcam is one of the most common things we use on our PCs and laptops. We use it for taking occasional selfies and video chatting on skype and other related apps. But that's not the only thing a webcam can be used for. You can use your webcam for live streaming, taking wide-angle selfies, monitoring, surveillance purposes, etc. The only thing required is powerful software that enables your webcam to provide more features. Today, I am going to share the 5 best webcam software that you can use in 2022.
I understand that different people have different requirements. Some are looking for fancy features to make their work stand out in the crowd, while others just want to get things done. So, whatever your requirements are, we've got you covered.
Also Read: 9 Best Photo Viewer For Windows 10
Best Webcam Software For Your PCs and Laptops
Anyone who is running the latest Windows version can easily install the mentioned software. I will also share the availability on different platforms so that macOS users will found this article useful.
Debut Video Capture
Many Cam
Webcamoid
You Cam
Webcam Toy
Applies To: Windows
1. Debut Video Capture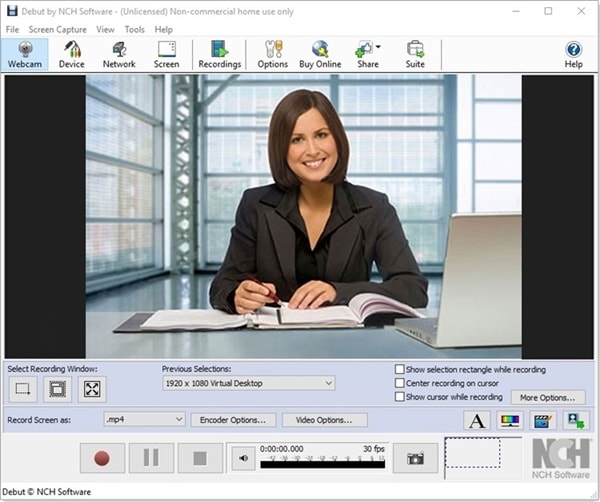 If you are looking for some useful software without any fancy features, Debut Video Capture is the best webcam software you can try in. It comes with many features like the ability to capture screenshots in JPG and PNG and record videos in various formats like MKV, AVI, WMV, and FLV. The software also allows you to select any aspect ratio from 11: 9, 16:3, and 4:3 and choose a resolution from 144p to 720p.
Moreover, one thing I personally like about Debut Video capture software is its uncluttered clean interface. Everything is so beautifully organized that you will face no problem in using it. It also has a video editor with basic options like contrast and saturation adjustment, a watermark tool, and a few filters. The only option missing in this software is the ability to change the frame rate. It's currently fixed at 30FPS at all resolutions.
Available on Windows (All Versions) and macOS X 10.5 or above
Download (Free)
2. Many Cam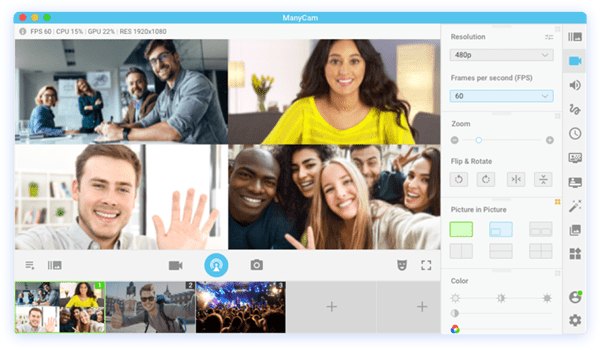 Many Cam is another best webcam software that offers a range of features and options. This software is not just limited to taking pictures and video chatting but also comes with a feature-rich video editor. It has all the video editing tools, presets, filters, effects, and almost everything required to make your videos look awesome. To make your live streams more engaging, it has various transitions, emoticons, face masks, etc. This software allows you to integrate YouTube and comes with some advanced options like PIP mode and a green screen.
Talking about the other features, you can record videos in 240p, 480p, HD, Full HD, etc at any frame rate ranging from 5-60 FPS. Many Cam even allows you to adjust audio bitrate (96 – 192 Kbps) and choose from formats like MP4, MKV, FLV, etc. Its noise suppression feature works quite well. Overall, Many Cam is a highly recommended option for people with screen recording and live streaming tasks.
Available on Windows 7 or above and macOS X 10.9 or above
Download (Free, paid version also available)
3. Webcamoid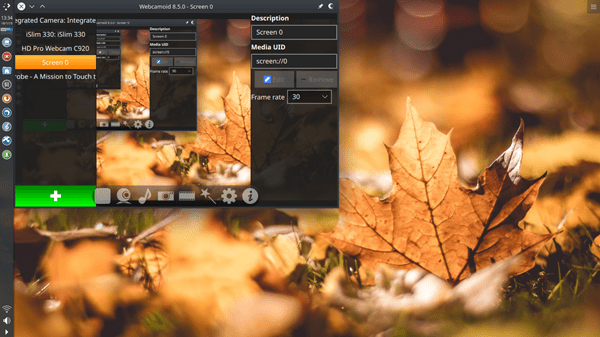 Webcamoid is open-source webcam software that lets you enhance the functionalities of your webcam in various ways. Apart from taking pictures and videos with the webcam, you can add funny effects to them. The best part about this software it comes with multiple webcam management features.
The user interface is quite simple and intuitive. You can easily browse the available options in the left sidebar and adjust them in the right sidebar. It also allows you to adjust video format, resolution, audio bitrate, etc. Overall, a very good free webcam software you can try.
Available on Windows, macOS & Linux
Download (Free)
4. You Cam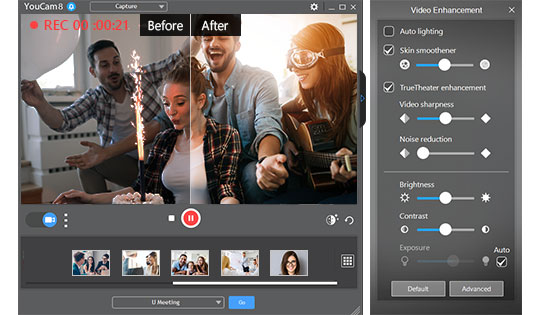 You Cam is one of the most preferred options among beginners as well as advanced users. It's basically a complete webcam suite filled with amazing options like Avatars, AR Stickers, live animations, face distortion lenses, dynamic effects, etc. You Cam is actually a feature-rich program that offers a wide range of editing tools, filters, and effects.
If you are someone who doesn't want to try every other software and can invest a little bit, You Cam is perfect for you. It comes with a 30-days of free trial in which you can easily decide whether you want to purchase it or not. Coming to the feature, the software supports face login for Facebook, Amazon and other platforms, and can also be synced with services like Skype and Yahoo Messenger. Overall, the software is pretty impressive and able to serve you in almost every requirement related to the webcam.
Lastly, You Cam allows you to save images and videos in multiple formats like JPG, PNG, and BMP and MP4, AVI, and WMV respectively. You can record videos in any resolution ranging from 240p to 1080p (Full HD). You can even change the shutter speed as per the requirement. I installed this software for a particular task and got impressed by this software so much that I continued testing its features until its trial period expired.
Available on Windows 7, Vista SP2, 8, 8.1, 10
Download (30 Days free trial)
5. Webcam Toy

If you just want to try out some filters and effects on your photos? You can try this web-based app to avoid downloading and installing third-party software. Webcam Toy allows you to quickly click a photo and add several filters and effects over it. You won't have to launch the software and wait till it opens. All you have to do is visit the website, and click on the 'Ready? Smile!' button. It will ask for camera permission, click on the allow option and you're good to go.
As per the website, It has over 5 presets (Mirror, Square, Countdown, Flash, Fullscreen) and 80 fun effects and filters to use with your camera. You can either save the image locally or post them directly to social media (Facebook and Twitter). The choice will be yours.
Available on Web only
Visit Webcam Toy (Free)
Must Read: Top 15 Best Windows 10 Themes with Download Links
Wrapping Up: The Best Webcam Software
I hope you found the above software useful. Considering the different users, I tried to include both free and paid software. You just have to go through the list and choose one that fulfills most of your requirements. All the software and stable and adds some useful options to your webcam. Which one is the best webcam software according to you? Share your thoughts in the comments section below.