Microsoft replaced the default Windows Photo Viewer with Photos App on Windows 10. Though the new version of the operating system brought a new user interface and many updates, the replacement was something most people didn't appreciate.
The Windows Photo Viewer was a simple and easy-to-use application used for previewing photos, changing the orientation of photos, slideshows, etc. I know the new Photos App comes with its own advantages like the inbuilt editor, but it cannot match the lightning speed with which the Windows Photo Viewer load the photos.
If you have also used Windows Photo Viewer for ages, and not happy with the new Photos app, you're at the right place. Today, I will share some best photo viewer alternatives for Windows 10. Also, I will explain how to bring the Windows Photo Viewer back and set it as the default photo viewing app. Let's get started..!!
Also, read our article on How to open HEIC file on windows 10 and convert them into JPEG.
Best Photo Viewer For Windows 10
Here are 9 best alternatives to Windows 10 Photos app that you can use to enhance your photo viewing experience.
Note: Just installing any third-party photo viewer won't help. You also have to make it your default photo viewer on Windows 10. Just go to Settings -> Apps -> Default Apps. Alternatively, just type "default" in the search bar and go to Default Apps. Now, Click on Photos and select any photo viewer to make it the default photo viewing app. If you can't find the desired app, restart your computer.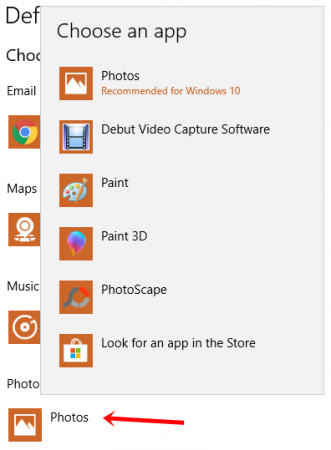 The Best Photo Viewer For Windows 10
1. Windows Photo Viewer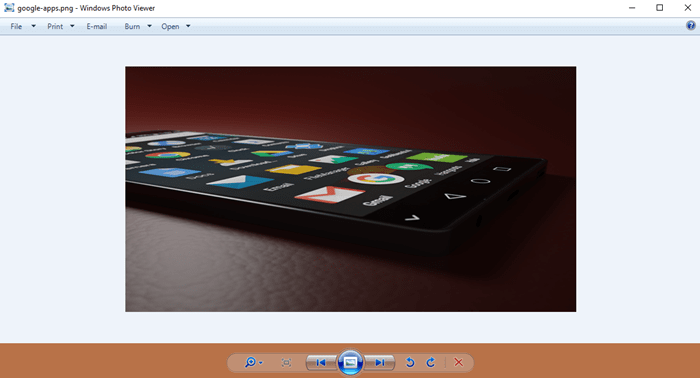 The beloved Windows Photo Viewer app is no longer available in Windows 10. But it's not completely removed from the operating system. It's still available in the files and codes but not accessible to the users.
If you want to make Windows Photo Viewer your default image viewer in Windows 10, you have to download and install a special registry file from the link given below. it still supports all the common image file formats like JPEG, PNG, BMP, TIFF, etc.
How to Activate Windows Photo Viewer in Windows 10?
If you have upgraded to Windows 10 from any previous version, you don't have to install anything. Just go to Settings, then Default apps, click on Photos and select Photo Viewer.
However, if you are using Windows 10 since the beginning or installed it from scratch, follow the steps below:
Download these registry files
Extract the zip and run the file named 'Activate Windows Photo Viewer on Windows 10' and that's it.

Pros:
Simple and Easy to Use
Faster than Default Photo App in Window 10
Quick Button to rotate the image and slideshow
Cons:
Doesn't have many editing options
Picture size reduced when you rotate an image
No support for GIFs
2. FastStone Image Viewer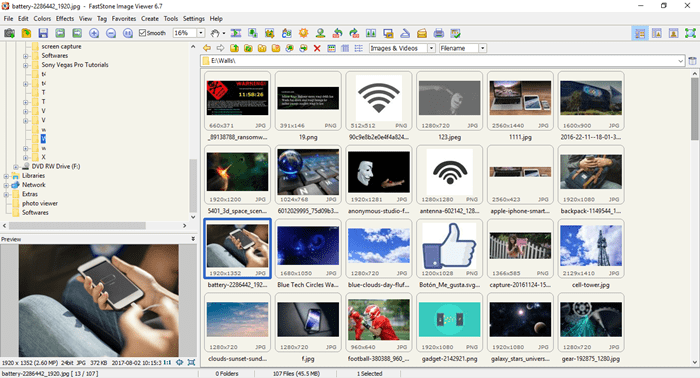 FastStone is another photo viewer known for its speed and reliability. It supports a large number of image formats and comes with all the basic editing tools. You can use this software as an image viewer, image editor or image converter.
The software is lite and works smoothly even on computers with limited memory. To provide a seamless experience, this photo viewer comes with drag/drop, copy/move, red-eye removal, screen capture, and many other useful features. FastStone also supports popular digital camera formats like RAW, CR2, and ARW.
Pros:
Image Viewer, Basic Image Editor, and Image Converter – 3 in 1
Screen Capture Facility
Batch Image Rename and Conversion
Email Attachment
Cons:
If you have a large number of images in a folder, the thumbnail generation will take some time. Meanwhile, if you scroll, the experience may be slow and laggy.
Download FastStone (Free)
3. IrfanView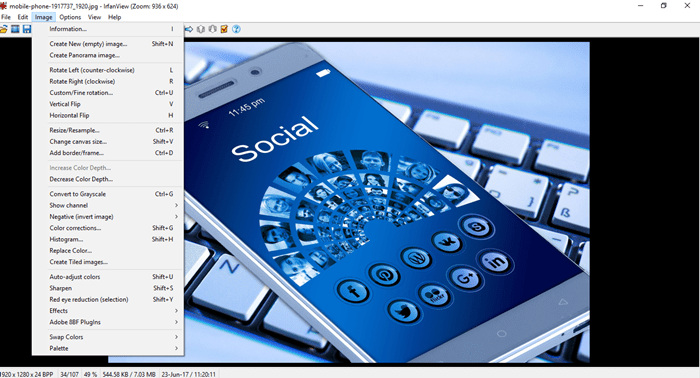 If you are looking for something more than just a photo viewer for Windows 10, IrfanView can become your choice. It is an advanced image viewer which comes with essential editing tools like red-eye removal, resizing, cropping, etc. The software is compatible with all versions of Windows and found to be a great alternative to the default Photos app in Windows 10.
It supports a large number of formats which you can even extend through plugins. IrfanView provides a multi-lingual user-interface and so it doesn't matter which country you are really from.
Pros:
A lightning-fast photo viewing experience
Inbuilt basic image editor
Small size (only 3MB)
Slideshows can be saved as a screensaver
Can also various audio and video formats
Supports OCR to read text from images and export it to text
50 Additional IrfanView plugins
Cons:
The user interface is not that good-looking and user-friendly. But its features can surely compensate that.
Download IrfanView (Free)
Also Read: The Best Free Open Source PDF Editors For Windows
4. XnView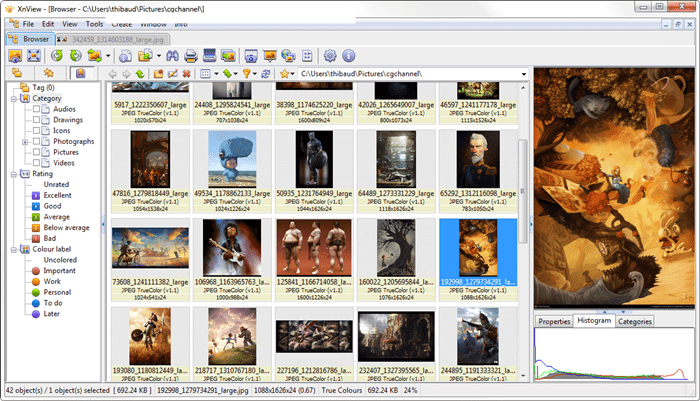 Initially launched for both Windows and Unix, the XnView now supports the Windows platform only. It's a powerful image viewer which supports few image and video formats as well. It's multilingual software which you can use to view, edit and organize your photos. The inbuilt photo editor has all the basic options like crop, resize, orientation, and a bunch of effects to give your photos a different look.
Pros:
Bulk Image Renaming is possible
Supports JPG, BMP, GIF, PNG, TIFF, and almost 500 other image formats.
Cons:
The software is only free for private use.
Download XnView (Free)
5. HoneyView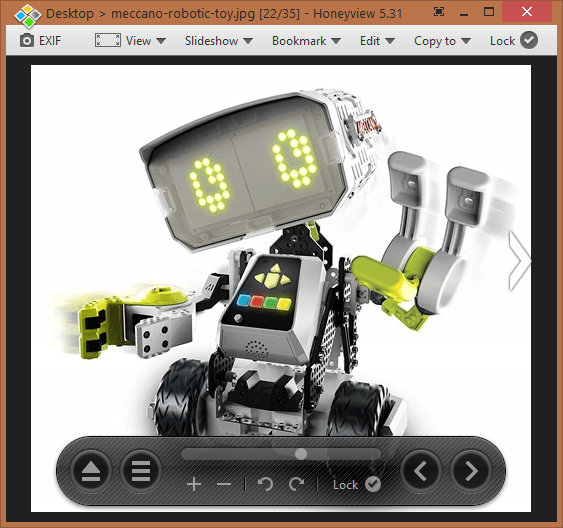 Also Read: 5 Best Xbox One Emulators For Windows PC
HoneyView is also one of the best Photo Viewer for Windows 10. Faster than the default Photo app, it provides similar functionality of viewing images, rotating them when needed, and basic resizing. You can also bookmark images in HoneyView for future reference. Overall, it's similar to Windows Photos Viewer in many ways.
Pros:
Simple and Easy to use just like Windows Photos Viewer
It supports popular formats like JPG, PNG, BMP, GIF, and PSD
Cons:
Download HoneyView (Free)
6. Nomacs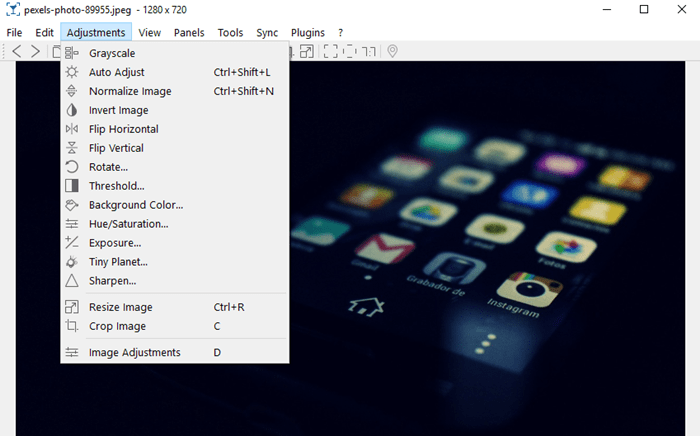 It is a free and open-source photo viewer compatible with almost every operating system. Nomacs allows you to adjust the brightness, contrast, saturation, hue, and gamma of your photos to make them look more vivid and alive. It supports almost all the popular image formats including RAW and PSD.
Just like any other photo viewer, you can view images and do basic editing like cropping, rotating, and resizing. You can also check metadata, thumbnails, and histogram of your images through this photo viewer.
Pros:
It can reads images in zip archives and MS office documents.
It can compare multiple images by using multiple instance sync.
Cons:
I didn't find any while testing but as per a few websites, the recent updates have made the software a little slow.
Download Nomacs (Free)
7. ACDSee Ultimate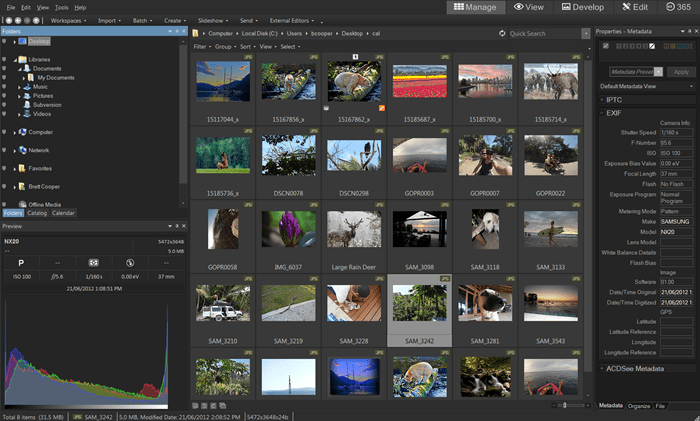 When I first installed this software, I was really impressed by its cool user interface. The name of this software is based on the popular Rock band AC/DC.
Just like the previous photo viewer, it can also read images inside a zip archive without extracting it. You can adjust brightness, contrast, and exposure using this software. If you have taken some photos at night in which your friends are looking like a demon, don't worry. ACDSee Ultimate has an inbuilt red-eye removal option which works quite well. It also has essential tools for basic photo editing.
Pros:
Supports approx 61 image and 33 video formats including RAW file formats.
It can view images inside a zip archive without extracting them.
Cons:
Comes with a free trial for 30 days only and the paid version starts at $89.
Download ACDSee (1 Month Free Trial)
8. Picasa Photo Viewer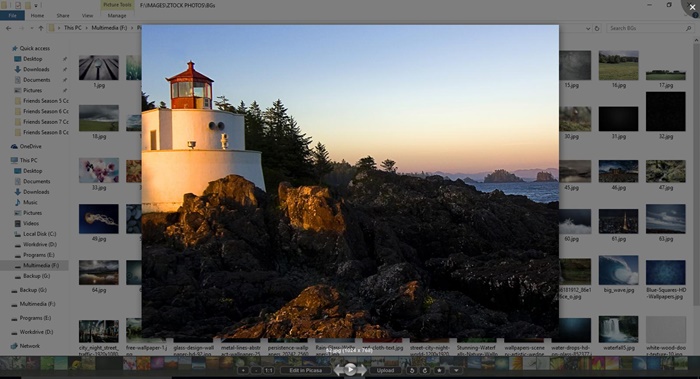 It's another image viewer which comes with all the required options to fulfil the needs of the users. It's packed with photo editing tools like cropping, resizing, rotating, etc. The main part of this application is its user-interface. You will feel like you are on a media player while viewing photos.
The software is not so powerful as the other ones in this list, but you may enjoy its interface with features. You can enter into fullscreen mode by just pressing Enter key on the keyboard and can even start a slideshow with a single click.
Pros:
It's a simple Photo Viewer with a different good-looking user interface.
Cons:
Its image upload feature is no longer supported after Google has shut down Picasa's web service.
Download Picasa (Free)
9. Imagine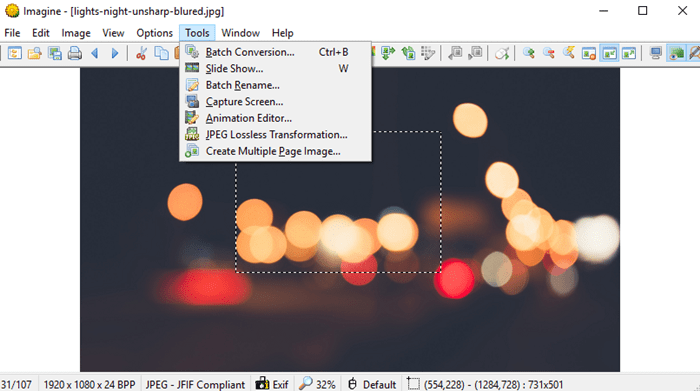 Imagine is one of the lightweight and fast photo viewers for Windows. It supports all the popular image format along with ZIP, RAR, TZ, ALZ, HV3, CBZ, CBR, and CB7. You can use this software to view detailed information about the image. Apart from previewing images, you can use Imagine for image editing, creating animations, making slideshows, screen capture, etc.
Pros:
Lightweight and Fast
Multilanguage support
Available for both 32bit and 64bit systems
Screen Capture Facility
Supports nearly all popular formats
Cons:
The user interface is not intrusive.
Download Imagine (Free)
Recommended: Top 15 Best Windows 10 Themes with Download Links
Wrapping Up: Best Photo Viewer For Windows 10
These are some best image viewers available for Windows 10. You can just look at their features and decide which one is fulfilling most of your requirements. If you just want to go back to Windows Photo Viewer and enjoy the nostalgia, that's OK. But if you want lightning-fast speed, go with IrfanView. XnView and Nomacs can be used for working with bulk images like renaming or converting them. Similarly, other photo viewers have their own set of advantages. If you are using or know any other best photo viewer for Windows 10, just share its name in the comments section below.