The most popular internet browser Google Chrome often reach a situation where you just left with a blank screen saying ERR_CONNECTION_REFUSED.  This error basically occurs when Chrome is not able to connect the user to the requested page, but a normal user finds it quite confusing. Today, I am here with five ways to Fix ERR_CONNECTION_REFUSED Error in Chrome. Whether the error is coming due to No Internet Connection, Cache or Cookies or the website is blocked by Antivirus or Firewall, you can definitely try the effective solutions given below and solve ERR_CONNECTION_REFUSED Error.
Ways to Fix ERR_CONNECTION_REFUSED Error
Now, before doing anything, first check whether the website is down for everyone or it's unavailable just for you. There's is a very simple website for performing this test. Just open Down for everyone or just me in the next tab and paste the URL of the website and check for its availability.

If it says – "It's just you. google.com is up", there's some problem with your connection. Now, proceed with the following methods.
1. Clear Google Chrome Browser Cache & Cookies
When you visit different websites, they save some files on your system for speeding up the process when you visit their website next time. They are basically called cookies and cache files. These files could restrict you from visiting certain websites if they are expired. Clearing browser cache helps to remove expired cache and cookies and thus allow you to access the required page.
How to Clear Cache in Google Chrome?
Just open your Google Chrome, copy and paste chrome://settings/clearBrowserData in the search bar and press Enter.

Here, you will see a few options. Just tick on the "cookies and other site data" and "cached images and files" options are shown below and tap on Clear Data button.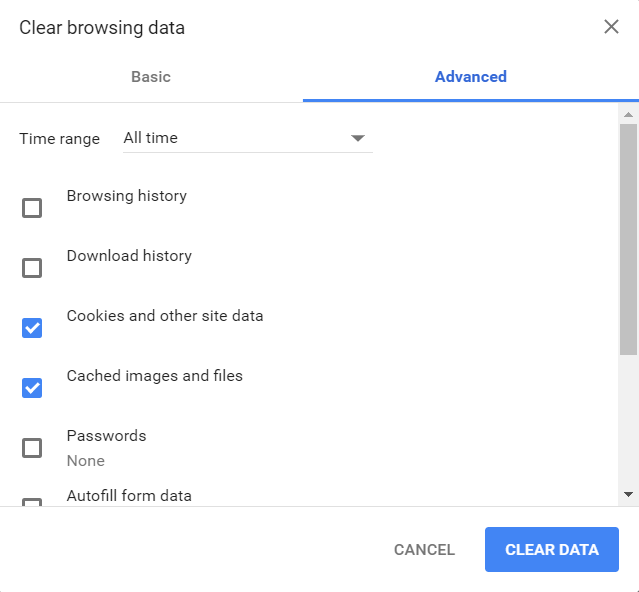 Also Read: 14 Cool Cool New Google Tricks
If the error has solved, Congratulations. Otherwise, move to the further way to fix err_connection_refused error in Chrome.
2. Reset Your IP Address and Flush DNS
Resetting IP and flushing DNS might sound geeky and they aren't actually. You can easily do them by executing some simple commands through Command Prompt. Yes,  the command prompt or CMD has always been a problem resolver for me.
Press Win Key and search for Command Prompt or CMD, right click on it and click on Run as administrator.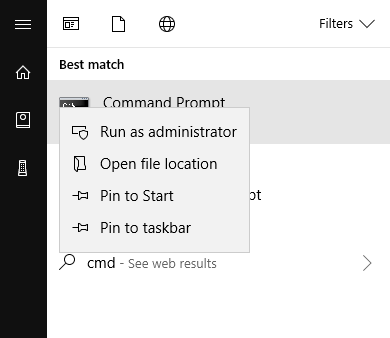 Now, type in or copy-paste the following commands one by one into the CMD. Don't forget to hit enter after each command. Once you are done with all the commands, just restart your PC/laptop to fix err connection refused error.
ipconfig /all
ipconfig /flushdns
ipconfig /renew
netsh int ip set dns
netsh winsock reset
ipconfig /release
3. Check Proxy Settings
This is also as simple as the previous method. Here, you just have to check whether the proxy settings are proper or not.
Just click on the three dots at the upper right of chrome search bar to open the Options menu, and go to settings. here, just search for open proxy settings.

Now, Go to the connections tab and click on LAN Settings.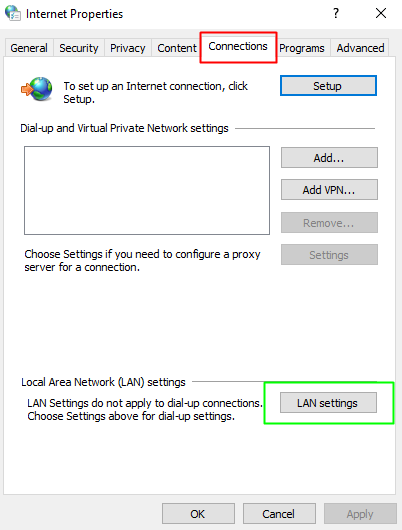 Finally, All you have to do is just make sure that under Proxy Server, the checkbox next to "Use a proxy server for your LAN (…)" is unchecked. Now, check whether it resolved the ERR_CONNECTION_REFUSED error? If no, proceed to other methods.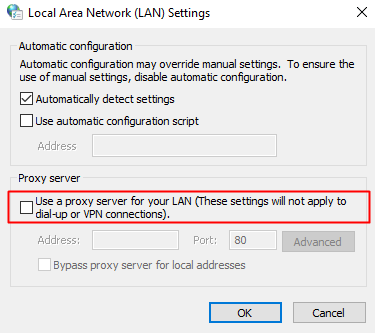 4. Turn Off Firewall or Antivirus
Sometimes the firewall or Antivirus which is there to protect your system, itself become the cause of such problems. In those cases, you can turn off your firewall and Antivirus and then try accessing the website.
However, I would never recommend disabling the firewall or Antivirus for a long time. Here, I just want to find out the actual problem. If disabling these will open your website, then the problem may be associated with the Antivirus version or you are just using an unsupported free version.
How to Turn Off Firewall and Antivirus?
You will find both these options at the same place. Just press Win Key and open Control panel. Then, Go to System & Security. Now click on Windows Defender Firewall and turn it off.

Note: If you have any third party Antivirus installed on your system, it may not allow turning off the firewall. In this case, first, disable the Antivirus then the firewall. Don't forget to turn these ON after testing.
5. Uninstall Google Chrome and Try Resetting Your WiFi
If all of the above methods didn't work for you, you can uninstall the Google Chrome and try reinstalling the latest version. Go to control panel, click on Programs & Features and then Add/Remove Programs. Look for Google Chrome and uninstall it. You should also delete all crash report subfolders under  C:\Users\%your_name%\AppData\Local\Google.
I know resetting WiFi router is a naive way of solving any problem, but this even works in many cases. To reset your WiFi router, just turn off your WiFi device, wait for few minutes and turn it ON again. Now, see if that solved your problem.
Wrapping Up: Ways to Fix ERR_CONNECTION_REFUSED Error
I hope the above methods helped you to solve ERR_CONNECTION_REFUSED Error. As I said earlier, there are many reasons behind this error but there's nothing wrong with trying some known and effective solutions. One thing you should remember here is that always check page availability before going for any of the above solutions. If you face any issue, feel free to drop a comment below and for more, stay tuned with Tech4Fresher.