Microsoft has recently announced a new update — a passwordless sign-in feature — that they are rolling out to your Microsoft accounts on a Windows 10 PC. Currently, this feature is available for only a small number of users on Windows 10 Insider Preview Build 18936.
It's been months since Microsoft has been trying to remove the hackle of signing in to its accounts on Windows 10 with passwords. This is because a majority of people tend to use the same passwords across different websites.
With this new feature, users don't have to remember complex passwords for every website. This step will also prevent the stealing of passwords by hackers. Even though two-factor authentication methods are available for encrypting online accounts, most people still don't use them. They don't feel the need to use these security options.
Also Read: Top 5 Best Antivirus For Windows 7, 8, 8.1, 10 (Free & Paid)
What will Microsoft replace passwords with?
Instead of using passwords, Microsoft plans to use other methods of signing in to its accounts. These modern authentication methods are much more secure. You'll be able to sign in to your Microsoft account on a Windows 10 with Windows Hello Face authentication, a PIN code, your fingerprints, or FIDO2 standard-based physical security keys.
"Even though a PIN code is nothing more than simple four-digit code, it's more secure than a password", Microsoft said.
As the company reasons, this simple private code is not shared online but is stored on the Windows 10 device with a secure chip called a Trusted Platform Module (TPM). So even if hackers steal passwords and attack servers, they wouldn't be able to extract the Windows Hello PIN ever.
Windows Hello and physical security keys are just two of the several two-factor authentication processes that Microsoft has rolled out so far. Others include downloading a Microsoft Authenticator app to sign in to your Microsoft accounts using only your smartphone.
How can you enable the passwordless sign-in feature?
Go to Settings > Accounts > Sign-in options, and click on the toggle under Make your device passwordless. The password option will disappear from your Windows 10 login screen, and you'll see four options: Windows Hello Face, Fingerprint, PIN, and a physical security key. Select the one that you want.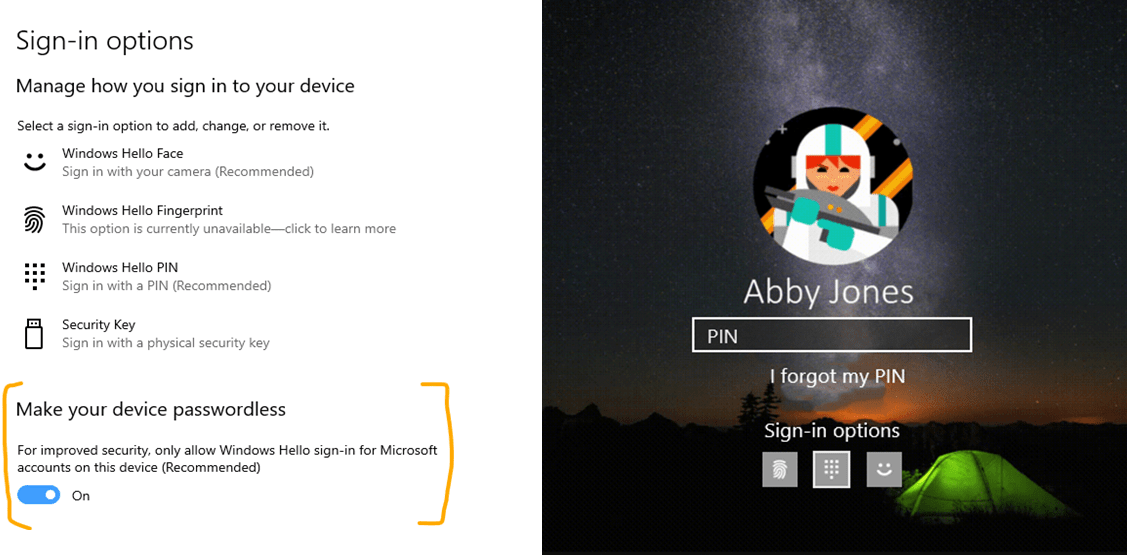 Also Read: 5 Best Webcam Software You Can Use in 2019
If you haven't set up Windows Hello yet, you'll need to have a special camera, like a Windows Hello webcam, or a fingerprint scanner.
First, log in to your Microsoft account, then go to Settings. In the sidebar, click on Sign-in options, and set up a PIN code. Once you're done, Windows Hello will be unlocked.
Now, click on Get Started, and follow the instructions according to whether you want facial recognition or a fingerprint option to sign in to your account.
The Windows 10 devices that already work with Windows Hello are Microsoft Surface Pro 4, Surface Pro 6, Surface Go, and Surface Book. So, what do you think about this feature? Let us know in the comments below.