This goes without saying, one of the most intuitive features that Windows 10 has introduced in recent years is Spatial Sound. Just as the name suggests, it gives your PC the superpower to output 3D sounds. That being said, you can expect similar results based on your source. So, in this section, we are going to discuss everything you need to know about Spatial Sound and how you can even enable it on Windows 10.
Also Read: 10 Best Free Sound Booster Software for Windows
What is Spatial Sound?
Spatial Sound enables you to experience a virtual space, unlike any other audio format. In fact, enabling Spatial Sound drastically improves your overall experience while enjoying games and movies. For better understanding, Consider playing a video game, and every time someone fires, you are able to hear the shot. With Spatial Sound enabled, you can actually hear the shot being fired at you. Similarly, you can also predict from which direction someone is firing the rounds. Overall, As of now, there are even some games that natively support Spatial Sound. Furthermore, your traditional sound system can also be improved using the same.
Spatial Sound Formats Supported by Windows
There are mainly three different Spatial Sounds you can experience using Windows 10. These include Windows Sonic for Headphones, along with Dolby Atmos for Headphones and Home Theaters. The Windows Sonic can be seamlessly used with any headphone or TWS earphones. It can offer you a completely immersive experience when enabled.
Dolby Atmos brings forth the cinematic experience right at your home. Now, you can enable Dolby Atmos for both your headphones as well as the sound system. Dolby Atmos lets users experience emotive audio, with a touch of realism and higher precision.
How to Enable Spatial Sound in Windows 10?
While Windows Sonic for Headphones is supported right out of the box in Windows 10, Dolby Atmos can be accessed after downloading their proprietary application. At first head over to the Microsoft Store and download the Dolby Access app. Dolby Access for Headphones would cost you around 14.99 USD. That being said, here is a list of how to enable Spatial Sound in Windows 10.
Step 1: At the bottom right of the system tray, simply right-click on the Sound icon.

Step 2: Choose the option, 'Spatial Sound.'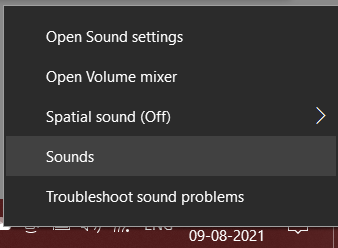 Step 3: Now, select your preferred choice of Spatial Sound.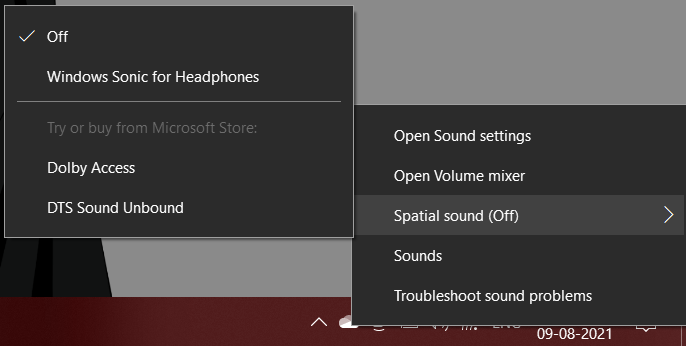 Also Read: 8 Best Online Beat Maker Software
The Bottom Line
So, that was our curated guide on how you can use Spatial Audio on Windows 10. What are your thoughts on this new feature? Let us know in the comment section below.