This goes without saying, there are a plethora of reasons why one would consider emulating Android apps over PC. While the idea is compelling enough, a few years ago it was quite hard to emulate Android applications. Fast forward, and there are various Android emulators you can use on your Windows and Mac devices.
Bear in mind, with the launch of Windows 11, you can natively run Android apps over a PC. That being said, in this article, we are going to discuss some of the most prominent Android emulators for Windows and Mac you can use.
Why Choose an Android Emulator?
There are several reasons why using an Android Emulator makes sense. Primarily, you would want to emulate Android apps for the following reasons:
For starters, it has become a common norm for Android gamers, to emulate their favorite games and play over PC. Not only you can expect a larger display to look at, but at the same time also gives you the flexibility of using a keyboard and mouse. Neither less to say, players, don't have to think about draining battery life as well.
Android emulators are also used for development purposes as well. There is a lot of testing that goes into apps and games, before the launch date. In fact, the 'Android Virtual Device (AVD)' by Android Studio was created for this particular purpose. Developers can easily try out various Android devices, and how they would perform in real.
Lastly, there's a ton of productivity applications that are exclusively available on Android devices. While using a Chromebook might seem like a cheaper alternative, but you won't be buying another laptop just for the sake of it.
Also, read our articles on the best PlayStation emulators and the best Xbox one emulators.
Best Android Emulators to Try 
1. BlueStacks
There is a reason why Bluestacks tops our list for the best Android emulator. In fact, it is one of the most versatile emulators that can significantly improve your gaming experience. BlueStacks is also present for both Windows and Mac devices. With a community of 500 million gamers using BlueStacks worldwide, you can hardly question its credibility.
With the recent release of BlueStacks 5, it is being faster and lighter than ever before. No matter what you throw at it, BlueStacks won't eat up your system resources extensively. If you are considering an emulator for playing a game, try out BlueStacks before seeking other options.
Salient Features:
Easily customizable macros or use prebuilt presets
Offers dedicated MOBA Mode
Play multiple games at the same time
Dedicated Eco Mode or running multiple apps at the same time
Offers real-time translation
Download BlueStacks
2. Android Studio Emulator
As you know by now, Android Studio is the default IDE for developing Android apps. In fact, it comes with all the tools and supports you need for developing state-of-the-art Android apps and games. But at the same time, you can also use the built-in emulator for testing purposes as well.
While it might not be the perfect solution for everyone, but it certainly offers the flexibility and versatility an Android developer looks for. Starting out from running the latest version of Android, testing out a custom launcher, you get complete control over the environment.
Salient Features:
Comes with an intelligent code editor for better efficiency
Code templates for faster workflow
Limitless configurable builds
Offers support for various Android devices
Download Android Studio
3. Bliss OS
Bliss OS is quite unique on our list, due to its out-of-the-box approach. Instead of being an emulator, the developers have made Android has a full-fledged bootable OS. That means you can easily run it on a virtual machine or boot from a USB drive alongside Windows.
This, in turn, also comes with its own sets of perks as well. While emulators run on sandboxes with limited access to the system resources, you can always get the most out of your hardware using Bliss OS. Just make sure to create a system backup, prior to installing Bliss OS.
Salient Features:
Offers integrated AOSP security updates
A plethora of themes and customizations for the user
Primarily built around speed and performance
Compatible with a large no. of devices
Download BlissOS
4. LD Player
LD Player is yet another lightweight Android emulator that is primarily focused on gaming. You can expect all the features that are catered towards gamers including keyboard mapping, assigning macros, higher FPS as well as tweaking graphical supports.
Neither less to say, LD Player is also well suited for using regular Android applications as well. Something you can find quite similar in BlueStacks as well. Overall, it is a well-rounded Android emulator that doesn't require heavy system resources whatsoever.
Salient Features:
Experience Android gaming using keyboard and mouse
Complete flexibility over function settings
Simulate GPS locations
Offers regular updates on a monthly basis
Download LD Player
5. Nox Player
Next on our list, Nox Player is a pretty standard Android emulator. Particularly curated for PC gamers, it comes with all the standard functionalities including keyboard mapping, support for controllers as well as gesture controls.
Gesture control is something that can really come in handy for users with a touchpad. For instance, you can assign the swipe right function to an arrow key, and take advantage of it while gaming. All this is done without any actual hardware controller support whatsoever. Being completely free to use, it is worth giving a try.
Salient Features:
Comes with an in-built Google Play Store
Support for multiple Android versions
Offers custom key mapping
Run multiple accounts via multi-instances
Offers compatibility over a wide variety of apps and games
Download Nox Player
6. Phoenix OS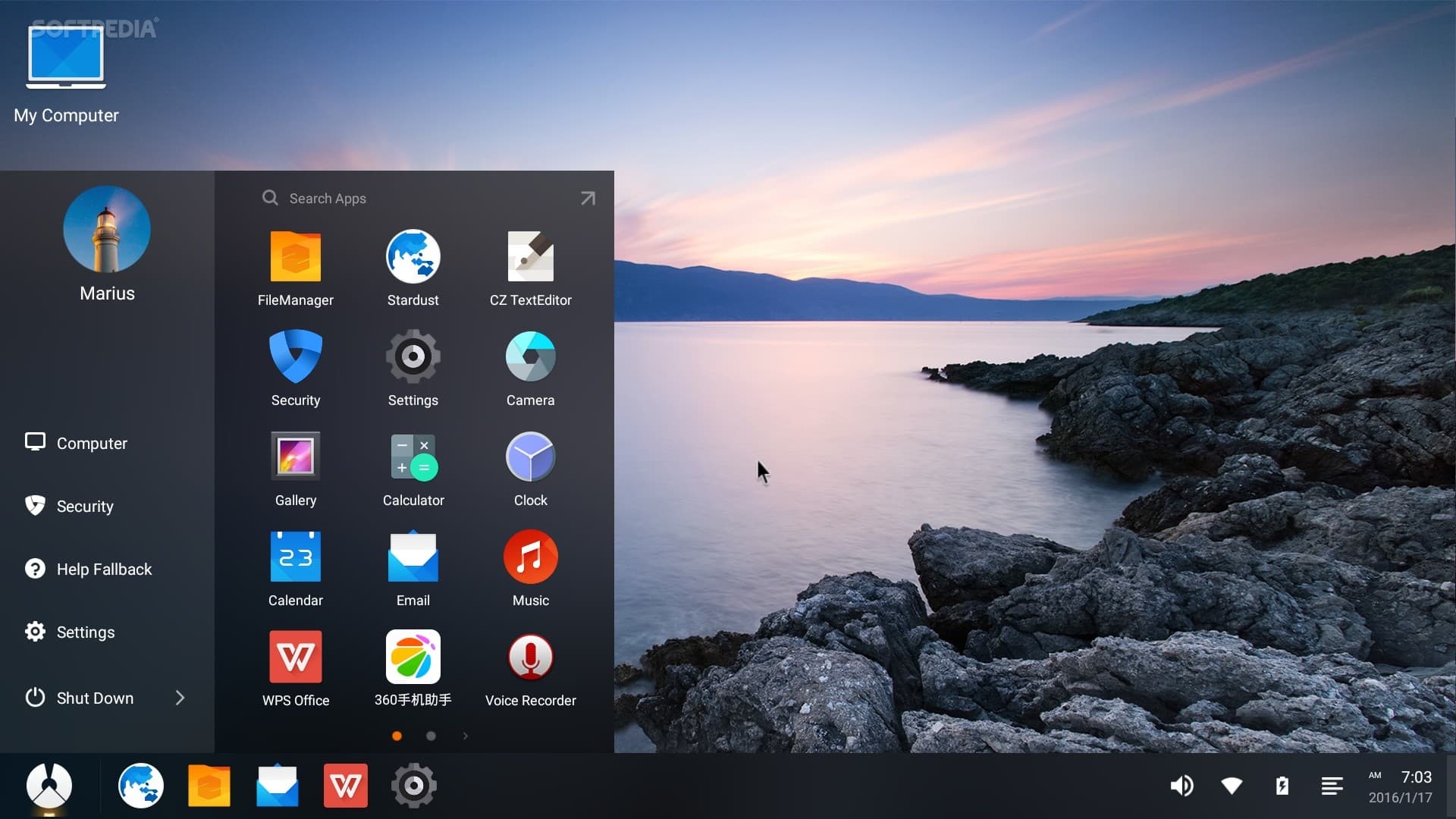 Over the past few years, Phoenix OS has made quite the name for itself. Being one of the newer Android emulators, it packs all the gaming features you would need. That being said, Phoenix OS offers you a desktop experience, just like Windows. So, you can also use the same for productivity as well.
With in-built Google Play Services, you can rest assured to get support for a wide variety of applications. Click on the link, and choose your flavor based on your device.
Salient Features:
Comes with Game Assistant 3.0
While running on Android, it packs all the classic PC features
Comes for both PC and ARM-based devices
Dedicated notification center
Offers support for Ethernet
Download Phoenix OS
7. GameLoop
GameLoop is the official emulator for several popular mobile titles including PUBG Mobile and Call of Duty: Mobile. Formerly known as Tencent Gaming Buddy, GameLoop has a wide variety of games to choose from, apart from that of Tencent.
While other Android emulators on our list were curated for all purposes, you can't really count on GameLoop for productivity or development. But for anyone having a knack for mobile gaming, this is the best you can get.
Salient Features:
Very easy to set up
Offers support for multiple languages
Prevents from fraud including hack and cheats
A wide range of customization options
Download GameLoop
8. ARChon
ARChon is unlike any other Android Emulator that runs directly on your operating system. Rather you need to install it as a Google Chrome extension. Once installed, you can run your favorite apps and games via Google Chrome.
That being said, you still need a workaround, in order to get it up and running. Due to the lack of Play Store, you need to acquire the APKs and install them individually.
Salient Features:
Lightweight due to its integration with Google Chrome
Can be used with any OS with Chrome support
Primarily used for productivity
Offers support for the latest Android system
Download ARChon
9. Prime OS
If you want to revive your old laptop/PC, Prime OS might be the most prominent option out there for you. Instead of offering it as an emulator, you can install it as a partition on your PC, and run Android natively.
This is one of the best ways to experience Android, as you are not restricted to any hardware limitation anymore. In fact, Prime OS is also lightweight, making it perfect for use as a daily driver as well.
Salient Features:
Offers a complete desktop-like experience
Comes with pre mapping for some of the most popular Android games
Comes preinstalled with Opengapps
Comes with GPU tools to fake GPU info on any game
Download PrimeOS
10. MeMU Emulator
MeMU is a great Android emulator that is quite popular among gamers. This is primarily because of its intensive support for both Intel and AMD devices. Additionally, you can also use several versions of Android, based on your preference.
Just like every other emulator on our list, MeMU is primarily focused on gaming. But you can also use the same for productivity as well. With regular updates, you can stay protected as well.
Salient Features:
Comes with a very intuitive and easy to navigate UI
The core engines offer great optimization for games
Efficiently manages multi-instances
Download MeMu Emulator
Also Read: 10 Best Android Apps for Classic Retro Gaming
The Bottom Line
As that was our curated guide on some of the best Android emulators for Mac and Windows. Let us know in the comment section below if we have missed out on your favorite Android emulator.