This goes without saying, in our digital era, email plays an integral part in our lives. Starting from opening up social media accounts, to communicating at work, an active email id is required in every single step. In fact, our email id has become a digital identity. Being such a crucial element, there are actually a plethora of choices to make when it comes to email services. That is why we have curated this article on some of the best email providers you can find out there in the market.
You can also read our articles on the best CRM software, best ERP software, and best project management software.
The Best Free Email Providers You Can Use 
1. Gmail
There is no point in arguing that Gmail has almost become the go-to email service provider for the majority of users. One of the primary reasons behind Gmail's popularity is its tight integration with other Google products. In fact, you can't even bring an Android phone to its full potential without an active Gmail id.
Being owned by Google also suggests a strong foundation as well. Fine-tune your searches, and you can read emails sent a decade ago. The variety of Gmail add-ons also improves the overall functionality of Gmail. As for as security is concerned, Google's two-step verification has got you covered.
Salient Features:
Easily un-send emails on the go
Comes with 15GB of free storage
Offers the highest protection against spam emails
Automated text suggestions make it easier to type emails
2. Outlook
If you are a Windows user, Microsoft has pitched Outlook, their email service at least once. Initially started out as Hotmail, Microsoft Outlook currently has 400 million users. For anyone who wants to get out of the Google ecosystem, Outlook is a worthy alternative. This is only possible due to its tight integration with Microsoft services.
For instance, you can actually start Teams meeting right in the inbox. The addition of 'Focus' and 'Others' is a great way to categorize emails, making your inbox seem less cluttered. Another area where Outlook clearly wins the game is the overall user interface and experience.
Salient Features:
Comes with a focused inbox
Use add-ons Just like in MS Excel or Word
Seamless integration with teams
Easy organization of emails with search functionalities
Also Read: 3 Best Free Ways to Send Encrypted Emails
3. Yahoo Mail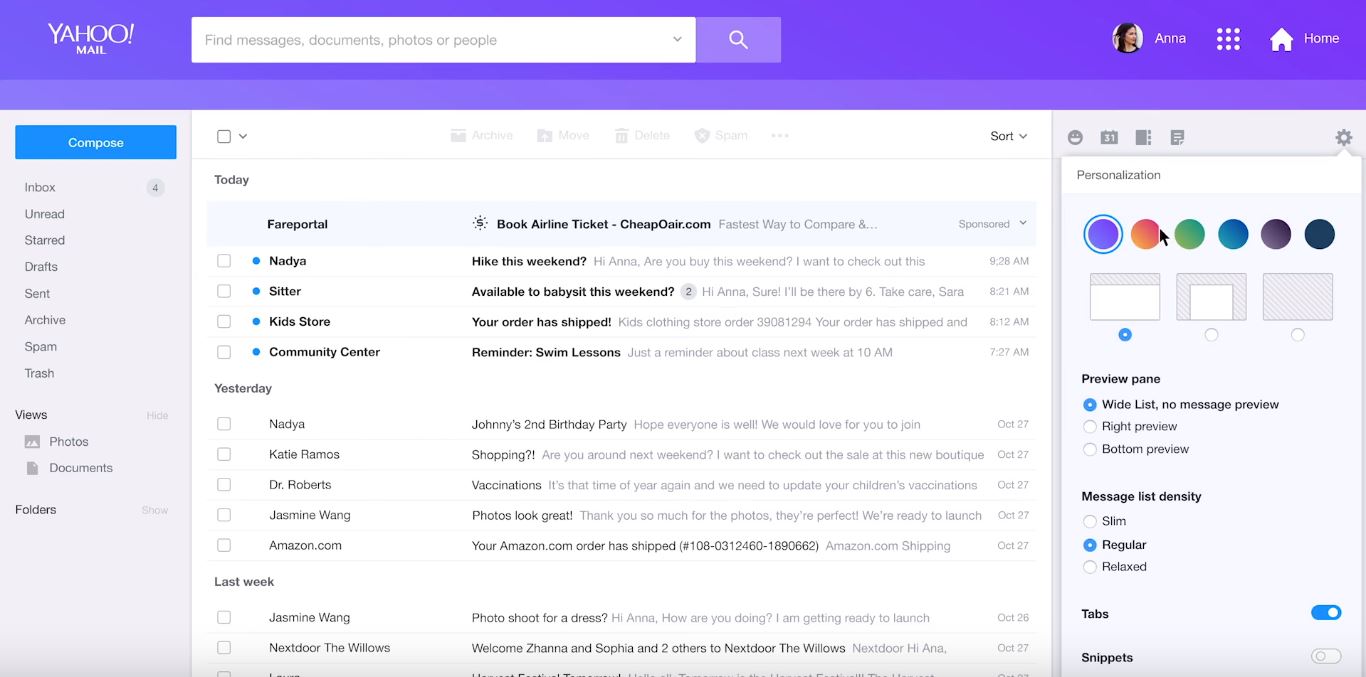 While the glorious days of Yahoo Mail might be long gone, it still has more than 200 million active users. While it is still nowhere near the likes of Google or Outlook, but Yahoo Mail still has a lot to offer. For starters, users actually get 1 TB of free storage for all the users.
While sending email, your attachments can be up to 100 MB. If that doesn't give you any compelling reason to use Yahoo, it has its own spam and virus protection as well. The overall UI is easier to navigate and brings for everything you need to get started.
Salient Features:
Seamless connection with Yahoo Calendar
Easily organize your emails
Offers up to 100 MB of file attachments
A whopping 1 TB of storage
4. Zoho Mail
Now if you are someone looking for a privacy-focused email service, Zoho Mail has got you covered. In fact, Zoho Mail is best suited for businesses. Zoho Mail is not only user-friendly, but it also provides tight integration to Google Drive, Box, and various other cloud-based file managers.
Straight from your inbox, you can access Zoho Calendar, contacts, notes, and tasks. This way you can easily meet your daily targets with ease. What makes Zoho Mail unique is its ability to offer custom domain names. You can add your domain to up to 25 connected email addresses.
Salient Features:
Privacy-focused email service
Doesn't scan inbox for advertisements
Best suited for businesses
Seamless integration to Zoho CRM
5. iCloud Mail
For someone tightly integrated into the Apple ecosystem, iCloud Mail is something worth looking for. Using the free iCloud Mail account, you can get 5 GB storage. Coming from the home of Apple, you can expect tight integration with the Apple Mail app as well.
iCloud mail allows only attachments up to 20 MB. But for sharing larger files, you can always use iCloud Drive. The feature is almost similar to what Google has achieved using Gmail and Drive. All of your mails are easily synchronized across various Apple devices as well.
Salient Features:
Seamless synchronization across various Apple devices
Comes with a very clean and minimal UI
Label senders as VIP to filter important messages
A plethora of customization options
6. Mail
Mail is yet another free email service provider that has done has a decent job. For starters, you get 2GB of file storage and up to 50MB of attachment for email. One of the best features is the ability to create 10 different email aliases.
Mail offers 200 various domains to choose from. Seamlessly connect them over your Mail account, and access them in one place. There's also quite a number of privacy features that ensure security including spam filter, two-factor authentication as well as virus protection.
Salient Features:
Manage various email accounts in one place
Comes with an integrated office suite
Web-based and supports both Android and iOS
7. AOL
Ah! Even the name AOL can make anyone nostalgic who has used their services before. That being said, the free email service provider hasn't lost its charm yet. With AOL, you can expect unlimited email storage along with file attachments capped at 25 MB.
Supporting services such as IMAP, SMTP, and POP3 ensure that it can also be used as an email client while receiving all the emails in one place. With a built-in categorization option, you can personalize your email just the way you want.
Salient Features:
Comes with unlimited email storage
Offers a high level of customizability
Easily send texts directly to mobile phones
The addition of a spellchecker reduces error
8. Yandex Mail
The last on our list is Yandex Mail that comes with additional storage capabilities. Using Yandex, you can personalize your inbox just the way you want. For starters, you can easily link various accounts including Facebook, Twitter, and even Gmail.
Just like every other email service provider, you can easily prioritize your mail based on your preferences. Based on your messages, your mails get categorized. Once you sign up with Yandex, you can get 10 GB of free cloud storage.
Salient Features:
Comes with auto-reply functionality
Offers built-in translator
Users get 10 GB of free cloud storage
You may also like: 5 Best Unroll.me Alternatives To Keep Your Email Inbox Clean
The Bottom Line
So that was our curated guide on some of the free email providers you can use. Bear in mind, most of them come with their own sets of perks and downsides. So, make sure to choose based on your preference.