Mario, the super famous gaming character is now coming on Google Maps. Video games have become obsolete nowadays but its games and their characters are still quite popular. The Super Mario game is now available on Nintendo consoles, Computers and Smartphones. These have kept our nostalgic memories alive for this game. In this article, you will learn how to get Mario on Google Maps?
10th March is celebrated as Mario day and Google is also celebrating this day by replacing its traditional navigation arrow on Google Map with a Mario Kart. Now, whenever you enter a destination and start navigation, you will see a Mario kart showing the navigation.
Nintendo has now partnered up with Google to celebrate this auspicious occasion.  Munish Dabas, User Experience (UX) Engineer at Google Maps, said – 'the company has collaborated with the team at Japanese video game company Nintendo to let Mario accompany you on all of your driving adventures on Google Maps this week".
Also Read: Top 10 Best Google Apps For Android in 2018
Earlier,  we have also seen Pac-man and Tie-Fighter of Star Wars on Google Maps. But in comparison to them, Mario version is looking quite pretty. As the Mario Kart Deluxe was one of the best selling games of 2017, there are speculations that this update is maybe for promoting the upcoming mobile version of this famous game.
How to get Mario on Google Maps?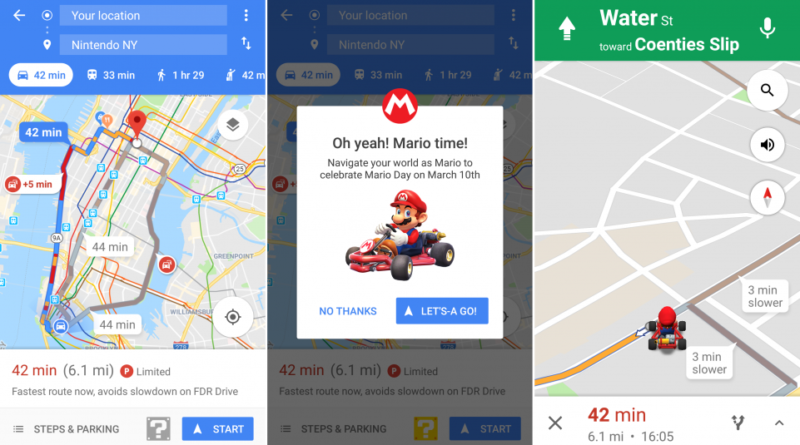 First of all, update the Google Maps app from Google Play Store or Apple app store, if not updated. Enter the destination address. Now, click on the yellow "?" icon found on the bottom right of Google Maps on Android or IOS. For the first time, users will see a prompt to enable Mario. Once enabled, the normal navigation arrow will be replaced with Mario Kart.
However, the update hasn't reached India yet. The update will be reportedly available in India starting Monday. The feature will be available for the week only. I hope you find this "How to get Mario on Google Apps" article useful.
If you liked this article,  share this with your friends and don't forget to Like us on Facebook, follow on Twitter and Subscribe on Youtube.