GIMP is the best free and open-source alternative to Adobe Photoshop. If you compare GIMP vs Photoshop considering the basic usage, you'll hardly find any feature missing in GIMP. Though the GIMP can never match the power and reliability of Photoshop, in most of the cases, it's enough.
Today, I am going to share some best GIMP plugins and filters that you can add in this image editor and make it even more advanced. If you haven't tried any GIMP plugin yet and want to learn how to install a GIMP plugin, don't worry. We've got you covered. Installing a GIMP plugin can be a hectic task for beginners. So, I will try to explain it in the easiest manner.
How to Install GIMP Plugins?
The first method of installing GIMP Plugins is the automatic one. You just need to open the plugin's folder, double-click on the installer and that's it. However, not every plugin supports this method and require manual installation. Also, installers are platform-dependent. You will find some are available for Windows only, not for other platforms. Lastly, clicking on random installers on the Internet may invite malware to your system.
If the first method doesn't apply to your plugin. You have to proceed with the manual method. GIMP plugin is usually a .py (python) or .scm (Script-Fu) file.  Just follow the steps below to install them in GIMP.
First of all, Unzip the plugin's zip file.
If your plugin is in a .py format, move it into the GIMP Plug-Ins' folder. The path will be something like –

C:\Program Files\GIMP 2\share\gimp\2.0\plug-ins

If your plugin is in a .scm format, move it into the Scripts' folder. The path will be something like –

C:\Program Files\GIMP 2\share\gimp\2.0\scripts

Finally, restart GIMP.
Also Read: 5 Best Drawing Apps for Windows 10
Best GIMP Plugins and Filters You Can Use
All of the GIMP Plugins below are completely free and easy to use. You can download them from their website, install them into GIMP and add advanced useful features.
1. BIMP (Batch Image Manipulation Plugin)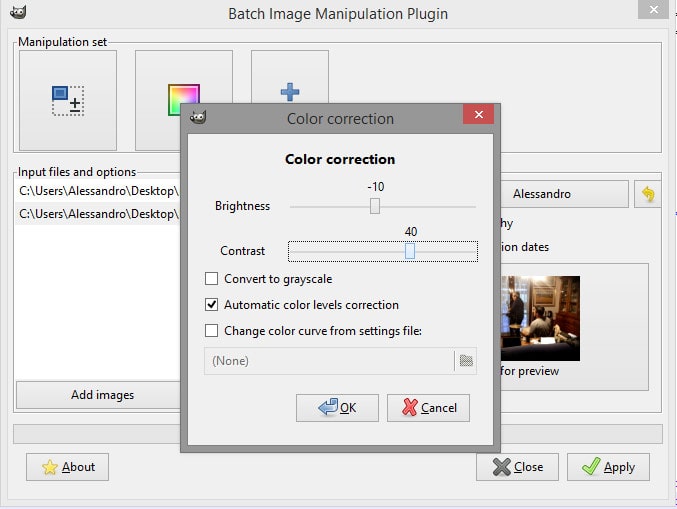 It's one of the most useful plugins for me. Using this plugin, I can crop, resize, rename, rotate and watermark as many images as I want. BIMP saves a lot of time and does its job quite well. You can also preview changes in the plugin window. It can be installed very easily using the installer. Overall, it's a must have a GIMP plugin.
2. G'MIC (GREYC's Magic Image Computing)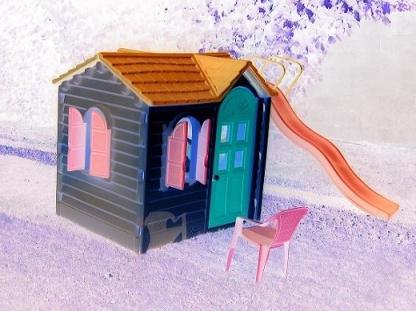 Interested in adding awesome filters to your photos? Try G'MIC for ultimate range of filters that you can apply and enhance your photos. It offers more than 500 filters and effects to make your photos look fantastic. Other than filters, you can even use this plugin for noise reduction, red-eye removal and other repairing jobs. In most of the cases, the default settings are found to be enough but you can even customize it as you want.
3. FX Foundry
If you are not using any GIMP plugins yet, believe me, you are missing a lot. Plugins are something which makes a good tool like GIMP, a great tool. Coming to the plugin, FX Foundry has a wide-collection of effects and scripts to customize your photos. After installation, it creates its own menu in GIMP and makes the features easily accessible. Every effect comes with its own dialog where you can tweak the settings before making any changes to your images. Overall, it's one of the best GIMP plugins to use for image editing.
4. Layer via Copy/Cut
Professional image editing always done in layers. This GIMP plugin allows you to play with layers just like Photoshop. You can make different layers for applying multiple changes or can even make a group of them. It makes copy, cut & moving layers very simple and easy.
5. Contrast Fix

Sometimes our photos only require a little bit of contrast adjustment to be the best version of itself. And, Contrast Fix makes it really easy. Just install the plugin, adjust the lighting using the slider and that's it. It's one of the most used GIMP plugins out there.
Also Read: This AI-Powered Website Converts Your Selfies into Vintage Portraits
6. Resynthesizer
If you have used Photoshop or heard about Content Aware Fill, you will easily understand what is plugin used for. Resynthesizer used to remove unwanted object from images, better texture control, repeating textures, transfer texture from one image to another, image healing, etc. If you are into professional photo editing, this GIMP plugin can give your works a new touch.
7. UFRaw

UFRaw GIMP plugin is very useful for professional photographers. It makes editing RAW images possible in GIMP. You can various image corrections like exposure control, colour adjustment, temperature setting, etc. If you have photos in bulk, just use its Batch Workflow mode to edit multiple photos at once.
8. Refocus

Correcting blurred images is no more difficult for GIMP users. Refocus attempts to correct the blurred image by enabling you to adjust certain parameters. I used this plugin to fix some blurred images and can say, it gives satisfactory results in most of the cases.
9. Wavelet Decompose
Low light and incorrect camera settings usually result in a noisy image. Wavelet Decompose helps you in removing those noises using simple sliders and make your photos look sharp and shining. It uses some advanced form of frequency separations and divides the image into multiple layers. In this way, you have more control over each and every detail and so you can decide whether you want to keep them or not.
10. DarkTable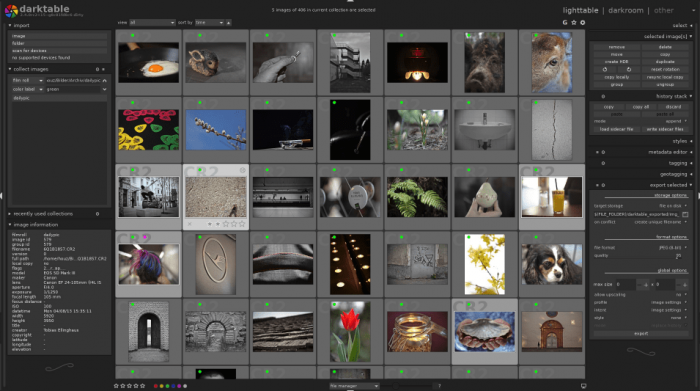 If you are a professional photographer, Dark Table will enable you to edit RAW images easily. It comes with a very useful set of tools and a user-friendly interface. Unlike, other RAW image editors, you won't have to spend too much time to learn it. Just add it to GIMP and you're good to go.
11. GPS (GIMP Paint Studio)
GIMP also comes with Paint tools, but if they are enough for you, you should start using GIMP Paint Studio (GPS). It offers more brushes, gradients, patterns, palettes, splashes, tools, presets, etc. The goal of GPS is to provide an adequate working environment for graphic designers and artists to begin to paint and feel comfortable with GIMP from their first use. You can check this link to know more about the tools and designs made using them.
12. Draw Arrow
Adding arrows to images is one of the most common things in image editing. But if your hands are not steady, you will face a lot of trouble. Draw Arrow is one of the most useful GIMP plugins that makes drawing arrows quite simple and easy for everyone.
Download
13. Scripts Bundle
If you start searching scripts for GIMP, you will find several scripts for each of your tasks. But not everyone is so free to do this thing again and again. This is a collection of 100+ scripts that GIMP users often use like for image repairing, for image sharpening, for sketching, for effects, etc.
14. Hugin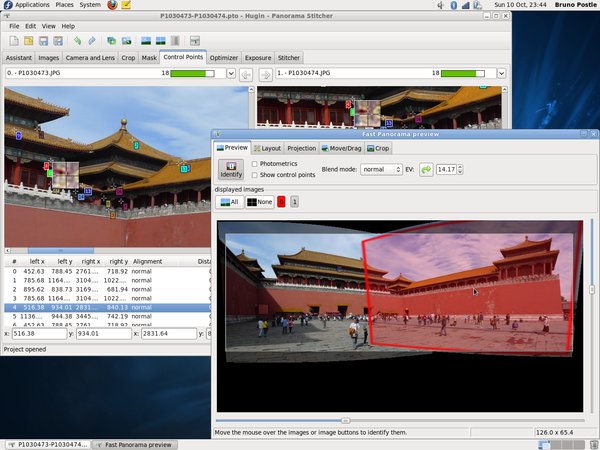 Also Read: How to Upload Video to Instagram From PC
Hugin is the best tool for merging multiple images and creating Panorama. You just need to select images, specify a few common points and that's it. Hugin will automatically create a beautiful Panorama for you. The best part of this tool is it also fixes excessive exposure and angle issues while creating Panoramas. It's available for Windows, Linux and Mac and works as a standalone application.
15. Watermark
Watermark has become necessary nowadays. People always want to use your graphics without giving any credit, and this is something I seriously hate. This plugin allows you to add text watermarks quite easily. You can also use the second plugin in case you want to add an Image Watermark.
Download Text Watermark Plugin
Download Image Watermark Plugin
16. Quick Sketch
Quick sketch transforms your Image into a sketch-like image. This is a simple GIMP plugin to apply sketch effects on your images easily. You just need to adjust the blur using the slider and that's it.
17. Liquid Rescale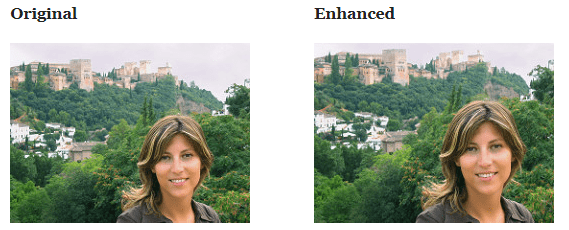 There are two types of Image Compression – Lossless and Lossy. Liquid Rescale is an effective plugin that lets you resize images without losing quality.
You might be thinking what's the connection between image resizing and image compression. I have just written that to shift the focus to Lossless Image Compression. There are many image editors out there which are based on Lossy image compression. They just know – how to make a 1MB size image to 50KB, Liquid Rescale is almost similar to Photoshop's Content Aware Scaling. After installing, you will find it in the Layers menu.
18. Stitch Panorama

There are many popular online and offline tools to make panoramic images, but if you are a GIMP user, this plugin is for you. Unlike other Panorama plugins, it comes with all the essential features that are required to make a beautiful Panorama image. You can merge multiple images, correct colours, blend and even perform distortion seamlessly.
19. Lens Fun
Lens distortions are very common in photography and there Lens fun comes in. It allows you to fix lens distortion easily and also provide useful options like Chromatic Aberration, Vignette and Scale to fit.
20. Nik Collection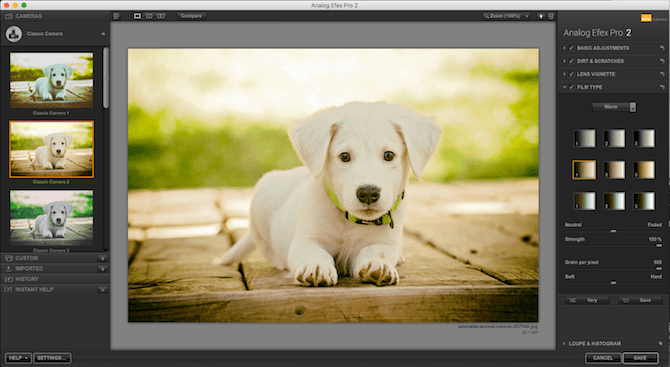 Nik Collection was once one of the most popular professional photo editing programs. But with time and release of several similar plugins, it failed to provide regular updates and lost its popularity. But if you ask me, I still find it quite useful for many purposes. Overall, Nik Collection has many useful features like noise reduction, HDR effects, image sharpening, filters, etc. You can download it from the link below and try it out.
21. Elsamuko's Filters
Filters make photos look vivid and more professional. If you are a professional photographer or a normal GIMP user, you will need these filters for several photos. GIMP is a cross-platform image editing tool and so there are many filter sets available for it. You just need to know your requirement and search for them.
22. Save For Web
Save For Web is one of the most popular and useful GIMP plugins. After installation, you will find it under File Menu. Just select the settings and it will scale, crop or compress images before uploading them to your website. Save for Web was once a part of FX Foundry, but later it launched as a separate product. If you are a blogger, a web designer, a graphics designer or anyone who prepare images, this GIMP plugin is definitely for you.
Download
23. GAP (GIMP Animation Package)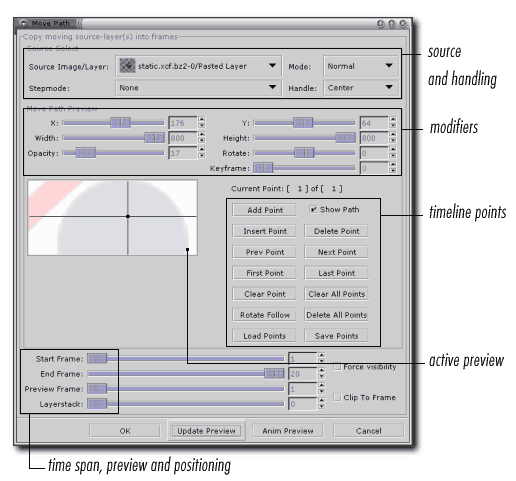 GIMP Animation Package or GAP is very useful for producing simple Animations. If you are on a Linux system, install GAP through symantic or you can even compile it by yourself. Windows users can install it using the installer. Once installed, you can access its features under the Video menu. It comes with hundreds of scripts that you can try and add amazing animations.
24. Beautify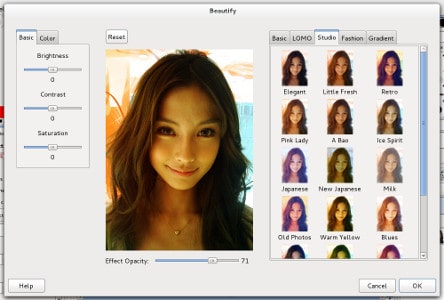 Beautify is a must-have GIMP Plugin that you can install and add beautiful filters to your photos. It's lightweight and has a very simple interface. You just need to load your photo and start trying filters. It also comes with a preview window and brightness, contrast, saturation sliders.
25. GIMP Filters/Effects Examples
GIMP comes with hundreds of filters and effects by default, but many users don't about them. This website will take you through various effects by examples. If you are a new GIMP user, I will recommend you to go through this website once. When I visited Alvinalexander's website for the first time, I also learnt how to use some awesome effects.
Visit Website
Recommended: 9 Best Photo Viewer For Windows 10
Wrapping Up: Best GIMP Plugins and Filters
I hope you found the above GIMP Plugins and filters useful. GIMP is an open-source and completely free image editor, but it's also popular due to its versatility and cross-platform support. Plugins make GIMP even more powerful and advanced. Like Android apps, GIMP has a plugin for each of your requirements. You just need to search and find them. If you know any other useful plugin, let us know in the comments section below.